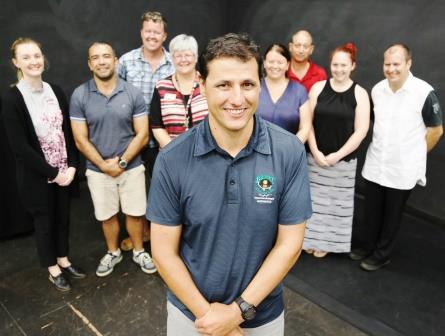 Ken Goatley describes his days cooking bacon for the sandwiches at a well-known British retailer as being as boring as it sounds. The brief stint at a Sheffield factory was while he was travelling after graduating from university.
Broome Senior High School teacher Ken Goatley is a WA Premier's Secondary Teacher of the Year finalist. "It was production-line work and one day I got to put the parsley in the prawn cocktails. Most mind numbing day I've ever had," laughs Ken.
It comes as no surprise then that Ken values relationships in his current job as head of Broome Senior High School's maths department, which is as far from a production line as you can possibly get.
The power of strong relationships is one of the first things he learnt as a graduate teacher at Halls Creek District High School where he taught for four years. "I probably didn't realise it at the time but that's where I learnt a lot about building relationships with students," he says.
"If the relationship isn't there, nothing else goes forward. There has to be mutual respect between teacher and student; and you can't just expect it because you're the teacher. It's something you have to build. You have to show students trust and then they will trust you."
Working at Halls Creek District High School was a huge learning curve, says Ken, but it was where he made lifelong friends and met his wife.
He is now a WA Secondary Teacher of the Year finalist after an exceptional 24 years as a maths teacher which have included teaching at Kent Street Senior High School for eight years and now at Broome Senior High School where he has been for 12 years.
Colleagues call Ken a 'natural teacher', most likely because he knows his students and their diverse linguistic and cultural backgrounds exceptionally well. He also knows how the experiences they bring to the classroom affect their learning, and structures his lessons to meet their needs.
"I definitely encourage humour in my classes. All maths teachers are amateur comedians," jokes Ken.
"But you have to involve students as much as you can. You can't just stand there and talk at them because nobody enjoys that. You've got to give up a bit of yourself so I often tell my students stories; they love hearing about their teachers.
"If there's someone doing something that you don't agree with, try to understand where they are coming from and the reasons behind it before you just leap in. The same applies if I'm talking with a staff member or a student or someone on the street."
Ken is certainly getting results with his students. In 2014, Broome Senior High School was in the top 15 schools in the State for maths results and it now has a specialist maths program.
His love for teaching has grown throughout his career, particularly after a job change several years ago.
"I worked as a contracts administer for a civil engineering company. They offered me more money than I was currently earning and a car and phone, all of that kind of stuff. I worked for them for six months and I thoroughly enjoyed the job. But I really missed teaching," says Ken.
"It was interesting because I went into that job thinking it would be a career change, as I'd been teaching for 10 years at that point. But at the end of it I realised I was good at teaching and was working at a fantastic school.
"I don't want to lose working with students because that's where you get so much back and that's where all the rewards are. You're also constantly self-analysing when you work with kids because they're so honest."
Ken wants his students to enjoy maths and would like them to remember him as a good teacher.
If a message from one of his students is anything to go by, he's on the money.
"A year eight student gave me a Christmas card last year to say thank you and when I opened it I saw that she had written 'I never enjoyed maths before. You really made a difference'," recalls Ken.
"I almost teared up, it was lovely. I always hope that students will enjoy maths and that it has been fun for them at school, and a little moment like that stands out.
"When you hear from a student who tells you something that lets you know how much you've helped them; that makes you feel good. It's a very rewarding job."
The WA Education Awards 2016 winners will be announced on 28 November.
Article produced by the Department of Education, Western Australia, and accessed under a Creative Commons licence.