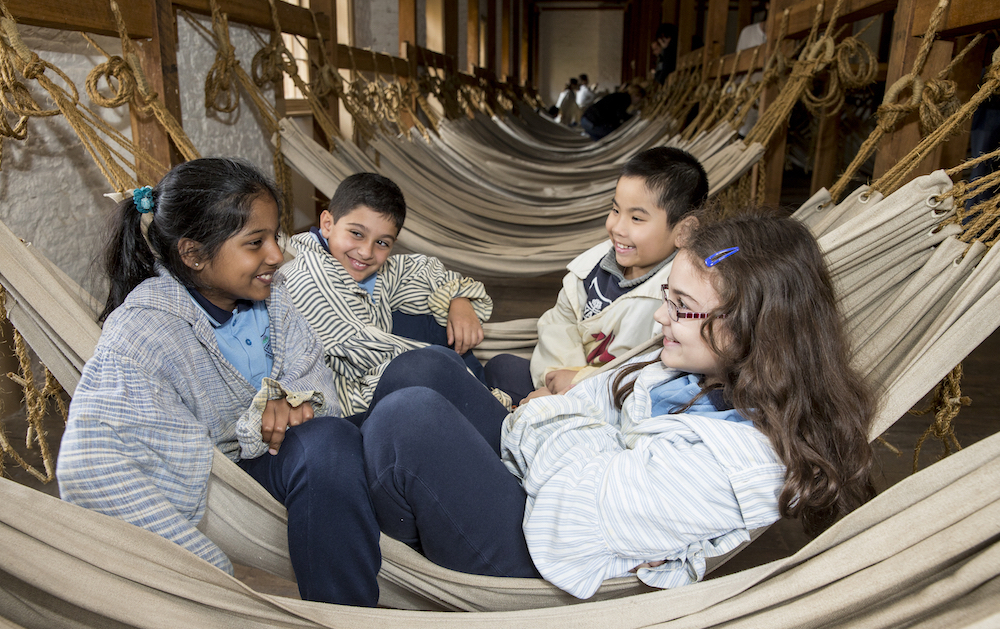 You've visited the nation's capital and your students have had their enthusiasm for the arts, culture and politics successfully ignited. What's next? Last issue, we explored Victoria, and this issue, the Sydney sequel will cover some of what Melbourne's sunlit sister has to offer.
Sydney's beaches could be an excellent (and popular) place to start, especially if you time your school trip for the warmer months. Surf Lifesaving Australia offers school groups surf skills programs in surfing, surf skills and safety, lifesaving award programs, and general programs in surf awareness and importantly, rip identification; vital for teenagers. (Research shows the most common drowning victims of rips are young men who are confident swimmers).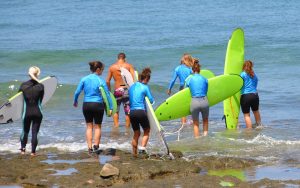 These workshops are available at iconic beaches, like Manly and Bondi, and offer an educational experience that covers the history of the surf clubs, followed by a demonstration by qualified surf lifesavers including resuscitation, oxy viva, tube rescue and other life saving techniques. The sheer beauty of the harbour is worth risking a bit of motion sickness to travel to Manly by ferry.
Science and nature
The Royal Botanic Gardens offers an astounding array of educational tours prepped to perfection with curricular correlation, and tailored activities. It's not all labelling leaves and petals either. The programs cover mathematics, bush medicine, Indigenous first contact encounters, sustainability, art and, naturally, botany.
Science Museums
There are multiple small and specific science museums tucked away in Sydney's universities – such as Sydney University's Macleay Museum, which has Australia's oldest natural history collection. The museum features the Tasmanian Tiger, Woolly Mammoth and Sabertooth Tiger, as well as a history of tools of the natural scientist through history.
The Powerhouse Museum at Darling Harbour is one arm of the Museum of
Applied Arts and Sciences (MAAS). Hands-on practical educative experiences engage student in 'the big questions'. Even better, it's free for students 16 and under.
Another MAAS facility is the Sydney Observatory at Millers Point. Here, you'll be observing the night sky with Australia's oldest telescope. The site is home to Australia's most accessible telescope domes, a 3D Space Theatre and the Sydney Planetarium. Explore Australia long history with the stars – Indigenous Astronomy interprets the constellations quite differently and the stars are integral to the dreaming.
School programs for 2018 offer a year-round selection of on-demand and scheduled experiences, across the three MAAS venues; the Powerhouse Museum in Ultimo, Sydney Observatory in Millers Point, and the Museum's Discovery Centre in Castle Hill. Search our program by topic, stage, venue or date." More at: www.maas.museum/learn/ 
The Australian Museum at Hyde Park is Australia's first museum. Within the sandstone walls, the bones of a giant whale will greet you, and reproductions of extinct megafauna might make the students shudder just a little. Aside from the general exhibition and regular special events, students can touch real artefacts, discover museum treasures and go behind the scenes of the Australian Museum. More information: www.australianmuseum.net.au 
Blue Mountains side trip
If you're willing to travel from Sydney, the Blue Mountains can be reached in a 2.5-hour train ride from the city centre. The breath-taking ridges with sandstone formations were a mystical blue barrier that taunted the Europeans – and have claimed the lives of many intrepid hopefuls. Many say there is an eeriness about the Blue Mountains and the remnants of Aboriginal settlements; dreadful stories of dispossession, and intense tales of hardships overcome by settlers make the complex history of this Sydney satellite well worth exploring.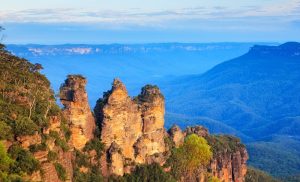 The Three Sisters is the Blue Mountains' most spectacular landmark. Located at Echo Point, Katoomba – there are two dreaming stories circulating and plenty of information to spark discussions on history and culture.
Scenic World offers student groups a fun, educational introduction to the World Heritage-listed Blue Mountains. The 2.4-kilometre Scenic Walkway is ideal for observing the temperate rainforest's flora and fauna and discovering the site's coal mining heritage. The Scenic Skyway cable cars offer a bird's eye view of Katoomba Falls, The Three Sisters and the forest canopy through a glass floor.
Civics and politics
Parliament of New South Wales (NSW): Curriculum-aligned school tours are free but must be booked in advance.  Make sure you book your tour of the Legislative Assembly when parliament is not in session, as this will generally be restricted to viewing parliament in session from the visitors' galleries.
On non-sitting days, conducted tours will normally include visits to both houses of parliament and a role-play. Teachers are advised to allow 2 hours when planning non-sitting day tours, and some groups will get lucky and members of parliament will be available to meet groups from their electorates. For primary schools, the maximum group size for each time slot is 60. The recommended maximum for secondary school groups is 50. A calendar of sitting days and extensive information about the tours, curricular links and how to prepare students for the big day are available from www.parliament.nsw.gov.au .
The Sydney Jewish Museum offers a diverse range of educational programs and opportunities for secondary and primary school students. All education programs are curriculum linked and can be tailored to meet class needs. Most programs include personal testimony from a Holocaust survivor or descendant of a Holocaust survivor. More at: www.sydneyjewishmuseum.com.au
History of Old Sydney Town
The CEO of the Australian National Maritime Museum (ANMM), Kevin Sumption was quoted in a Financial Review article as saying: "Always make an effort to learn about the history of a destination. You cannot truly appreciate a place today, if you have no concept of its past." What excellent advice. So, where can a teacher facilitate this process for their students in Sydney?
With Sydney's maritime beginnings, ANMM has educational outreach at the core of its mission and runs a popular educational program for schools. The museum is not all riggings and portholes; anything to do with the sea can be featured at ANMM. A current exhibition will showcase the journey to winning Indigenous sea rights travelled by the Yolŋu people of northeast Arnhem Land, featuring the historic collection of Yirrkala Bark Paintings of Sea Country. More at: www.anmm.gov.au
For a unique historical experience that may make you feel like you've stepped into an episode of ABC's educational history production, My Place, Sydney Living Museums manages access to a group of "12 of the most important historic houses, gardens and museums in NSW on behalf of the people of NSW". As part of the NSW Ministry of the Arts, the organisation preserves heritage listed sites around the city. More at: www.sydneylivingmuseums.com.au. The concept of 'living history' seeks to revitalise actual people's lived experience and offer visitors a window into the historical Sydney-siders' lives. Having grown up in Sydney, I have memories of peering into a drawing room at Elizabeth Bay House, and through a temporal window into the life of someone who was desperate to turn this new land into the motherland.   
Sydney's funny like that, there are places where if you turn up the air conditioning and don't look too hard out the window, you might be in England. There are plenty of discussion points for students about reluctant settlers, colonisation and the British patriotism that led to the paternalism that led to, well, everything else that's happened. Certainly, the major museums are a must, but there can be a lot to learn from the city itself.
The Rocks, for example, could be visited after a thorough reading of Playing Beatie Bow, by Ruth Parks. Still a feature on many NSW reading lists, this time travelling novel is a captivating bridge for a young mind to appreciate the cobbled together society, as accidental and shoddily combined as the cobblestone roads.