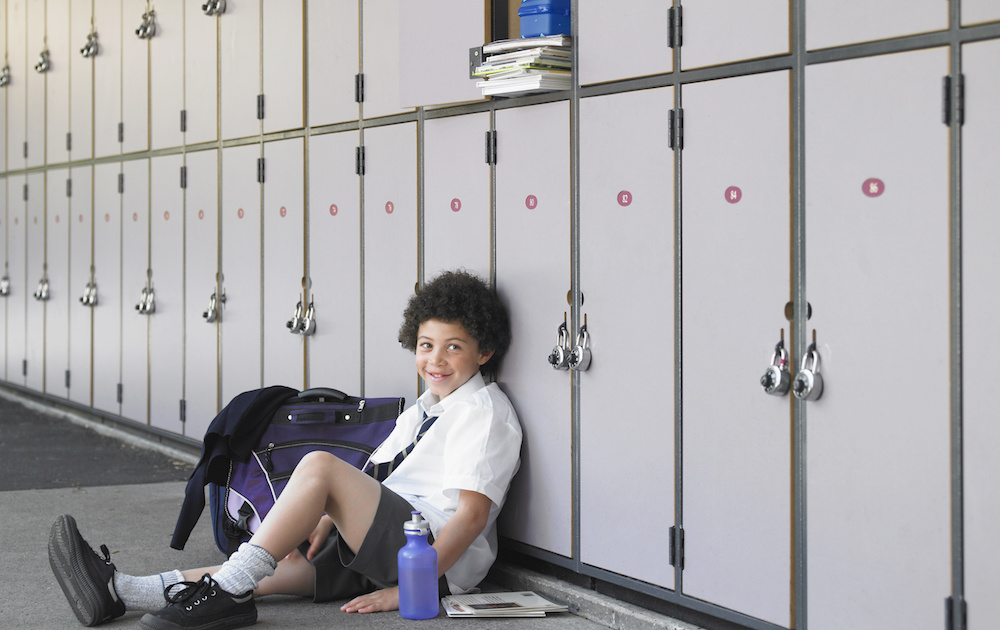 When students arrive at school, they are often carrying a backpack containing a stack of heavy books, sports clothes as well as other extras, like show and tell for the little ones, and a change of clothes for after-school activities or employment in high school.
It's customary for primary schools to provide a 'locker' or cubby hole for students to place their bags, their spare clothes and lunchbox, or to park their creations until home time. The lockers are generally in the classroom or just outside, and in highly supervised areas so security is not an issue. 
In high school, things get a little more complicated. Students often bring electronic devices as part of a BYOD scheme, or depending on your school's policy, for personal use. They are more likely to carry money, and they have a greater need for privacy for personal items, such as sanitary napkins and other personal care supplies.
However, this increased privacy can cause security issues. While that master key in the year coordinator's pocket certainly gets more of a work out in some schools than others, reports illustrate that no school is immune. We've read about drug dealing teens at an elite boys' school; a stash of party drugs and alcohol found at a Catholic girls' school in Sydney, not to mention bomb scares – and a bizarre incident of mass text book theft in a Melbourne high school in March this year. It's little wonder some schools cite security as a reason not to install lockers, or to remove existing units after a spate of theft and vandalism.
Healthy spine advocates continue to be concerned however, and urge schools to find a way around it that doesn't involve students lugging heavy bags all day. The Chiropractor's Associate of Australia maintains that 90 percent of school children have bad posture when carrying their bags, and you know those ergonomic features the P&C insisted on for the school bags?
We all know they don't use these features, instead they drape 17 percent of their body weight across one beleaguered shoulder perfecting a lope that defies gravity. Protecting your spine by earnestly carrying your bag upright like a middle-aged tourist is probably uncool or whatever the opposite of "lit" is.
Managing locker security
 Some schools conduct weekly locker inspections, some random, some targeted. Other schools have lockers that are closable but not lockable, and other schools offer storage cages for a fee so students can store their extras for the duration of the day. This option can be useful for students in shared care arrangements who come from one home in the morning and travel to the other after school. The storage facility can remove an extra element of frustration in an already potentially stressful arrangement.
My daughter's state high school recently installed lockers available for rent for a fee; first preference was given to year sevens and then year eights in view of their smaller bodies, combined with a large number of books and equipment. This system allows exclusion of high risk students, or removal of locker privileges if an incident has occurred.
What's out there?
Innovation in locker design continues and lockers are available as retro metal cupboards, or new-fangled pods with device charging and internal shelving to eliminate 'locker avalanche syndrome'.
From rows of lockers in the hallway to special purpose lockers, a provider that specialises in lockable and general storage will be able to suggest a product for each application. Considerations will centre around location, form and use. For example, a school common room will need to house lockers that are big enough so everything fits, but small enough that they all fit in the room.
Considering the ubiquity of personal devices owned by the current generation of students, exam hall lockers are gaining traction. It's not just car keys that exam candidates have in tow when they present for their final exams. Installing valuables lockers in exam halls can provide a secure place for students to store devices upon entering exam conditions.
Storage to enhance teacher experience and performance
Teachers need storage too, and with the rise of the innovative learning environment (ILE), the units must offer the flexibility and versatility required to support a learning facility that is constantly reconfigured. Expecting a teacher to adapt to an innovative learning mentality requires supporting infrastructure – especially if they are used to a traditional class set up with teacher's desk at the front, storage shelves around the sides and everything in one place – including the students.
As schools redesign learning formats, sprawling learning spaces are emerging as a backdrop for team teaching and vertical learning cooperatives. ILE proponents advocate frequent scenery changes throughout the day to maintain engagement and enhance comfort. Is it quiet reading? Then proceed to the beanbags. Is it solo desk work? Off to the study nodes on castors. One frustration expressed by teachers operating within this mode of learning is that they miss their desk as a centralised storage station. To address this, innovators have developed activity pods, where a teacher's resources are stored in a standing desk / shelving unit on castors.
Units with retractable white boards and desk spaces, cascaded paper shelving, and exterior panels fitted with magnetic or writable surfaces can all provide teaching aids and enhance engagement. The teacher's desk becomes a teaching aid, a lectern, a multimedia centre and a place to stash your morning tea.  The landscape of the classroom may well be changing but furniture innovators are keeping up with creative solutions to keep learning on the move.