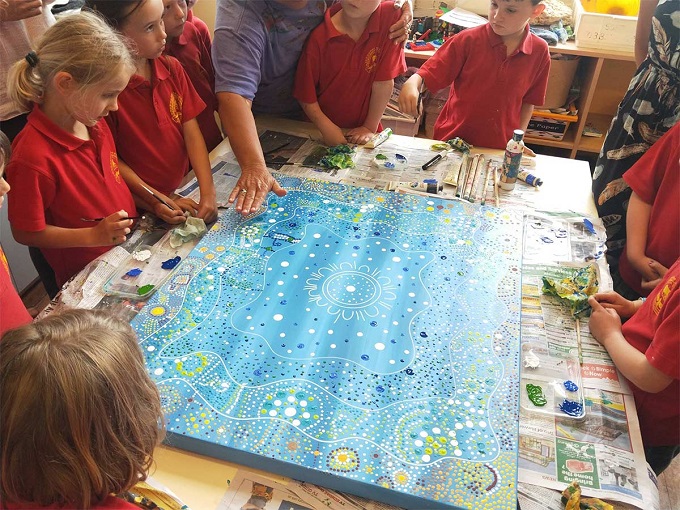 A grant to bring a Dreaming story to life through music has changed the way a school learns about Aboriginal customs and culture.
The musical piece composed in collaboration with the local Aboriginal community took centre stage at Scarborough Public School's NAIDOC showcase last week.
The composition was a year in the making and funded through a grant that enabled the school to work with the local Aboriginal community and composer Owen Elsley.
The 'Five Islands' composition, was based on the Dreaming of the Five Islands, a story with geographical and cultural significance to the local area.
The story for the composition was chosen by the local Aboriginal community and presented to the Scarborough students by Elder and native Dharawal speaker, Aunty Jodi Edwards.
The composition was developed across several workshops with Aunty Jodi and Mr Elsley, who explored with students the Dreaming story and developed musical phrases, visual scores and rhythms.
The school's choir performed the composition last Wednesday during the school's NAIDOC showcase, with a second performance planned at the Wollongong Schools' Choral Festival at Wollongong Town Hall on 1 August.
The showcase also featured student artwork, public speaking and a 'Connecting to Country' poetry slam, with poems performed by Year 5 and 6 students exploring the concept of 'home' and the relationship to the local area.
Principal Chris Hopkins said while the school had always celebrated NAIDOC Week and other significant days, it had always "felt as if they just scraped the surface".
"This all changed when we received a grant for a music composition workshop around the local Dreaming story of the Five Islands," he said.
"This experience led us on a new journey, led by our students."
He said as a result of the questions raised from the music workshop, Year 6 students approached the school leadership to ask if they could fundraise to paint a concrete tunnel in our playground with an Aboriginal mural, which had gone ahead.
Through the workshops the students had also had greater exposure to the Dharawal language.
"This led to one class researching a range of greetings in different dialects across the many Aboriginal nations," Mr Hopkins said.
"We also chose to name all our classes after Dharawal words with local significance, chosen by the students. These class names are Burri Burri (humpback whale), Gadhu (sea) and Mudjingaal (friend)."
Mr Hopkins said the composition had also been the springboard for developing a strong relationship with the Northern Illawarra Aboriginal Educational Consultative Group who has worked with the school to develop a meaningful approach to learning around Aboriginal and Torres Strait Islander history and culture.