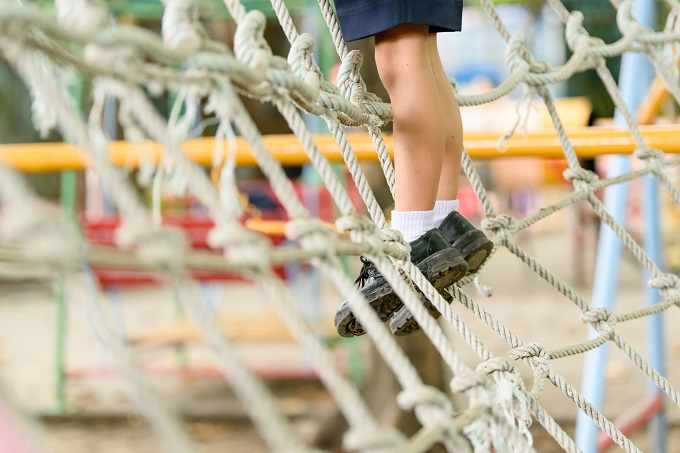 Every surface-type requires a rigorous maintenance schedule to help prevent injury and help satisfy compliance standards. 
But is non-compliance the only factor in assessing playground safety risks? We tracked down an auditor to find out what schools should know.
Overall, we found that in-depth inspections should be taken out at least once a year; particularly if you have organic surfacing that will require topping up. Look out for signs of wear-and-tear in synthetic surfaces as well as play equipment and any shade installations. Of course, if a child sustains an injury on the playground this should be investigated immediately, regardless of how minor the injury.
We spoke with the playground safety expert and auditor at Bruce Stephens Playground Services, Bruce himself, to find out more about audits and undersurfacing.
Playground audits look closely at both the play equipment and the undersurfacing material to check whether they are still in a safe condition and meet requirements of the Australian Standards for playground equipment.
Conducting playground audits is a specialised task that needs to be completed annually, particularly important in schools where the play equipment is used heavily and has high levels of wear and tear.
Beware of playground audits offered by playground companies as their results and advice may not be impartial and may be used as a means for them to generate additional business by selling you a new play equipment.  Playground audits should only be completed by trained, experienced and independent playground auditors. 
After having your playground audited, it is important to understand that compliance with Standards is not mandatory and can be costly and hard to achieve, particularly on older equipment manufactured prior to the Standards changing.  The most important thing is that the play equipment is in good working order and does not pose a safety hazard to the children. Equipment that no longer complies with the current Standards will not necessarily be unsafe and may not need to be modified or replaced. 
When there is a non-compliance identified on a play component, the issue is risk-assessed to decide whether it poses a serious safety risk and whether modification or repair or replacement is required. This is where the services of an experienced and independent playground auditor is essential.
Regarding playground undersurfacing material, there is no perfect playground surface and they all have different costs and pros and cons. Many schools near the coast use sand as undersurfacing because its cheap and readily available but in other areas, pine mulch is the cheaper, more readily available alternative. Loose materials like these generally offer very good levels of impact attenuation when maintained at the required minimum depths, are nice to play on as they don't get too hot, are natural and sustainable.
However, they will need to be maintained regularly, raked back into position, levelled, depth maintained, etc., and they can deteriorate over time, needing replacements or top-ups. When selecting loose undersurfacing materials, ensure they are suitable for use in playgrounds. Sand, for example, can damage metal and fibreglass surfaces.
Unitary surfaces like wetpour rubber, rubber tiles or rubber matting, sometimes covered with synthetic turf, are quite expensive initially but generally involve less on-going maintenance. They are not maintenance-free and will still need regular inspection as the material can wear and deteriorate over time, requiring periodic repairs.
Standards demand they be impact tested at both installation and at three-year intervals to ensure that they continue to provide adequate impact attenuation. Rubber or other synthetic surfaces can also get quite hot in warmer months and may not be suitable in all locations. Some rubber surfaces are also not recyclable and may have to be replaced when worn out rather than being patched or repaired.
As a result, a combination of both loose natural undersurfacing material and unitary surfaces within the school playground works best. Again, an experienced and independent playground auditor can help you decide which playground surface is best for your school's situation.