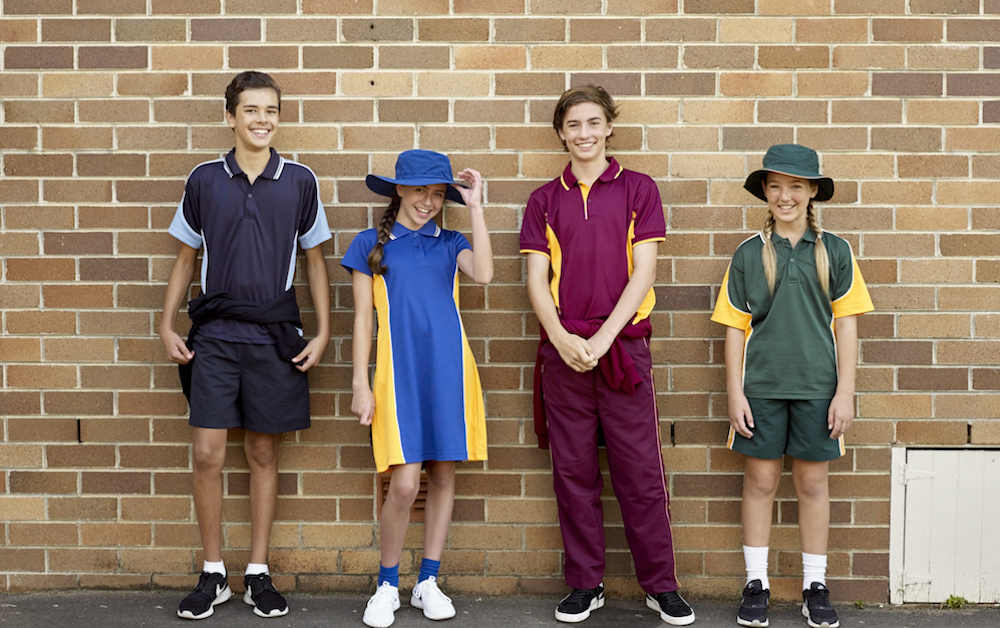 With the recent decision to compel all WA schools to offer female students the option of wearing pants and shorts to school, gender neutral uniforms are in the news again.
School uniforms should be abolished – for or against? While this may be a classic high school debating topic, the majority of Australian schools remain firm that uniforms are preferred and here to stay.
School uniforms are valued in the dominant school culture as a way to equalise the appearance of economic disparity and shift students' focus (especially teens) off physical appearance and fashion, and onto learning. School uniforms are said to create a sense of belonging and school pride. They also act as an identifying tool for community members observing questionable behaviour before and after school.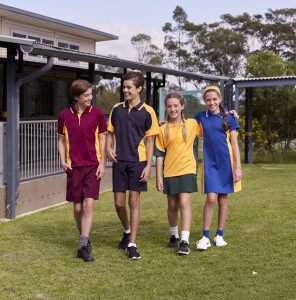 These are accepted as valid points, yet, the landscape of our student body is changing, in more ways than one. Students are reaching puberty earlier, and according to the Australian Institute of Health and Welfare, 25 percent of children are obese.
In other news, patience is wearing thin in the public domain for gender segregated uniforms.  As indicated in journal article, 'Ritualized girling: school uniforms and the compulsory performance of gender' published in Journal of Gender Studies, "skirts and dresses restrict movement in real ways; wearers must negotiate how they sit, how they play, and how quickly they move. Skirt-wearing, consciously and unconsciously, imposes considerations of modesty and immodesty, in ways that trousers do not".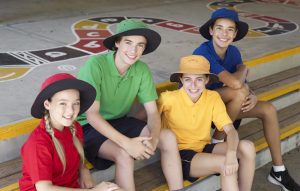 While a large number of schools have updated their policy to a gender-neutral uniform, some schools need more of a push and parents, female role models, advocates and academics have banded together to deliver it.  Girls Uniform Agenda was formed following Simone Cariss' petition to have a Victorian school allow her daughter Asha to wear pants to school.
Australians acknowledge the benefits of a school uniform it seems, but they want it to be non-discriminatory, suitable for different body shapes, climate-suitable and durable. For some insight into why schools value their uniforms, and how they are responding to shifting expectations, we caught up with Hope Jameson of school uniform supplier, LW Reid.
Industry view
Ms Jameson says that while schools have responded to families' desire for flexibility, comfort, and often gender neutrality, the school uniform is here to stay.  She said, "wearing a uniform is a badge of pride. Wearing your school uniform is important to a student; it says, 'we're all in this together' –this 'membership' builds self-confidence".  She says uniforms reinforce that sense of connection to community that children crave and defines a school's identity.
Uniforms are changing: "School uniforms are becoming less formal overall," Ms Jameson said, and "for schools still looking to maintain a specific girls' uniform we have given a more casual approach to the traditional school dress by making a 'Polo' school dress –  combining the casual feel and bright colours of a polo with a dress-friendly option – in a 'put on and go' (no ironing needed) cotton back fabric".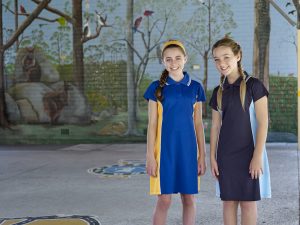 "Skorts are gaining popularity for girls who prefer skirts, but want a range of movement unrestricted by modesty concerns when they want to do a cartwheel at school."
Ms Jameson says that with changing body profiles, shorts, skirts, and pants with a flexible waist offer a good solution: "Designed with the growing child in mind, an adjustable waist gives students more length options, and also addresses expanding waistlines."
What else has changed? As with most markets, consumers have become more price and competitor savvy: "More parents shop at retail chains, which detracts from the school's uniform shop fundraising, but parents will return to the uniform shop, if value for money is offered." She says lowering prices on everyday products and making sure items are durable will bring them back to the convenience of the uniform shop.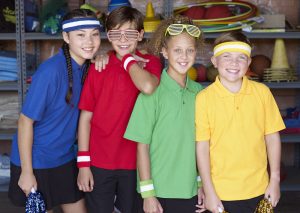 While comfort is king, durability is also important. "Fabrics hybrids are gaining popularity. A higher cotton blend, (60 percent cotton/40 percent polyester), will balance comfort and performance. The high cotton breathes easy against the skin whilst the polyester provides excellent colour fastness and helps the garment maintain its shape through repeated washing and hard play," Ms Jameson explained.
She says microfibre is "just made of stronger stuff": "Microfibre is our most popular fabric due to the durability, high UPF rating and ability to hold its colour even when out in the sun."
For sportswear, she said, "the cotton/polyester blend fabrics are moisture management materials, which means they draws sweat away from the body, keeping the wearer cool and comfortable".
Sportswear design demands also shift: "Over the last year we have revised some of our popular everyday styles with a contemporary sports cut – providing lo-rise and active side splits for added mobility. For sports day/carnivals, schools want team branding -screenprinted or embroidered."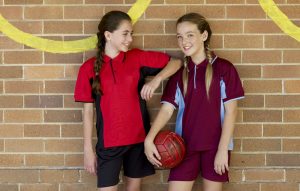 Versatility reduces cost to families: "With school and sports day in mind we designed a reversible microfibre bucket hat –  one colour in a neutral school colour, and the reverse in the school house colours. One hat for all purposes."
School branding can be added to almost anything, from school bags, to sun hats. Ms Jameson said, "library and book bags have become more popular, and are a great way for schools to send homework books and school notes home".
Many uniform shops stock bags in all shapes and sizes, with features such as extra pockets and compartments, or additional shoulder strap support. "Great for those little ones still adjusting to not having mum carry everything," Ms Jameson commented.
Uniform suppliers will offer solutions that suit school budgets, and should have ways to manage the long lead time required to produce branded items, and the cash flow implications of ordering well ahead of student purchase: "School orders change year on year, with students, and with seasons. Initiatives such as LW Reid's extended credit allow schools to order uniforms with no payment for seven months."