News
School perimeter fencing: do fence me in!
 Remember the days in the old schoolyard? Well, schoolyards are still around, and while they may contain more interesting play equipment, they are still an area of land with a perimeter, requiring a fence.
The level of security required by each school will depend on factors such as school location and surrounding features, as well as the population of the student body and their range of ages.
Contingent on a school's surroundings, security issues could include anything from graffitists or other more dangerous intruders, to a wandering bull or a crocodile! With so many considerations requiring specialised knowledge, we invited an industry expert to outline the 'pros and cons' of different fencing options, and the 'dos and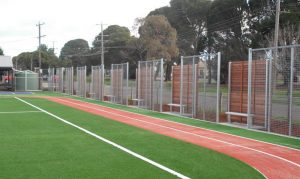 don'ts' in school fencing for various applications.
Industry view
With vandalism frequently reported in the media, a secure perimeter fence protects property after hours when security is minimal or absent. While students and staff are present, the focus is on student and staff safety, and the rationale for this is two-fold. It's about keeping intruders out, and students in, but it's also about visitor management. 
According to Annette Jebb of Lee Brothers Fencing Group: "A perimeter fence with a clearly marked entry point directs all visitors to the main entrance of the school, where entry can be controlled and monitored."
Another role in the boundary fence portfolio is curbing foot traffic of another kind; students leaving the school grounds without permission. "Perimeter fencing helps teachers manage student supervision when on yard duty, as children are contained," Ms Jebb indicated, and certainly with many school populations tipping a thousand, keeping track of a sea of uniform-clad youths presents a significant challenge. 
When teachers are not keeping students in, they can be seen performing death-defying leaps to deliver hero-style appropriation of poorly aimed footballs…or maybe not, but without suitable fencing, they are charged with retrieving them. Ms Jebb told School News about a new government school in Point Cook (a growing suburb of Melbourne). "We installed a 1200mm high rod top tubular steel fence with a 6000mm high screen chain wire fencing as part of the perimeter fencing, specifically to keep footballs in."
Choosing the right material
Chain wire fencing, weld mesh, tubular steel, or perhaps just 'building a wall' might be employed to keep intruders out. Factors like style of architecture in the school, location, number of students, total area to be enclosed, and of course budget will influence selection of materials.
"Inner city and suburban schools generally have much higher and heavier duty security fencing," Ms Jebb advised, "compared to less densely populated areas where schools still opt for a lower perimeter fence".
Security issues on the rise
Schools are requiring levels of security unprecedented in prior decades: "We have been providing fencing to pre-schools, both primary and secondary schools; and other educational facilities for many years."
As security concerns deepen, those fences are getting higher. "Traditionally schools installed pool like fencing that was 1200mm high; now fencing is much higher with heights over 2100mm for standard perimeter fencing," Ms Jebb reported.
Beauty and brawn
The school fence contributes to first impressions.  For schools located on main roads, countless cars will pass the fence.  What will they see? What does your fence say? Prison camp or picket fenced cottage, or somewhere in between?
Our informant told School News that a perimeter fence need not be an eyesore. Integrated design can harmonise with the school's design principles and add to your school's charm. It's all about choice of materials, design blending, and good planning.
Ms Jebb outlined how the key considerations of aesthetics and performance combine. "Perimeter fences need to blend with the environment and not detract from the aesthetic appeal of the school. Previously, fences were finished in galvanized steel but now they are usually powder coated in a black finish to blend with the surroundings." 
The planning stage
Planning is vital in designing and commissioning your school perimeter fencing. With fencing a considerable investment, it should last, and it should be fit-for-purpose; that is, your individual purpose.
"We work with schools to tailor fences to their individual requirements. Considerations include sporting activities, vehicle and pedestrian access, neighbouring sites and security."
Examples of such considerations might include the notorious right foot of a future football star, or the next Sir Donald Bradman sailing a ball straight into oncoming traffic. "Perimeter fencing may need to include some high screens to prevent balls from going over the school fence," Ms Jebb cautioned.
Access and thoroughfare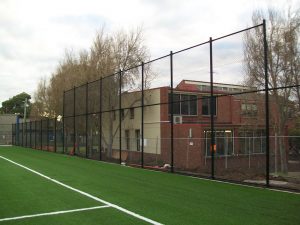 Another important consideration is access. Where will you allow access, and where do you need to place gates, for both pedestrian traffic and vehicular access? "There may need to be additional gates that can be opened for drop off and pick up times – but locked at other times," Ms Jebb suggested.
Final checklist for schools
"Your school perimeter fence should provide a clear barrier around the school and create a safe place for students and teachers. It should direct visitor traffic to the main entrance, and protect the school when unattended," Ms Jebb concluded.
No school wants to commission an expensive mistake, so Annette Jebb provided us with some parting advice, which included: assess your situation and make sure your fence fits requirements; avoid low quality products that won't last; and work with a reputable company with expertise in education fencing.