News
Curriculum reform update for NSW
We speak with school leaders as teachers & parents help shape new English and Maths syllabuses for Kindergarten to Year 2...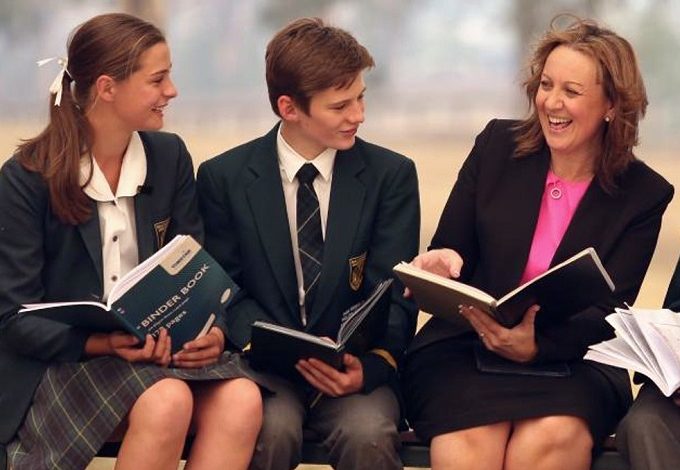 The NSW School Curriculum is currently undergoing significant changes under the guidance of the NSW Education Standards Authority (NESA), and leaders at Macarthur Anglican School tell us what the results have meant for them so far.
The release of the new curriculum for feedback is the first major milestone in the NSW Government's ambitious curriculum reform, which will rollout next year and aims to focus on three core subjects: English, Maths and Science.
Premier Gladys Berejiklian said the new evidence-based curriculum would deliver on the government's goals of decluttering and raising standards to equip students for the jobs of the future.
"The new curriculum prioritises the basics and will ensure students develop strong foundations in Maths and English," Ms Berejiklian said.
"Thank you to the 45 expert Kindergarten to Year 2 teachers who have already met with the NSW Education Standards Authority to review and provide feedback on the new curriculum content.
The curriculum is more explicit in the direction of what Kindergarten to Year 2 students need to be taught and does not leave room for misinterpretation.
"We are now calling on all NSW teachers, parents and the broader community to provide their feedback on the draft Kindergarten to Year 2 curriculum."
Minister for Education Sarah Mitchell said literacy and numeracy skills are critical to unlocking young people's potential while at school, improving their academic outcomes and enhancing their life choices.
"The evidence speaks for itself, and we need all teachers following the evidence, teaching essential knowledge in evidence-based sequences," Ms Mitchell said.
"We have prioritised essential content and provided clear examples to teachers to reduce ambiguity.
"Teachers are the drivers of student outcomes. By reducing the clutter and confusion for teachers, it allows them to focus on their students.
"Our approach to these reforms is evidence-driven and focused on student success. The feedback we have had from teachers so far is very positive and confirms we are moving in the right direction."
Public consultation closes on 30 April 2021.
Have your say:
One school's response to reform announcments:
Macarthur Anglican Dean of Studies, Kylie Elling, says the reform she is seeing so far from NESA is about making space for teachers. "We're not necessarily seeing a culling of important content; instead the curriculum is being streamlined and re-sequenced – it's about making space and finding clean air. 
"The focus for curriculum reform that we've seen thus far has been on the foundational curriculum. The K-2 English and Mathematics syllabus. We've also been impressed at the consultation process that NESA has in place. The formation of the TENS (Teacher Expert Networks) with over 200 teachers involved, including our Head of English, Blair Colella has been an excellent addition to the reform process. 
"The TENS approach is a complete shift in thinking and has become more research-based. It involves current teachers in schools developing the syllabus from a base," added Mrs Elling. 
In Blair Colella's case, she attended her first TENS meeting in February and returned to the school to share with her colleagues at Macarthur. 
"It's extremely rewarding to be involved in TENS. It's very unusual for teachers from all three sectors of NSW education to connect and have a strong voice in how the curriculum is written. 
"Ensuring that the TENS groups are all current teachers with a significant teaching load across all sectors, regions, subject expertise and year group is critical to its success. I'm really enjoying being involved and particularly connecting with other teachers from the Macarthur region," said Mrs Colella. 
NESA says the current curriculum is overcrowded and has identified a new direction in its NSW Curriculum Review Final Report saying "it needs to be refocused. Teaching and learning are focused on developing students' deep understandings of important concepts, principles and methods in each subject. Factual and procedural knowledge remains essential, but the syllabuses of the new curriculum prioritise depth rather than breadth of learning." 
Kylie Elling added, "The changes we have seen so far in the K-2 English and Mathematics new syllabus appear to be heading the right way. I understand the content has been reframed and re-sequenced. They have also removed duplicates and introduced strong evidence-based strategies. 
"What is also positive about the approach is that the syllabus can be taught by a first-year out teacher or an experienced teacher. We are well resourced with many experienced teachers who can assist in mentoring the less experienced teachers and our beginning teachers bring current research and practice as well as passion and enthusiasm," added Mrs Elling. 
The new K-2 English & Mathematics syllabus is to be implemented in 2022. 
In preparation for the changes, Macarthur has invested in decodable readers ready for the explicit teaching of synthetic phonics.  
"We are also really pleased to see a focus on abstract and applied knowledge. The link between the two needs to be made clearer. This simply involves the teacher taking a concept and explaining how to apply it. It is similar to having a toolbox and now you need to know what tool to use – the why and when. The connections need to be made and we aren't able to go deep enough at the moment. 
"This is just the start of the curriculum reform and we're looking forward to finding out more, and playing an active role," said Mrs Elling.