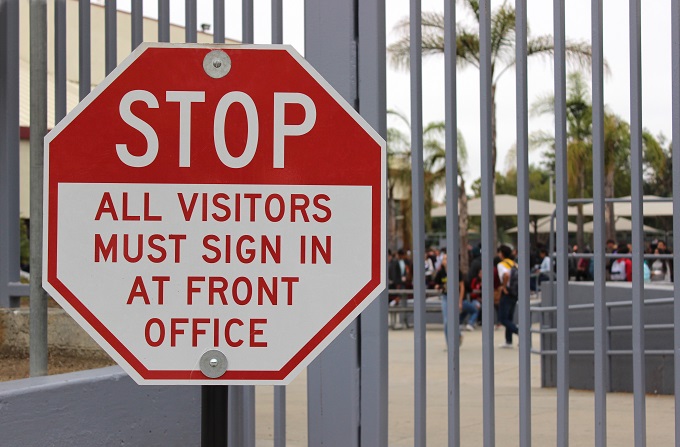 Sign-in protocols have changed drastically.  
Schools now need digital systems that minimise administrative duties and use up less paper but create a rigorous record of visitors, events, incidents and activities. Digitised systems make it easier for schools to organise, vet and welcome guests while keeping students safe and protecting themselves from liability. New systems can scan ID to make sure volunteers and visitors who come into contact with students have appropriate documentation such as the Working with Children Check in Victoria or the Blue Card in Queensland.  
A thorough visitor management system should be quick, seamless, and gather lots of data. In the event of an emergency, schools need to know who is on school grounds. If an investigation is carried out at some point in the future, a record that details who, when and why someone was at your school is invaluable. A digital record can house more information than a physical one as it is not so limited by space. For instance, you can retain photos of entrants, along with a record of any staff they met with, which areas of the school they had access to and where applicable, which students they interacted with.
As a society, we are more security-conscious now than in previous decades. Digital visitor management systems allow schools to implement a thorough vetting procedure that keeps students safe without adding to staff duties or diminishing the welcoming atmosphere of your school. Almost the entire process, from scheduling and room booking to reminding school leaders or staff members about a new arrival, to carrying out ID checks, printing name tags, directing visitors around the school, and distributing health and safety messages, can all be programmed and streamlined with a digital system. Every moment a visitor spends at your school can be recorded and tracked in real-time, without impeding on their experience or the experience of students/staff.
Effective systems can also cover daily tasks like staff sign ins or alerts about fire alarm testing. They can make reporting incidents, accidents and late student arrivals much easier. They can also notify teachers about student movements, staff meetings or guest arrivals with a quick email or SMS. Some digital systems pose other benefits like data collection for future marketing or communication strategies.
There are lots of software platforms on the market, so ask around to make sure the system you choose is cost-effective and improves on, or integrates with, your current system(s).
Industry insights
School News spoke with Stephen Darracott, Vice President and General Manager at Pitney Bowes Australia and New Zealand, to find out more about services now available to schools.
"More schools are recognising the need to implement a robust visitor management system. Most schools choose a system depending on the physical environment they're looking to manage. For example, if you have little space or a small reception desk, a kiosk is a great option as it's free standing. If you do have enough room, desk-mounted options offer the same functionalities at a lower cost. No matter which option you choose, you'll get a complete hardware package that's ready to go and supported in case of any issues.
"A good visitor management system will let you pre-print labels for groups in advance or can be integrated with Outlook, so people sign in using a QR code on their mobile. Messages, screens and ID labels are fully customisable for each school. Background images, maps, or diagrams can be added to match school branding. Printed labels can include the school logo, the visitor's photo and any other information needed to identify them. You can also set up the system to communicate health and safety guidelines for the person to read and acknowledge.
"On the home screen, you can add a screen saver to promote your school, upcoming or past events. The system can automatically email and/or send an SMS notification to the appropriate person or group in the school. Most organisations will provide training so schools can get the most out of their new technology."
In the future, he revealed: "Phones are increasingly common as a form of ID, especially with the recent introduction of the digital driver's licence in NSW. It's definitely on the horizon for visitor management and we'll likely start seeing technologies that let visitors sign in with their mobile device."