News
Administration
New principals are ready to lead
Pascal Adolphe met some of our newest school leaders earlier this week as they prepared to take the helm of a school and welcome back students today.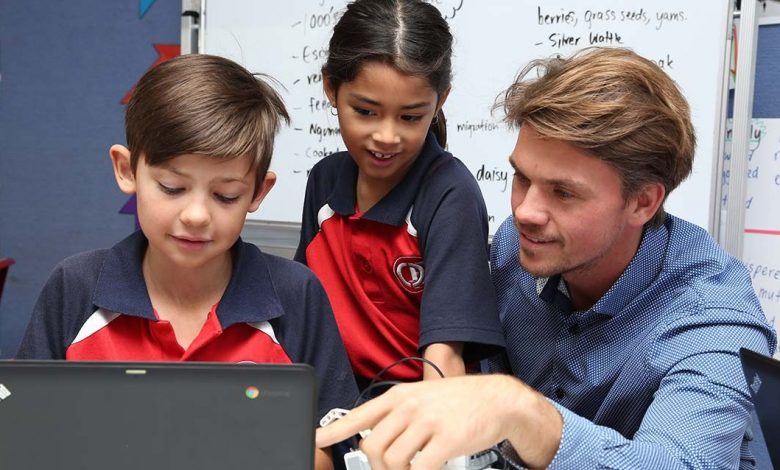 Nineteen of those positions are outside the Sydney metropolitan area. Most among the new appointees have already clocked up a wealth of experience in school executive roles as an acting, relieving or deputy principal.
Meet some of our newest school leaders:
Michelago Public School
For new Michelago Public School principal Geoffrey Smith being a principal was never really an ambition.
Michelago Public is a small country school of 41 students, located about 55 kilometres south of Canberra.
"My ambitions have only ever been to provide the best for my students and I feel this drive paved the road to becoming a principal," he said.
"As a teacher I've had a wide range of experiences; from being a classroom teacher, to working in a support unit, leading school wellbeing programs and relieving as principal in rural schools in the area."
Mr Smith was always destined to be a teacher, committing to the profession after spending some time working overseas.
"I had a desire to contribute to society in a meaningful way and have a job which was dynamic," he said.
"I'm driven by the idea that I can somehow play a part in helping people achieve their goals and to live a meaningful, fulfilling life."
Mr Smith was also a proud advocate of a teaching career in regional and rural areas.
"Regional areas rule," he said. "I would recommend to any graduate that they free themselves from the coast and check out what regional Australia can offer, especially as a teacher.
Mr Smith said distance was no barrier to excellence.
"I'd love our school to be a leader in rural education and for our staff to have the capacity to share dynamic and innovative new practices with colleagues in rural and metropolitan areas. 
"I also want our students to have access to every educational opportunity that students in a city might.
"I want to offer this whilst maintaining the close family-orientated environment that comes with a rural school. I want these kids to have the best of both worlds."
Macquarie Fields High School
New Macquarie Fields High School principal, Karyn O'Brien, has come the full circle in her 35-year public education career.
She started teaching in the Technical and Applied Science (TAS) department in 1985 at James Meehan High School in Macquarie Fields and this year, she takes up the reins at Macquarie Fields High School.
"Being a TAS teacher was all I ever wanted to do since I was 13 years old," Ms O'Brien said.
"I had a passion for textiles; my mum was working at schools in the office and library and I had teachers around me all the time."
Ms O'Brien also had extensive experience as a deputy principal first at Holroyd High and most recently at Burwood Girls High.
She has also worked at the NSW Department of Education's Centre for Education Statistics and Evaluation; providing professional learning to school leaders across the state in use of data and evidence-based research to inform quality teaching and learning in NSW schools
"That experience nailed it for me in terms of getting the principal position at Macquarie Fields," she said.
Ms O'Brien said she was looking forward to taking up the leadership role at a school "that seems to be travelling on a good trajectory".
"They have a focus on student wellbeing and have a really strong senior executive. I went out there before Christmas and met the student leaders who are very impressive young people.
"I love working with young people. They never cease to amaze me on how resilient, creative and hardworking they are.
"I believe in promoting student voice and student leadership opportunities to equip our young people to meet the demands of the future and to be effective and valued citizens."
Willans Hill School
Terri Inglis's 23-year career in education, that has seen her teach in primary schools in NSW, Victoria and London, was also inspired by a "fantastic Year 9 English teacher".
"Having great teachers inspired me down the teaching path and I did teaching as work experience in Year 10," she said.
Ms Inglis said she was looking forward to the leadership role at Willlans Hill School, a K-12 School for Specific Purposes (SSP) in Wagga Wagga, and continuing the reforms she started as acting principal last year.
"I put in new systems and structures last year and I'm really keen to see how they're going to work out," she said.
"It's a great opportunity to develop my leadership skills and a really big challenge to learn new things in a different setting.
"Being an SSP you have to deal with complex behaviours, medical issues and students with disabilities so it's a high-pressure environment."
But she was confident she had the great staff she needed to be a successful leader.
"I've worked in the different school systems – public, independent and Catholic – and it's not the system that matters, it's the people you work with and how much they want to improve," she said.
"Great teachers and great leaders make a great school."
Victoria Avenue Public School
Education was not Elisa Baker's first career choice.
Ms Baker is the new principal of Victoria Avenue Public School in Concord West.
"I was in banking for 10 years before I became a teacher," she said.
Having children of her own combined with a change of banking philosophy sparked the career change.
"When I had my kids, it made me think that I'd like to work with kids so I did my teaching degree when my kids were little, then when my kids started school, I too went to school (as a teacher)," Ms Baker said.
"Also at the time, the bank was changing. They didn't want us to meet people and I discovered that I am a people person."
Ms Baker spent the past 14 years working in public education as a teacher and in recent years as assistant, deputy and relieving principal at Riverbank Public School.
"I'm all about the kids," she said. "They are why I do what I do. I love working with them and watching them grow and have those lightbulb moments."
Bonalbo Central School
The education career of new Bonalbo Central School principal, Kathryn Taylor, has seen her teach French and English in both the public and private sector across three states via studies in Noumea.
Ms Taylor embarked on her teaching career in her home state of South Australia before heading to a private school in Townsville, North Queensland.
But it was on moving back to South Australia and working at Ardrossan Area School that she found her niche in teaching, she said.
Area schools in South Australia are the equivalent of Central schools in NSW that accommodate K-12 students in the one school.
"I realised I love the wider range of students in these schools and being part of their development from five to 18 years of age. You get to know the students' families and there's a real sense of community," Ms Taylor said
She started teaching at Bonalbo Central School when her family "fell upon a great cattle farm" in the nearby northwest NSW rural community of Drake.
This year she takes charge of the school and was relishing the challenge, while excited to continue in the classroom teaching Year 7 French.
Ms Taylor said she had "always wanted to be a teacher".
"I had an amazing experience in high school with an exceptional English teacher who gave me the vision to be a teacher. I just thought that's the difference I want to make," she said.
"Now, I like to think that I have been an inspirational teacher to my students."
All images courtesy of NSW Department of Education.