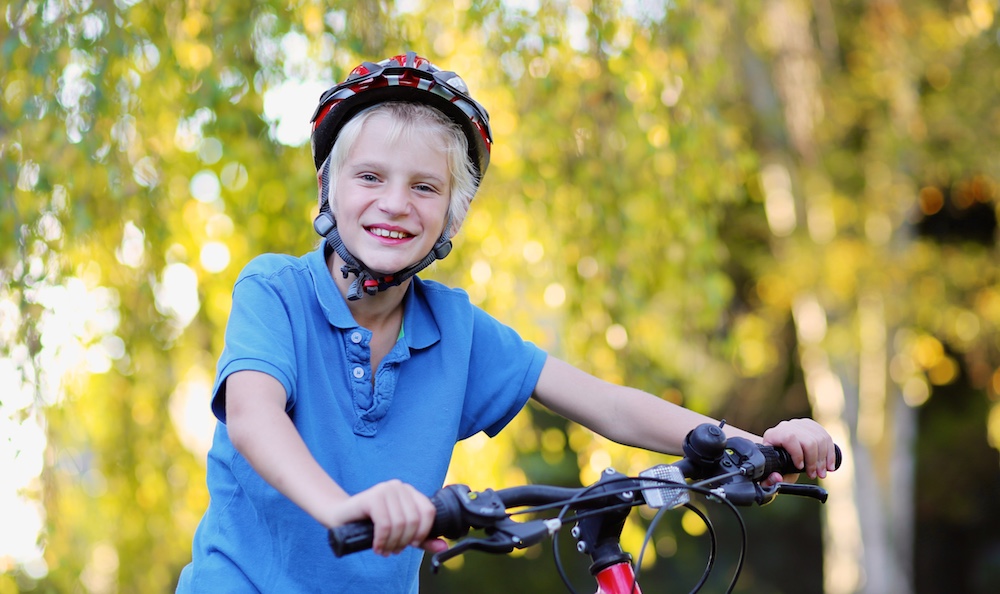 As childhood obesity statistics fill both news feeds and the preoccupations of parents and carers, the morning school run in the family car persists. How can schools support their students to get to school under their own steam?
In a Queensland town, local police officers recently issued a public warning to parents that students under 12 should not walk or ride to school alone. I'm sure many remember traipsing to school, or sailing, helmet free down the footpath with the wind at their back. Well, that's just not safe, not the bareheaded bit anyway, but the rest, many argue, is quite safe, in fact, it's healthy.
If this is so healthy, why are parents not sending their kids to school by bike, or on scooters, or simply on foot? The reasons are many, but the most frequently cited are increased distance between home and school resulting from urban sprawl, and the trend away from just attending your local school. Other factors include road safety concerns, the risk of theft, and kids these days are used to being driven everywhere.
How can a school encourage their students to self-power to and from school? I heard of an 'introductory bicycle skills' program at a school the other day, which seemed perfectly normal, until I realised it was for high school students. With the rite of passage from training wheels around age five no longer the norm, health advocates suggest schools pick up where the parents left off, and teach bike and scooter skills at school.
Aside from education, appealing to the local council to ensure bike paths are at least on the agenda should be part of the plan, and of course, storage.
Industry views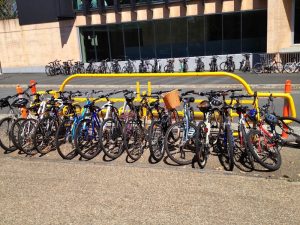 Bike and scooter parking is a must if schools expect their students to ride to school, and families will be reluctant to send valuable equipment to school without assurance of security.
David Matthews, managing director of Leda Security Products, says the numbers of schools providing bike and scooter parking is increasing: "Years ago, when we first moved into providing bike and scooter storage for schools, most principals said they had no funds, and if they were installed, they were funded by P&C associations."
"Australia definitely lags behind New Zealand in the number of kids riding to school, but Australia is seeing a steady increase," noted Mr Matthews.  He says that in Australia it varies from state to state, with Western Australia the clear leader: "In WA, they've taken the initiative that bicycle parking must be included in all new school design projects."
The last decade has seen a shift towards bike racks in other Australian states, but progress is still slow. Mr Matthews acknowledged that progress had been made with speed restrictions around schools at high-traffic times of the day, but "certainly councils and government could make it easier for children to safely get to and from school in a healthy way if they provided paths."
In most cities in New Zealand, scooter and bike use is far more common than in Australia, as cycling culture strengthens.
Despite traffic issues around Auckland particularly, there is commitment from local councils to work towards better bike paths and safe cycling measures.
Mr Matthews says awareness is also growing worldwide: "In London, the school boards are encouraging students to ride their bikes or scooters to school to overcome traffic congestion; we've been approached to provide advice on this issue."
What are the options?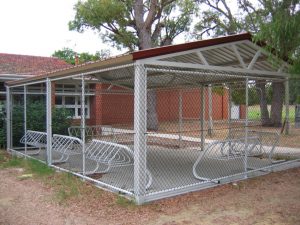 Choices are extensive and styles of bike racks vary from a simple low-rise rack with support for the front wheel to a locking cage holding more than 100 bikes.
"Some schools are installing what we call 'end of journey facilities'," Mr Matthews said. Already quite common in CBD apartments and office buildings, the facilities include storage for bikes, repair stations, helmets, and clothing, as well as shower facilities for students to wash off their morning's ride and start school refreshed.
In WA, end of journey facilities might be gaining traction, but Mr Matthews said the most common is still just a bike rack in an open area, while cages holding 40 to 50 bikes are becoming more common: "We had one in WA holding 100 to 150 bikes."
"Once you supply students with a cage, you've improved their security, and what we are hearing from schools is that security is paramount."
Most commonly, bicycle and scooter parking in schools will take the form of outdoor bike racks, but Mr Matthews urges that the type of rack you choose can affect your students' inclination to ride to school.
Bike and scooter storage is governed by mandatory standards in Australia, and guidelines in New Zealand. "The rack must be durable, you get what you pay for. In the days of internet shopping, buying lower quality racks online can mean investing in a product that doesn't meet Australian standards."
How racks are coated will vary: "Installing bike racks with powder coating or a painted surface can result in a scratched surface followed by rust; they look awful." Mr Matthews says schools most frequently select a rack with a hot-dip galvanised finish, "which provides excellent rust protection". Racks are also available in stainless steel.
Mr Matthews says schools sometimes try to economise and "select the wrong equipment, and it doesn't provide the level of security that will encourage families to risk sending their kids with expensive equipment".
Rack design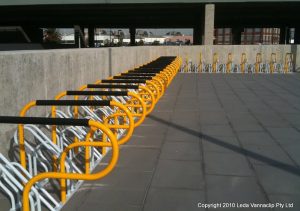 How the bikes and scooters are stored within the rack can mean the difference between damage or safe keeping. "Some racks rely purely on the front wheel, with no leaning rail attached to it, which means that bikes can fall over, causing damage, such as scratching and sometimes worse," Mr Matthews cautioned.  "A rack should include a leaning rail, with a coating to provide protection from metal on metal."
Other innovations include designs that stagger the height of front wheels, resulting in better use of space. "For years, we have provided architects with a free design service, giving them layouts as to what they can achieve in any given space, and space is always a primary concern."
Location should be well considered: "Put parking in a high visibility area, not tucked away where vandalism can occur."
"Communicate with your school community," Mr Matthews advised: "If schools made a point of advising parents they are set up for kids to ride to school, and that storage is available, more parents would encourage riding."
With childhood obesity on everyone's mind, it might just be worth pressing local council, and funding bike and scooter storage to get your students on the move.
Strong, lockable bike racks give confidence to ride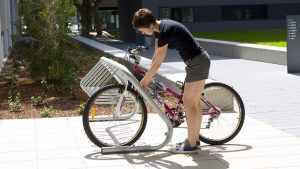 Jon Rutledge from Cora Bike Racks says schools and parents want students to ride to school for the health benefits, and the environmental impact. Safe and secure bicycle parking facilities are intrinsic to supporting the practice: "Reducing the risk of damaged or stolen bikes, means more kids ride their bikes to school."
Mr Rutledge recommends giving thought to accommodating "all modes of self-powered transport likely to be ridden by students – including bicycles, scooters and skateboards" and "make sure the racks are lockable".
Without security, he warns racks may sit there unused, but safe storage is not only about theft: "For bicycles, the rack must support the bike in a stable position and allow a U-lock to secure one wheel and the bike frame to the rack."
For durable bike storage solutions, Mr Rutledge says using a hot dipped galvanised or stainless steel finish will avoid the need to repair chipped and rusted products: "If using colour, use a high-quality thermoplastic that is resistant to scratches, and avoid racks that require assembly as they tend to be more prone to vandalism.  Use tamper resistant fittings. "
For more information, Mr Rutledge says guidelines for bicycle parking layouts and products, such as required space to access the racks can be found in standard AS2890.3(2015).