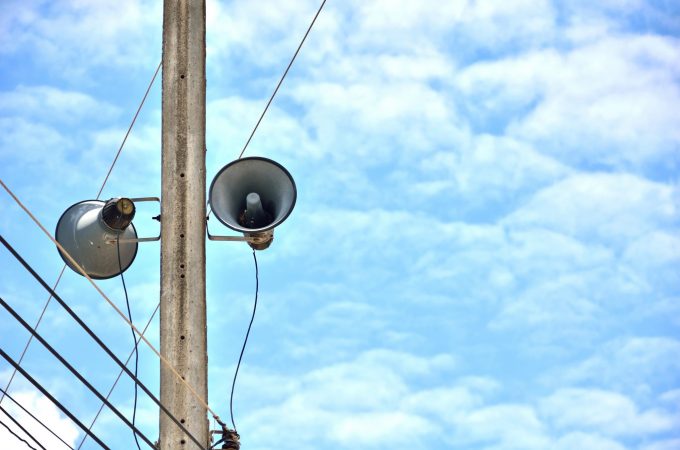 PA systems have come a long way since the days of screeching feedback that had students in fits of unauthorised giggles.  These days, as long as the operator follows a few simple guidelines, feedback screeches are much less common.
Your school PA has an extensive and varied job description. Its classic role includes projecting the sports teacher's voice, as she corrals the under 10 girls to the swimming pool for the 100-metre age race. It has long been employed at assemblies and parades, as bulletins are read out and multiple school representatives come to the front to announce fundraisers, proclaim achievements, and request volunteers.
Increasingly the school PA is broadening its scope and improvements in the usability and versatility of PA systems is paving the way for a much more varied set of applications. Physical education staff are beginning to conduct outdoor lessons, hooked up to a personal portable PA. This means students can be scattered all over the oval, perhaps engaged in an obstacle course or field events, without sacrificing connection with (or 'control' of) the class.  Who doesn't remember looking down or away to avoid the inevitable instruction to either hurry up or move onto the next physical challenge? With no chance of students deliberately misunderstanding hand gestures, a teacher with a personal PA can be sure their communications are delivered loud and clear, every time.
Upgrading your PA system requires consideration and with options a-plenty, your intended purpose for your PA must be your starting point. Factors to consider will include, the size of your school, the reliability of power sources, your budget, and of course, the nature of your activities. What will you use it for?
Are you after a reliable system to service your school hall, or a fleet of personal PAs for teachers to use in outdoor lessons, lunchtimes and after school sport training?  Do you want to project "Zip-a-Dee-Doo-Dah" over the school PA for morning calisthenics? Are you a performing arts rich school that stages several productions per year?
Many school leaders will respond 'yes' to some or all of these questions, so for this reason, a combined system can be ideal.
For many school communities, a combination of portable and integrated systems is the only way to cover all bases and meet the PA needs of their multi-faceted campuses.
An integrated PA system is a fixed system, installed by technicians, with multiple speakers often used to project communications into every classroom simultaneously. They can be used for lockdown procedures, evacuations, as well as whole school announcements. Providers have advanced the capability of these systems, so they can be selectively activated, facilitating targeted announcements to certain 'zones' within the school. Why disturb the prep or kindy students at quiet story time when it's only the 'big school' you need to reach?  
In a great 21st century twist, many newer models can also be linked to a visual component, allowing the beamed in image of the school principal to compel silent attention.
Portable systems vary: they can be wired plug-in-and-play models or wireless models for those busier occasions when power cables might present a trip hazard. These can allow outdoor education to reach new heights, and these lightweight personal units ease the burden on school staff at sports days, school concerts, excursions, school camps and even overseas trips.
PA systems are a vital tool for everyday communication in schools, and with improvement in technology and innovative product design, reaching your students how you want, when you want has never been more simple.
A reliable and clear PA system means announcements and instructions can be projected in a way that gathers even the stragglers at the back of an assembly. The sound at school concerts can make or break a performance night, and the value of rapid dissemination of urgent messages in times of duress cannot be overestimated.
With tech moving forward at an encouraging rate, the range of options is broad, with applications that support the communication aims of a busy contemporary school. 
A few pointers on using your PA: 
Ensure your microphone is at least 5 feet (10′ is safer) away from your PA system or if it's a personal portable PA, as far from each other as possible.
Avoid setting up the PA system right next to a wall or in a corner.
Place the PA system in front of the microphone but pointing away from it, channels sound through multiple directions, avoiding the creation of the dreaded loop that causes feedback sounds.