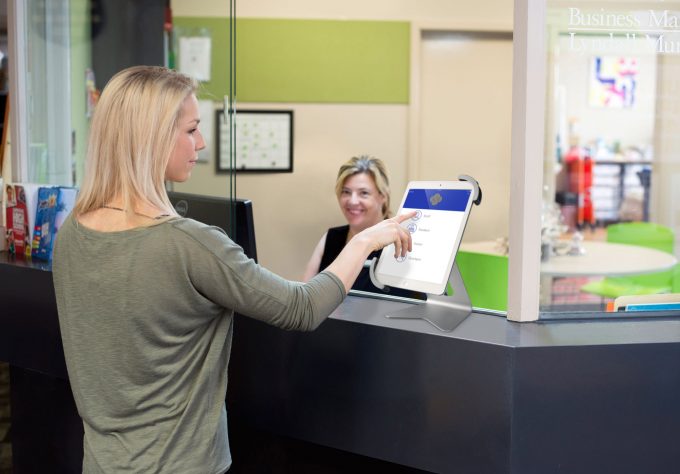 SCHOOLS are under increasing pressure when it comes to checking the legitimacy and credentials of visitors to their campuses.
 Traditionally, visitors would be greeted with a friendly smile at the office and asked to sign their name in a book.
While they will still receive that friendly smile today, visitor registration procedures have changed and are undertaken digitally – usually on an iPad.
 The new process generally involves guests entering their names into an iPad stationed at the front counter and selecting their visitor type from a list of drop-down boxes.
 But more than that, the person signing in may have to undergo significant background and credential checking to ensure they have been cleared to work with children.
 Laura Hunt, sales & marketing manager at visitor management software Passtab, says schools are stepping up their sign-in procedures to meet the new demands of student safety and security.
 "As Australia's Education Departments set new standards for entry into schools, these systems have to be in place to implement them effectively," says Laura.
 "The policies differ from state to state but in general I believe it is creating safer schools that are able to manage the legal demands of today's world."
 "With regards to contractors doing work on the premises, the school needs to make sure they have dotted all the 'I's and crossed all the 'T's because if circumstances arise they could be liable."
 The Victorian education department provides an extensive explanation of its visitor management procedures and lists visitors as:
prospective parents and employees
those who are addressing a learning or developmental need, such as:

parent and community volunteers
invited speakers
sessional instructors
representatives of community, business and service groups
local members of the State and Commonwealth Parliaments

those who are conducting business such as:

uniform suppliers
booksellers
official school photographers
commercial salespeople

trades people
children's services agents
talent scouts
instructors providing Special Religious Instruction (SRI)
As a minimum, Victorian schools are required to ensure they have a record of all visitors in case of emergency or for future investigations.
But in many states the sign-in procedures include checking whether guests who will be working with students have the appropriate approvals for example the Working with Children Check in Victoria or the Blue Card in Queensland.
Passtab runs 'live checks' to validate Working With Children Check details when a visitor signs in at the iPad in Victoria and Western Australia.
Passtab also performs 'live checks' on teacher registration in Western Australia and plans to expand its live check capabilities in other states.
In NSW, the Passtab software has been adapted to meet a new education department policy requiring contractors and volunteers that visit schools to provide 100 points of identification.
Although the level of security required to enter schools may appear "heavy", Laura says systems such as Passtab ensure the registration process remains simple and quick.
"If you are a visitor who complies, it will be smooth sailing for you.  It will only be difficult if the person doesn't have the necessary documentation," she explains.
"For most people it should take less than a minute, particularly if they are a visitor who won't actually be working with the children.
"Usually the people who are affected by the conditions are already aware of it, like contractors. They are already used to making sure they meet the conditions of school entry."
Laura anticipates that this category will continue to develop to match the increasing security measures designed to enhance student safety.
Programs can also double up for other day-to-day uses within a school such as in NSW where a new policy requires staff to sign in and out.
Passtab can track the provision of first aid to students, report and track student late arrivals and early departures, or use email and SMS to notify teachers of student movements or alert staff to the arrival of their visitor.
Some schools use Passtab to monitor equipment hire or to keep track of the distribution of keys.
Data collected from visitor sign in on school open days and tours can be used by the school for future marketing and communications.
Conclusion
Of course, an iPad on a desk is not an entirely fail safe measure as dubious visitors can always avoid the office or walk past the device.
And an iPad will never replace the smiling faces and subtle scrutiny of the staff at the administration desk.
Laura says making the most of digital technology reduces the workload of employees who would otherwise have to file reams of paper or rely on memory.
It also adds a greater measure of security with the technology's ability to dig deeper, flag alerts and store a record of every person to have entered the campus.
"As a country our sign-in processes are up with the best in the world, but I believe there will be a lot of new developments required to meet this rapidly changing area. The key here is to use technology to make a complex set of requirements, designed to protect the safety of our children, easy to implement," she says.