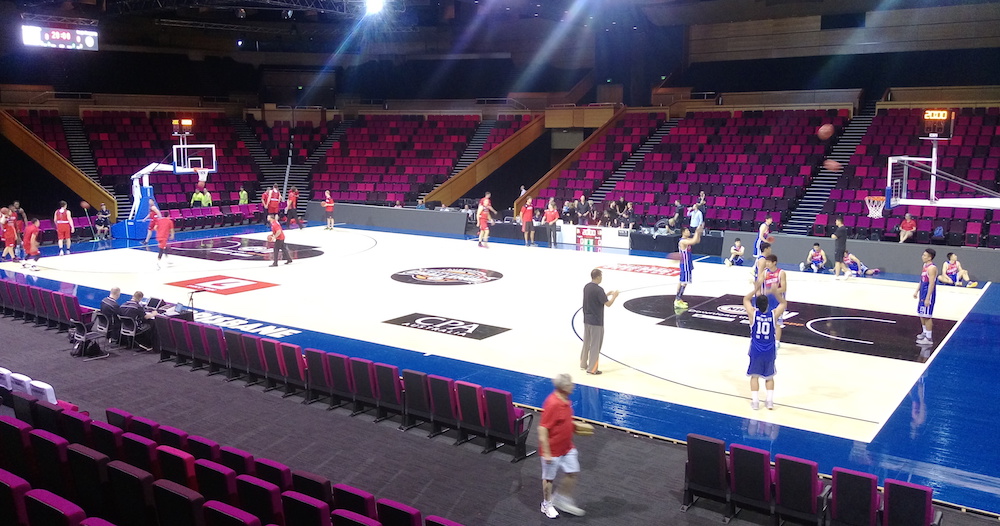 Remember the days in the old school yard? The grazed elbows and that chilling scrape of the knees as you shed your skin like a snake on the gravel? Many students in contemporary schools are spared this rite-of-passage result of bulrush and jailbreak.
Although many schools still struggle with funding to update grounds, there is a shift towards harnessing technology to develop ground coverings and large indoor spaces with flooring that is easy on the body, and incredibly versatile.
Students play sport at an exploratory level at school, which means they sample numerous sports through the practical components of health and physical education curriculum.  Students also participate in school-wide sports programs, get-fit campaigns, and games that enhance confidence and coordination managed by class teachers. The options for sports flooring are as varied as the sports that students play on them.

Industry view
Jason Tully of Ace Floors and Coatings says the most commonly used products are as follows:
Modular sports tiles: a durable sports tiles suitable for indoor and outdoor use. He says the tiles create a low-maintenance surface with an average life expectancy of 15 years that can be padded for added resilience.
Maintenance: Mr Tully says modular sports tiles require no maintenance besides general cleaning.
Sports sheet vinyl: welded seam cushioned vinyl sheet.  He says the result is a low-maintenance surface also with a life expectancy of around 15 years. The disadvantage of this one is that the surface can't be changed from the original install; for example, colour or line markings can't be updated.
Maintenance: sports sheet vinyl requires only general cleaning by way of maintenance.
Seamless synthetic flooring: this involves pouring a polyurethane coating over a rubber matting base; it can be re-topped after seven years to prolong the life of the surface. 
Maintenance: this is a low-maintenance surface with options for re-painting and line marking when showing signs of wear, generally after seven years. The life expectancy is around 20 years, and when traffic is skewed to high frequency location, resulting in uneven surfaces, he says a top self-levelling coat can be put down, to extend the life of the surface.
Sprung timber: this versatile option can be suitable for sport played at different levels of competition. Timber can come in a range of colours and be derived from various species or tree.  Sprung timber flooring has a high level of resilience, durability and performance.  The life expectancy more than 50 years.
Maintenance: Mr Tully said, "sprung timber should be coated every 12 months to give the required slip resistance and wear to the surface.  Every 10 years, they should be fully stripped back to bare timber to level out the floor and provide a new looking surface".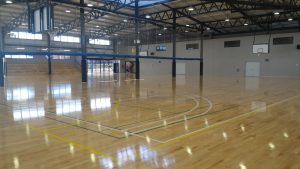 Safety first
Mr Tully says schools should ensure a high level of slip resistance to their surfaces and a medium level of resilience.
"Having a resilient floor will result in fewer impact injuries to joints from an early age. Resilience is having the elasticity to partially compress, providing spring in the floor. This extra degree of give protects joints through not having instant force applied."
In a society characterised by heightened concern for safety and accident prevention, health and safety, duty of care (and legal concerns) will feature heavily in all decisions about a school's infrastructure and facilities. Mr Tully says schools generally request the highest levels of safety in their flooring, with "slip resistance being the main issue".
Another aspect of health and safety, which is relevant to indoor sporting facilities, is maintaining optimum indoor air quality for users, who in this case are children with developing respiratory systems. Mr Tully says surfaces will vary how they impact the indoor environment, and subsequently the health of developing lungs: "For example a seamless synthetic flooring uses fully recycled rubber matting with a low VOC top coating."
And the environment? Mr Tully says there are options that are gentler on the environment, such as their choice to "source timber from the only carbon negative timber mill in the world".
Climatic considerations
Mr Tully says flooring selection is affected by climate: "Tropical areas tend to use the synthetic or vinyl options, because of the effect of humidity on timber, such as mould and expansion, while most areas use the timber floors as the life expectancy ensures longevity."
Aside from those climatic differences, Mr Tully says most schools require similar things; resilience and safety. "Schools seem to favour the traditional options, because they know they work."
He has observed a recent trend in efficient use of facilities: 'Schools are using their sports hall as a multi-use space; and using retractable seating allows them to seat up to 1500 people to host productions, concerts and school assemblies."
 Mr Tully told School News he has seen an increase in Futsal being played in facilities in the past few years, though the trend is budget-dependent: "Futsal requires a large floor area, which not all facilities can afford."
Service and maintenance
Mr Tully says safe, multifunctional flooring that addresses the requirements for a variety of sporting and non-sporting activities is a straight-forward business when you know what is required to keep your flooring in the condition required for optimised performance.
Mr Tully suggested that keeping things competitive might be a good call: "With exclusive dealership situations, you are locked in with one supplier for future repairs, making it easy for them to just set their price, when you need repairs."
He says exceptional before and after sales service makes all the difference: "I've met with Australian schools who been supplied with sports flooring without information on cleaning and maintenance requirements." He says this results in expensive repair costs for damage that could have been avoided with proper care.