News
Industry voices
A Classroom Approach: Develop Character for Learning Using Technology
Welcome back to another testing year for us in the teaching profession.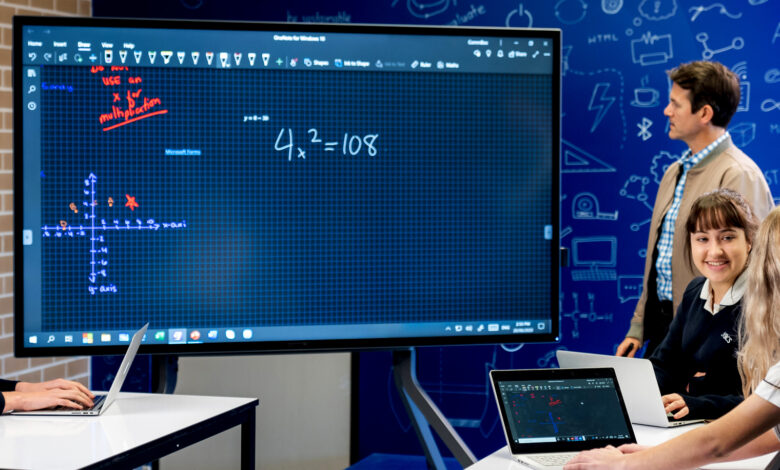 Most of us are now back in our classrooms developing routines with students while accommodating those self-isolating at home.
Throughout the pandemic, we adapted to technology in new, creative ways and remained strong during the tidal wave of professional development and policy updates to provide quality education for our students. 
If we had not relied upon our own 'character for learning' and willingness to adapt, we would have failed our students in much more than delivering program content. We all know, as teachers, we act as role models to students; how we respond to situations is noticed by them acutely. In celebration of teachers' achievements and demonstration of key characteristics for learning, I feel we should not only continue to demonstrate these, but help our students further develop their own 'character for learning' skills in the classroom. 
I refer here to key character traits that are valued across our society. While there is much debate over possible hierarchies and classifications of these traits, as teachers we understand the importance of positive 'character for learning' traits in improving educational outcomes. Our schools may actively promote, recognise, and reward positive 'character for learning' traits, especially highlighting students' ability to develop these traits further during two significantly disrupted academic years. 
For the purposes of this article, I will refer to these key 'character for learning' traits:
Organisation 
Self-motivation/diligence 
Social emotional intelligence (ability to work in a group) 
Resilience
Creativity 
There are numerous ways of supporting students to further develop these key traits and we may have already found strategies that work well. I wish to share with you some of the ways you can utilise classroom technologies to promote and develop character for learning traits with your students. 
Organisation skills 
During lockdown, students were thrown in the deep end, having to organise their time and manage their workload for their entire education from home and for many, on their own. As teachers, we came up with as many support strategies as we could to best support our students' ability to find, complete, and submit their work, as well as check their feedback in the simplest way possible.
This form of digital organisation has become crucial in the workplace too, but prior to COVID it was taken for granted that our students would figure it out for themselves by the time they graduated high school. 
Of course, no longer having students in front of us highlighted the need for support with their digital organisation skills. Many of our students rose to the challenge, especially younger students, and those with additional learning needs. This incredible achievement for our young people should not only be celebrated, but we should aim to continue to develop these skills, even when our students are back in our classrooms. 
For example, if your students have access to devices in your classroom, you can continue to provide classwork in a similar way to how they accessed it from home. Especially if some of your students are self-isolating. This could be uploading work to your school's learning management system or Google applications and asking students to access it from there. 
Encouraging students to use digital organisation applications to help them self-manage their work can also be easily implemented in the classroom. Again, using their devices, you could ask them to add calendar events to your school's chosen calendar application such as Google Calendar or Microsoft Outlook to record when their homework is due. S
how them how to add alerts to notify themselves before the due date of what they need to complete and how to add any worksheets to the calendar invite so they know exactly which homework the due date is for. Learning management systems often do this automatically for students based on teacher input but demonstrating how students can organise themselves digitally should not be overlooked as a learning opportunity. 
Self-motivation/diligence 
For many of us, the last two years have tested our drive and determination to do our best, especially our students. Term 4 2021 was a struggle to not only deliver our course programs, but also to re-establish our school's routines and core values. We needed to reinvigorate our students' commitment to their learning with little of the academic year left. Some of our students found it especially difficult to adjust back to classroom expectations; they became disengaged, distracted, and struggled to motivate themselves. This was swiftly followed by the school holidays, lessened restrictions, and many of our school community becoming ill with COVID. 
It is no surprise upon our return to classroom teaching this academic year that many of our students need support to build self-motivation skills and encouragement to do their best when in the classroom. Your school may have developed strategies to promote this 'character for learning' trait, or you may have existing approaches to use.
Classroom technologies can also help you encourage self-motivation among students. One option would be to use software applications or hardware solutions that allow students to connect their personal devices to your interactive flat panel (IFP). Different teaching software and online applications allow you to visualise on your IFP when all students have connected to an activity, including those students connecting remotely.
Social emotional intelligence 
Using screensharing technology such as AirServer, always provides learning opportunities to develop and recognise social and emotional intelligence. As teachers, we often shy away from using this application for fear of students not being respectful towards each other or to us and ultimately disrupting our ability to teach that lesson. Rather than avoid this situation, I believe it is an important part of our students' education, to be able to demonstrate responsibility and respect when communicating digitally. This could be turned into a specific tool for learning, where we provide students with a rubric, detailing how they can demonstrate their social and emotional intelligence during these activities.
For example, students could be asked to share an essay paragraph with your IFP. You can bring up some of the paragraphs on the screen for your class to read and peer-assess. By modelling how to provide constructive criticism in such a way that the student feels empowered to improve, your students not only improve their ability to write a paragraph, but also the skills of empathy, compassion, and respect. Once this teaching and learning tool of connecting with student devices is used multiple times in meaningful ways, our students will become confident in this form of digital communication, which will also support them when they leave to join the workforce or Further Education. 
Resilience 
You may have students in your class who struggle with making mistakes. They may tear pages out or use liquid tape to try and hide any mistakes they make. I personally ban the use of liquid tape in my classroom as I encourage my students to put a line through any mistakes and make adjacent corrections. This way, they have a record of their own improvement. With technology, students can negate the need for permanence altogether.
Sharing your screen with student devices for them to interact with gives them the opportunity to demonstrate their understanding in a way that can be digitally erased and easily corrected with guidance. Most teaching software platforms allow for live corrections to be made by students from where they are sitting, enabling them to make their own corrections more collaboratively. This approach enables you to spot common misconceptions in your class, while encouraging students to keep trying and feel more confident in their own abilities. 
Creativity 
As a 'character for learning' trait, creativity refers to the process of learning as well as the demonstration of understanding. If our students can learn in a creative way, it enables them to develop their own creative approaches to concepts and in doing so demonstrate deeper understanding. 
With the use of interactive flat panels and student devices, we can encourage creativity in our students. For example, an activity requiring students to deliver a presentation could also facilitate an interactive quiz or a game. Here, students will need to understand the topic well enough to come up with their own quiz, but also be able to use the presentation software and interactive flat panel well enough to manage delivery and engagement in their quiz. Enabling your students to facilitate their own activities can be very empowering and inspirational, paving the way for more creative and engaging approaches to their own demonstrations of understanding. 
Outlined in this article, we can use technology in various ways to develop 'character for learning' traits as we support students' transition back into the classroom and to maintain the wonderful skills they gained by necessity during remote learning.
Lindsey Davis has been in the Education industry for 20 years, including working in the education technology industry delivering and managing teacher professional development. Working with Integrate AV as a Training and Professional Development Specialist, she is keen to support her fellow teachers with their use of technology in the classroom for developing a wide range of skills in our students of all ages.