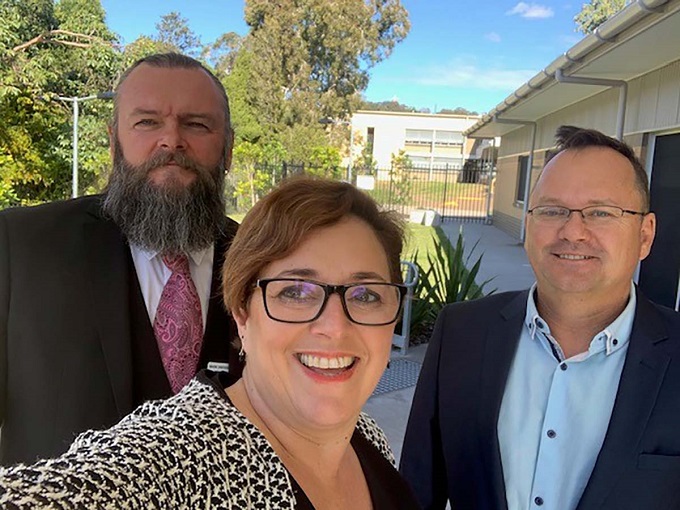 Two principals from Kotara embarked on an educational journey of their own last week when they swapped schools as part of an Education Week initiative to understand all students.
For Kotara High School principal, Mark Snedden, and Kotara South Public School principal, Sue Maxworthy, trading places was a unique opportunity to see how their role as principal varied between the two settings.
The principals came up with the idea for the state-first principal swap as a way to better understand all students from Kindergarten through to Year 12 to ensure their schools were responding to the current and future educational needs of their students.
During his week at Kotara South Public School, Mr Snedden spent time in classes from Kindergarten to Year 6, spoke at school assemblies, attended staff meetings and met with members of the community.
"If we are to build true K-12 learning continuums within the Department of Education then we must authentically understand how each site operates as an institution of learning," Mr Snedden said.
"As a secondary principal, I have always wanted to spend time in a primary school and learn about the complexities of the site and more importantly, how teachers teach and how students learn in a primary school.
"The highlights for me were working specifically with students in class, witnessing the rich relationships between the staff and students and seeing first-hand the amazing abilities of the students.
"I was very impressed with how much collaboration was taking place as part of the learning, how engaged the students were, and finally, the level of trust and confidence students and staff had in each other."
While filling in as principal of Kotara High School, Mrs Maxworthy had the opportunity to engage with students and learn about the secondary curriculum. The primary school leader said the swap allowed both principals to truly know and understand the requirements for students moving to and from both settings.
"As a Kotara Community of Schools we participate across schools regularly but being onsite for a whole week allowed us both to gain a more detailed understanding of the staff, students and site specifics that we need to make connections across schools," Mrs Maxworthy said.
"During the week I visited most subject faculties, participated in teaching classes including HSC Advanced English, worked through the 2020 timetabling and spent time with many students.
"To help with a smoother entry to high school, we are going to make changes to our transition program to ensure that our students are known across the high school environment even before they step foot through the door on day one next year."