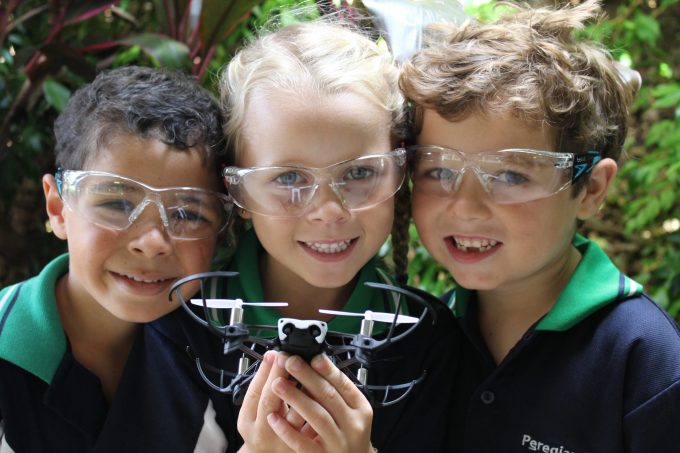 Year 3 teacher, Danni Brooke loves her students' excitement when they are handed a drone to fly.
"It's just sheer joy on their face when you see a student fly a drone for the first time and have it hovering," says Danni.
"It's a feeling of success; it's something new; it's dynamic, and it can draw kids to STEM subjects who might not have been interested before."
Drones are gaining popularity in many industries that have realised the untapped potential of unmanned aerial technology.
From the military, which uses drones in place of manned aircraft, to surf lifesaving where drones are used to delivering life vests to stricken swimmers; environmentalists are even using drone technology to film animal documentaries, and rescue missions benefit from being able to quickly survey dangerous terrain.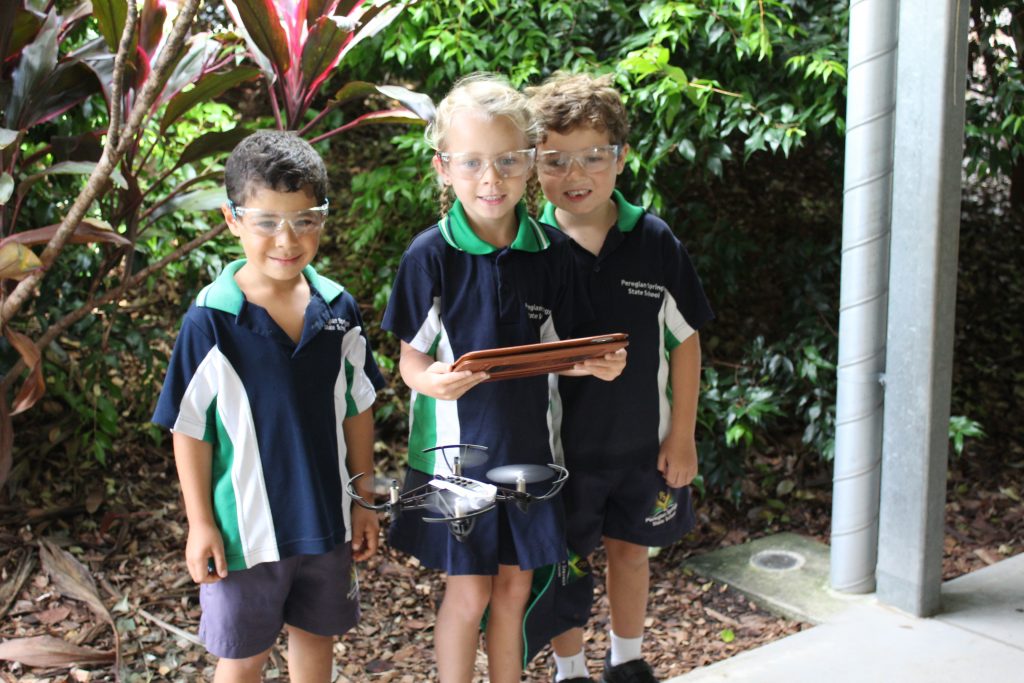 The cost of aerial technology has also reduced, with cheaper drone models now available for less than $100. Others reach  the several-thousand-dollar mark, giving schools various specification options and levels of complexity to work with.
As a form of learning through play, the devices are lightweight but durable and can be purchased with a range of accessories, including cameras, landing pads and cannons.
Danni teaches at Peregian Springs State School, a primary school on the Sunshine Coast in Queensland that has a strong focus on technology.
The school purchased ten drones small enough for students to hold in their hands; they are shared between all classes, from Prep to Year 6, across a variety of subjects, including technology, maths, science and geography.
Teachers have been experimenting for about a year to work out different ways they can integrate drones with the curriculum.
What they discovered is that the "sky's the limit" when incorporating the remote control devices into everyday learning and linking the technology to real-world experiences.
"I think in education we are at the beginning of the 'drone era' and we are feeling our way around a bit," says Danni.
"Of course, there are the obvious subjects where drones fit in, like digital technology, which is now a subject mandated by ACARA," says Danni.
"You can use drones for maths to work out angles, locations, time, speed and coding. We use block coding, where you insert the codes to program the drone to fly where you want it to.
"There's electronics, where you can focus on things like the wiring but you can also integrate drones with subjects like history, geography, and even English."
As a practical example, Danni revealed that Year 4 geography students used drones on their recent field trip to study erosion, with the drone camera filming footage of the eroded land for students to take back to the classroom and examine.
Students also tackle drone obstacle exercises in which they navigate the device to simulate tasks, such as flood mapping, dropping life vests to drowning ocean swimmers or searching for coastal rubbish.
"We try to give a purpose for everything and for them to have a hands-on, immersive experience," says Danni.
"It's fun; it's learning through play; it's complex problem-solving and analytical thinking. It teaches perseverance, precision with flying and working in groups.
"We have our students work in pairs, so you have a pilot and a co-pilot. You need two people because the co-pilot has to keep an eye on the battery; you can't keep flying under 20 percent battery.
"So the co-pilot also has to stay focussed and instruct when it's time to land. They also give moral support, direction and positive talk."
Training starts in Prep, where students learn to hover the craft, and continues through the older years where the experience increases in complexity to include detailed coding and manoeuvres like flips.
All students are required to adhere to a safety checklist, wear safety glasses and avoid walking into the fly zone.
Later this year, students from neighbouring schools will be invited to take part in a Dual of the Drones, which will enable
Peregian Springs State School to share what its students and teachers have learnt.
Competitors will take part in a coding challenge, where they have to code a device to undertake activities such as 'looking for turtle nests' and 'spotting sharks'.
Danni says teachers have nothing to fear about embracing the new technology.
"We all support each other and learn from each other and the kids love it!"