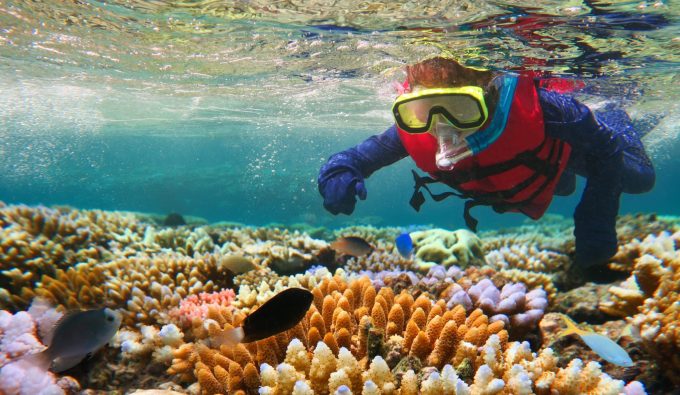 With today's young people spending more time indoors, socialising less in person and exploring the world through devices rather than experience, outdoor education is considered more important than ever.
Encouraging students to close their schoolbooks and step outside the classroom fosters learning through physical experience, adventure, pushes their limits and stimulates the senses.
As a result, learning is deepened, grades improve, self-esteem is boosted, friendships are formed and strengthened and leaders are born.
Outdoor Education Australia chair Peter McKenna says outdoor education programs are designed to enhance personal development or connect students with the environment – or both.
"They are more important than ever because young people are getting fewer opportunities to connect in the outdoors and with each other so any opportunity which promotes that is more important than ever," says Peter.
But not all outdoor adventures involve bush and beach camps or daredevil activities. Museums, theatres, sports stadiums and even theme parks also offer many memorable education opportunities.
This edition School News explores Queensland as a destination for education adventures.
Why take your students to Queensland?
Queensland's popularity as a tourism destination also makes it perfect for outdoor learning.
From the southern border right up to Cairns in the north, the state is dotted with outdoor education camps in some of the most beautiful natural settings.
The Department of Education runs 24 outdoor and environmental education facilities in such tourist-worthy locations as North Keppel Island, Moreton Bay and Tallebudgera but there are also many private providers.
Private accommodation such as YHA have also aligned their facilities with locations on the tourism trail such as the Airlie Beach, Hervey Bay and Cairns .
"I think Queensland is a natural attraction," says YHA Brisbane City manager Sam Owen.
"We have three of the biggest sand islands in the world, the Great Barrier Reef, Daintree, world-renowned and heritage-listed natural assets and national parks.
"Around Brisbane we have easy-to-reach places like Springbrook National Park and then up north you have Airlie Beach and the Whitsundays.
"That's why Queensland is so popular with backpackers and YHA has aligned itself with those popular locations."
Queensland's capital city of Brisbane also offers cultural and sporting attractions such as museums, science centres, theatres and stadiums, many of which are free and easily located within walking distance from each other.
Attractions and Museums
Museums, educational centres and attractions cater to students by offering tailored learning programs, discounts and tours.
While the bulk of Queensland's largest facilities are located centrally in Brisbane and the south-east corner, many more are also dotted across the vast state's regional towns.
For example, the tiny outback town of Winton has a population of just 875 but is bursting with prehistoric and historic educational experiences including the Australian Age of Dinosaurs where students can learn about and see real dinosaur bones that were discovered in the area.
The town also boasts the new Waltzing Matilda Centre celebrating the town's connection to Banjo Patterson.
A couple of hours down a long straight highway from Winton is Longreach where the Qantas Museum tells the story of Australia's national airline which was born in outback Queensland. The Stockman's Hall of fame, also in Longreach, relives Australia's droving past.
Brisbane City offers a trail of cultural experiences including the Gallery of Modern Art (GOMA), ScienCentre, Queensland Museum and Queensland Maritime Museum as well as a series of educational programs at the State Library.
State Parliament, Suncorp Stadium and the Queensland Performing Arts Centre (QPAC) cater to politics, sport and drama while a range of theme parks on the Gold Coast and Sunshine Coast include Dream World, Sea World, Movie World and Sea Life Mooloolaba.
Finally, zoos are a popular and accessible attraction that combine educational learning with a fun day out. Australia Zoo on the Sunshine Coast is the largest but others such as Wildlife HQ and Lone Pine Koala Sanctuary are also worth a visit.
Activities 
When it comes to outdoor adventure activities, once again Queensland's natural attractions are hard to beat.
From camping to high ropes, bushwalking, snorkelling and muddy obstacle courses, Queensland's outdoor education centres offer activities that promote personal development and connecting with nature.
Outdoor Education Australia chair Peter McKenna says the programs at outdoor education centres are continually updated to suit the needs of students.
"The level of resourcing provided by the Education Department is exceptional and first class in terms of the number of venues, the variety of programs, the availability of programs and the partnership," says Peter.
"We have some of the best and most experienced educators in Australia and the world in their field."
Activities and learning are tailored to match the environment. For example North Keppel Island offers a reef-based program where students can explore coral reefs, tidal creeks and mangroves, as well as Indigenous sites.
Rural-based Maroon Dam, in the foothills of the Scenic Rim, offers an insight into country life while Moreton Bay on Brisbane's east is a gateway to the local islands.
Accommodation
Housing hundreds of excitable school students on a camp or road trip may sound daunting but specialist accommodation providers take away the hassle.
Outdoor centres and hostels have been designed specifically for large groups with a range of room options, group spaces and facilities.
They also employ specialist staff to facilitate programs or undertake the fussy work or organising tours, transport and food.
YHA is one such non-profit organisation and has 16 properties across Queensland located for ease of access to attractions and nature icons.
The organisation's mission is to promote education through personal development, foster friendships and help young people better understand the world and others.
Many of the school groups that visit YHA's centrally located Brisbane accommodation are from regional towns making the trip to the Big Smoke.
"We have a dedicated group co-odinator who is basically a one-stop shop and can facilitate everything like booking tours," says Sam.
"The properties are set up so group bookings can have their own space with a TV and lounge.
YHA has dorms, private twin and double rooms with ensuites and standard dorms.
"We can also organise lunches or if the students are at sporting carnivals we do jersey washing in the night," says Sam.