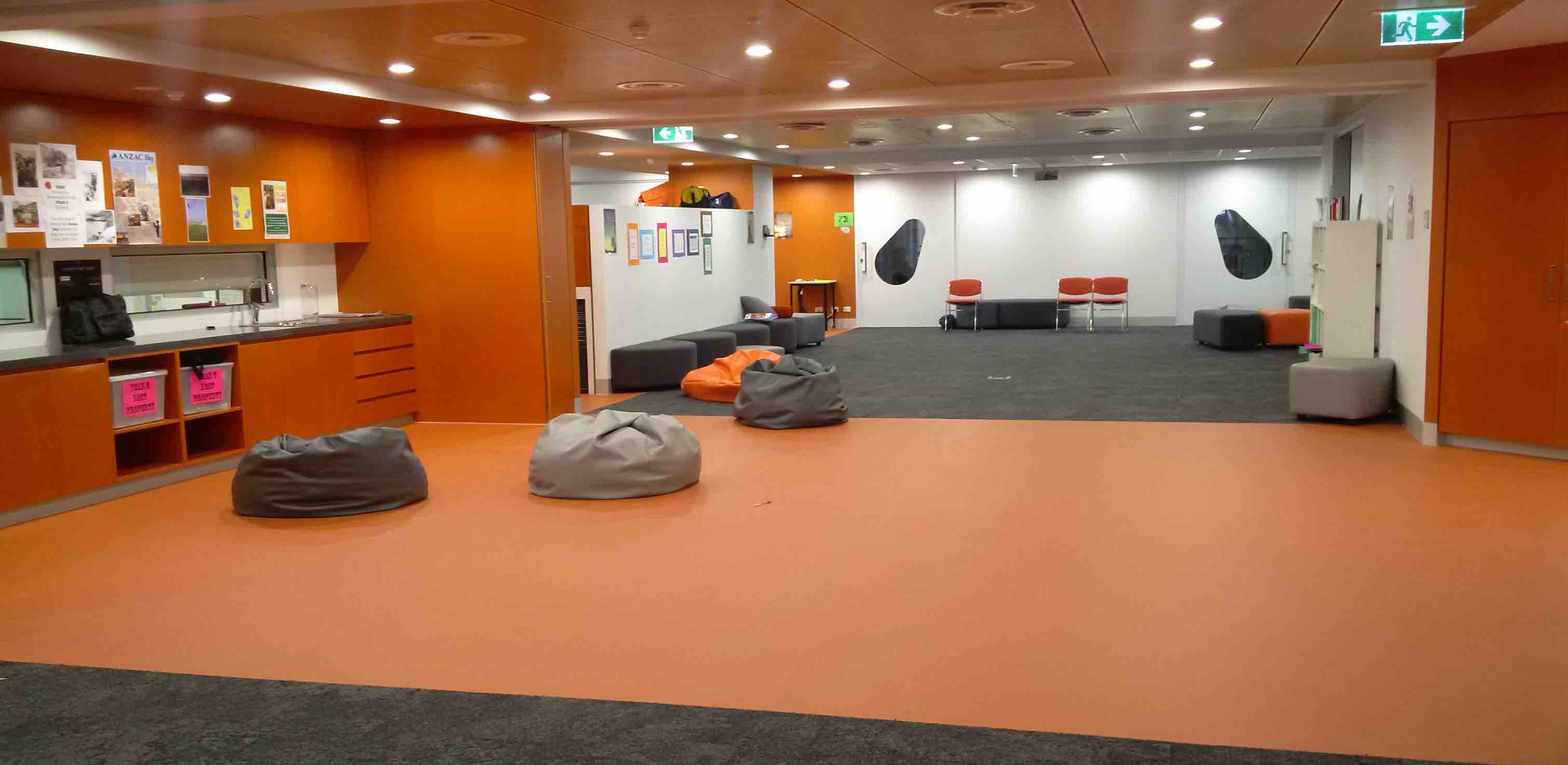 Health and safety is a primary consideration for schools, with a duty-of-care covering both staff, and students at various levels of development. Apart from the 'archetypal accident'; the slip or fall, other factors relating Indoor Air Quality (IAQ) and the chemical compounds found within the flooring must be considered.
According to the GreenGuard Certification website, "the majority of everyday chemical exposure occurs through the air we breathe in our homes, offices, schools and other indoor environments. These airborne chemicals are commonly referred to as volatile organic compounds (VOC's)". The certifier's objective is to "helps manufacturers create, and helps buyers identify, interior products and materials that have low chemical emissions". 
As more is understood about the importance of IAQ, school leaders are including VOC levels in their decision-making process, and selecting materials that contribute to a healthier learning environment.  
Industry View
Preventing the slip
David Hack from Spectrum Floors explained that all surfaces can be assessed using a slip-test, which is usually conducted by elevating a surface covered in oil to a certain gradient, until the test subject (person with rubber boots on) slips. This gradient at which they slip determines which 'slip-resistance' score materials are given.
"Personally, I think R9 is sufficient for a school laboratory, but with professional indemnity concerns in mind, architects and designers are recommending R10", he explained. The higher the non-slip rating, the harder the surface is to clean. The caution on the part of the designer, he continued, "can actually leave an ongoing problem for the client, with increased cleaning and maintenance costs".
"The R10 is designed for wet areas, but a school science laboratory is not really a wet area like a shower recess, or a commercial kitchen", though, he added, "it really is for the client to decide".
Another decision for the client is rubber or vinyl; "we do both" he said. While the traditional option has been a 2mm vinyl, rubber is gaining popularity. Vinyl "is relatively hard and noisy, with a sound reduction of only 2DB", while the 5 to 6DB, score for 2mm rubber signals far greater absorption of the discordant racket of stamping feet and scraping stools, and has 'more comfort and warmth underfoot'.
Rubber has better chemical resistance, but they are both chemical resistant to an adequate level.       
Environmental risks
While these factors are significant, they are eclipsed by an environmental factor of great import for student health. Rubber generally promotes better IAQ than vinyl, with very low VOC emission. IAQ considerations are reportedly more stringent in Europe.
"Most synthetics tend to give off VOCs; vinyls are generally higher than rubber" Mr Hack explained, and he said there is a measurement of 'best of kind' that recommends the 'least toxic' toxic material; "best of a bad lot", he surmised.
Spectrum Floors installs rubber flooring, which has very low VOC emission and now a German vinyl with very low levels.  The issue of PVC was also raised, and although rigid in its original form; "when used in flooring they add a plasticizer makes it flexible so you can roll it up".
This plasticiser is carcinogenic, and manufacturers are now trying to replace it with non-carcinogenic plasticiser. A German company has had great success using a waste product of sugar beet, with very low VOC emission.
"Studies have proved that kids learn better in a clean atmosphere", Mr Hack asserted, and "a Norwegian study indicated that toddlers who lived on PVC floor are six times more likely to develop Asthma". Perhaps adding to the reliability of the survey is the fact that young Norwegian children spend nine months of the year cooped up in sealed houses.
And with regard to risk to the wider environment, rubber floors are the greener choice; in fact, "GECA (Good Environmental Choice Australia) won't actually certify vinyl".
Other surfaces
For an effective entrance barrier, he suggests their polyamide and vinyl entrance matting strips with 30 percent recycled yarn, which "can take a lot of beating" from the stampede of hundreds of clamouring scholars several times a day. Strips totalling a four-metre width can take 75 percent of dirt and water off the clodhoppers. Otherwise the hallway can become a 'skid-pan', he cautioned.
Gymnasiums are also well suited to rubber floors, and are used at the Olympics, though Mr Hack did comment how beautiful timber floors look, they are harder to clean and more expensive to maintain.
Rubber's durability recommends it for high traffic areas such as corridors. I was asked whether I had ever seen a PVC car tyre. "It would chew the tyre to pieces", he exclaimed. Fascinatingly, rubber actually 'heals itself'; it self-repairs scuff marks and abrasions, through an oxidising process.
Could rubber floors even aid concentration? It's possible, according to the teachers from a high school in Adelaide, who found installing rubber flooring on timber deck somewhat transformative.  "Before we put the rubber flooring out there, every time anybody walked past twenty-plus pairs of eyes would shift to the window, after the new deck floor, they weren't distracted" they had reported.
While rubber is ideal for many surfaces, Mr Hack does not recommend rubber flooring for around swimming pools. "The safest thing is a non-slip ceramic tile" he advocated, saying that seepage through concrete can result in migration of moisture to below the surface and actually lift the resilient flooring.
Steps and ramps require special flooring as well. There are particular codes, that should be addressed within the Australian Standard, and understanding regulations in vital. For example, colours are important for stairs and ramps, not only materials. "The comparative light reflectance achieved with white with black insert demonstrates the visual advantage" was the explanation. Red on black, for example, does not provide enough contrast though yellow on black is possible.
Slips and falls, Indoor Air Quality, and the floor's green rating are all considerations for the modern school. While Europe may be leading en masse, many providers have made independent progress towards healthier safer flooring and the employment of IAQ positive materials.