News
Administration
Furniture trends to inspire learning
We ask the experts how furniture choices can make learning spaces fun, functional and suitable for all types of activities.
In decades past, classroom design was often an afterthought and followed a standardised layout. Plain boxed shaped classrooms, with identical chairs and tables throughout were commonplace in many schools.
Read the latest issue of School News HERE
Recently, though, there has been a shift away from this one-size-fits all approach to classroom design, with recognition that an engaging classroom can help enhance the education experience for students. Tailoring furniture to suit a space can provide increased flexibility in learning spaces, encourage alternate methods of learning and teaching, and strengthen student engagement with their classroom subjects.
Researchers at the University of Salford Manchester found that classroom design can boost student learning. According to the results of the study, the physical characteristics of a classroom can affect how successful a class is. The study identified that design parameters including light, temperature, air quality, flexibility, colour and ownership of a classroom space all affected student outcomes. These factors, then, should be incorporated into plans for new classrooms, and redesign of existing spaces.
When considering the design of a 21st century classroom, flexibility is key. This can be achieved through furniture that allows educators and students to experiment with classroom layout and design. Furniture like desks and cupboards that are on wheels, for example, allow the classroom set up to be adapted for different learning activities. Individual, small group work and wider collaboration can all be facilitated when a space can be easily reconfigured. This flexibility means spaces can also be used as venues for other activities, not just as classrooms. School or community groups may utilise the space for meetings, students can showcase their work to their peers and wider community, or students or staff can come together in the space for workshops and team building experiences.
With student numbers in many schools increasing without a comparable growth in physical space, furniture which provides storage solutions can be particularly useful. Tables or seats with storage compartments, and slimline cabinetry can help accommodate learning tools in a functional way, without occupying valuable floor space.
For many schools, sustainability will be important in any classroom redesign. Furniture products can now be sourced that are made from recyclable materials. Schools may also wish to consider incorporating the use of renewable energy like solar power into their design. Utilising natural light sources can help produce electricity costs, while helping students stay connected to the outdoors.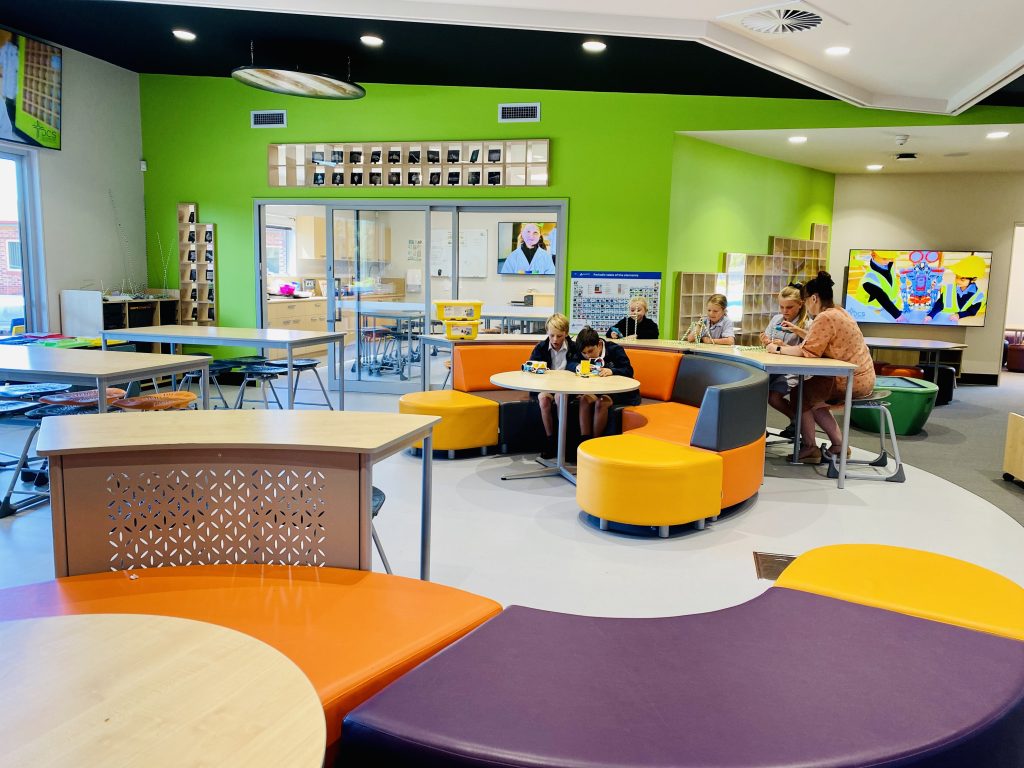 Introducing elements which mirror the school's natural landscape, culture or traditions can help build a sense of community for students' and their families. Furniture shapes which are in line with the shapes outside the windows, drawing on natural elements including trees, boulders and mountain ranges, can bring the outside in. Sourcing furniture from local suppliers, or made using local materials can help give the classroom and the school a sense of place, comparable to the broader setting.
Research published in Tikrit Journal of Engineering Sciences revealed that colour can influence learning. The use of colour, the study found, can create associations in a student's brain, preparing them to learn. Designing classrooms with cool colour palettes including white, green and blue, works well to stimulate learning and promote knowledge retention.
Colour can also be used to imbue a space with an element of fun. For junior classrooms particularly, the use of bright colours can help promote school as a place of excitement and discovery. In large spaces, colour can be used to zone areas, with different colours indicating the activities to take place in that space.
The focus on STEAM (Science, Technology, Engineering, Arts and Maths) learning has also influenced the furniture needs of classrooms. When considering classroom furniture, students may need space to stand, sit around a table in small groups, or get on the floor to create. Facilitating technology in these spaces is also important. Access to charging stations and internet points should be considered.
To help you select the perfect furniture for your classroom, School News spoke with industry experts about the latest trends and what to consider when curating your classroom.
Sebel representative Stephanie Cox said flexible seating options have become popular. "Consistently, furniture and seating must be able to move easily between different groups and group sizes so the room may be used for multiple activities. This can involve stools in different heights and shapes, with and without backrests, as well as soft ottomans, side chairs, and armchairs with different upholstery options." 
Additionally, Ms Cox said a growing trend was high schools providing senior students a dedicated area that reflects the world they will be stepping into. "Classrooms do not need to be full with furniture, pick some great foundational pieces and keep the classroom simple. Pieces that can be reconfigured quickly, are flexible and have many uses are a great place to start.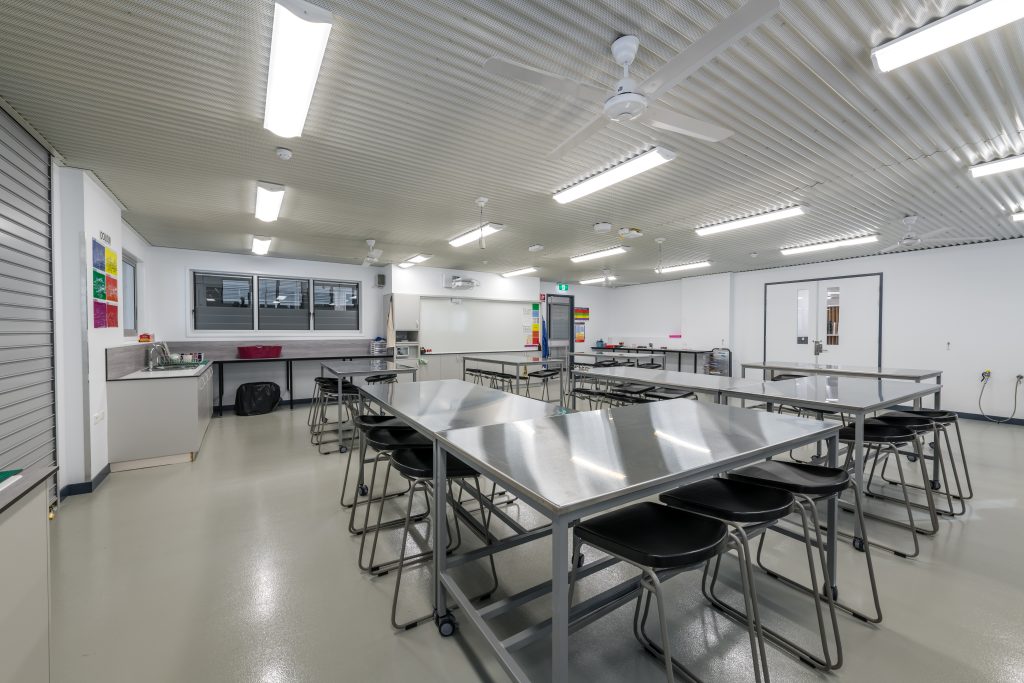 "Like other aspects of modern learning environments, flexibility and mobility are paramount and specialised storage, such as that used for tech spaces and devices, are often shared between spaces or relocated based on need," Ms Cox said. "Since schools have transitioned towards more open plan learning, storage units are increasingly being used as room dividers to create specific zones like quiet reading corners or collaborative nooks. Having products on castors makes them easy to be moved allowing free space for group activities and things like robotics."
When designing a STEAM space, Ms Cox said storage is overlooked. "STEAM is more than just coding and classroom learning; there's a lot of hands-on work, and projects that may span multiple days or weeks. Just as with art projects, there must be space to safely store this work in between sessions, clearing the room for the next group."
Patrick Hyde, Account Manager at Furnware, said sourcing flexible and agile furniture had been a focus for schools in recent years. "Classrooms are dynamic, and the ability to switch up the furniture easily and quickly is necessary for many teachers."
"We recommend purchasing good quality furniture with a robust warranty. Cheap isn't always the best, as you might replace it within a few years. Also, make sure to read the fine print on that warranty."
Mr Hyde also warns against overfilling your classroom with products. "You can always purchase more items later, but it's wasteful if you buy too much and the excess items have to go into storage.
"Through consultation with your furniture provider, conduct an audit of your existing furniture. Quite often, there are pieces of great quality that are still fit for the purpose that doesn't need to be replaced.
"Lastly, consider your colour palette when choosing furniture, particularly for the junior classes. There will already be a lot of colour in these rooms with students' artwork and teaching aids. Adding too many additional colours could be overwhelming.
"STEAM classrooms may require unique designs, but not all the furniture needs to be unique. My go-to choices for STEAM furniture are found in the classroom also. Choose tables with whiteboard tops to encourage sharing and problem-solving. Castors on tables enable them to be pushed out of the way when robotics on the floor needs to take place. Standing height tables paired with stools are also a winner in STEAM spaces. And don't forget storage! All those materials need a place to be organised and stored, with easy access."
Grace Misso, Business Development Executive at Resource Furniture said the introduction of Year 7 into secondary school last year prompted changes in furniture. "There was a new age group to consider for our SA clients, and sourcing furniture for a smooth transition for the students was important.
"Fabrics and colours have also contributed to the trends we are seeing in 2023. There is still a large palette for neutrals, but we are seeing bold colour such as deep blue and muted reds being used. Patterns have been very popular in the education sector. Furniture that can be used indoors and outdoors is going to be a big 2023 trend as we start to see more classes move lessons outside to increase well-being and productivity.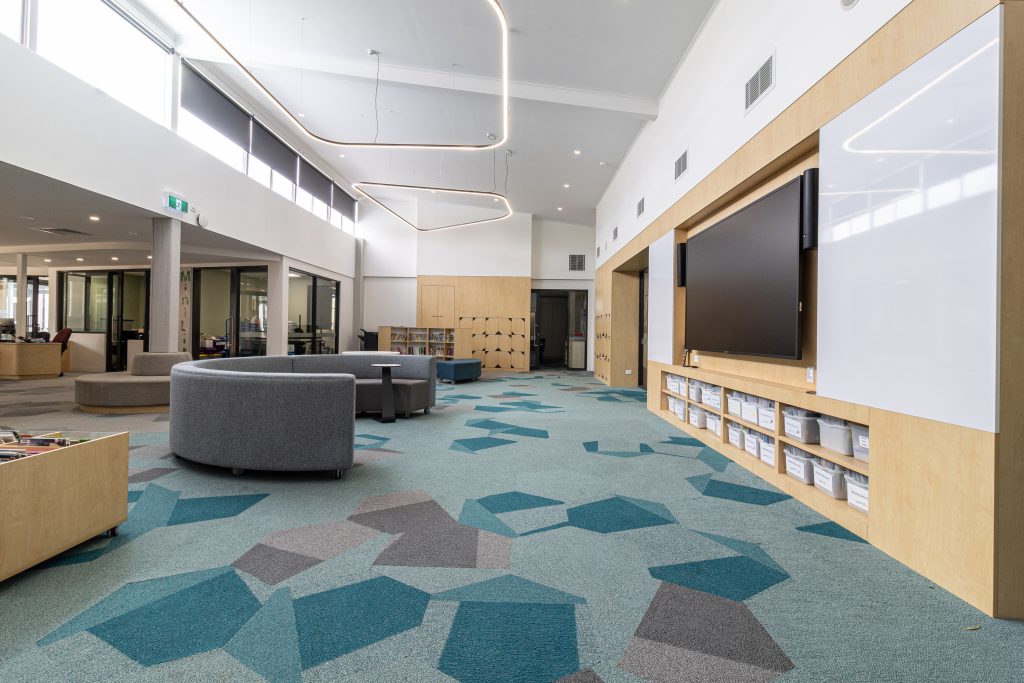 "The best way to make your refurbishment future-proof is to speak with an expert. This ensures the planning is done prior to ordering furniture. A great way to save money or more so, not waste it, is to stage a project out. This prevents over-ordering items that are not necessary. Ordering the basics can be a great place to start, then adding items once you can understand what's missing from the space such as soft seating.
"Creating a space with an open floor plan is important to allow for mobile and modular furniture. Simple configurations will create a less cluttered space and easy mobility with furniture. Giving students the option of standard and bar height tables with stools gives the students choice of seating and builds a more creative space."