Health & Safety
News
AEDs: Is your school equipped to save a life?
If someone has a sudden cardiac arrest at or near your school, their life may depend of whether or not your school has an AED.
Cardiac arrest is a leading cause of death in Australia. Heart Foundation research indicates that approximately 25,000 people in Australia each year will suffer a cardiac arrest out of hospital. Of these, it is estimated that as few as 5 per cent will survive to leave hospital and go home. Sudden cardiac arrest can happen to anyone of any age, including children.
Read the latest issue of School News HERE
The only treatment for a sudden cardiac arrest is CPR and defibrillation, which can be administered by an AED. Schools and their staff are responsible for protecting the health and safety of those within the school grounds. Understanding the appropriate action to take in the event of a cardiac arrest is essential to ensure this.
Sudden cardiac arrest can occur at any time and everybody is at risk. The chance of a staff member, parent, community member or even student surviving a cardiac emergency may rest entirely on whether your school has an AED.
Schools are often the centre of communities, with families and members of the public regularly gathering for events and celebrations. Access to AED could mean the difference between life and death should a sudden cardiac arrest occur on or near school grounds.
AEDs can "jump-start" a heart that has stopped, by delivering an electric shock to it. After pads are positioned on the patient, the device will perform and automatic analysis of the patient's heart rhythm. When necessary, it will administer an electric shock to the heart to restart muscle contractions and get the heart back to its normal rhythms.
AEDs are designed to be used by anyone, with visual and voice prompts guiding a user through an emergency. All AEDs have the same essential function, so when considering an AED to purchase, think about your school's requirements. Some devices may be smaller for ease of transport, and some may have a more user-friendly design.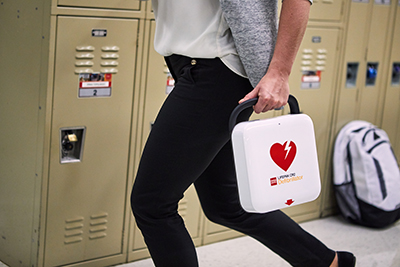 The safe operation of AEDs is typically covered by standard first aid courses, which are necessary to meet a school's minimum health and safety requirements. Both CPR and AED use are taught in first aid courses, and both could be lifesaving in an emergency. In the "Chain of Survival", which describes the events that need to happen in rapid succession to increase chances of survival after a cardiac arrest, the first step is early recognition and rapidly alerting emergency services through dialling 000, followed by access to CPR, and an AED.
On purchase, AEDs will have an instruction manual which should be read carefully to ensure proper set up. All staff will need to be shown where it is located, so that it can be easily accessed in an emergency. AEDs should be positioned in an accessible place within the school; they should be in a publicly accessible space, and within reach of wheelchair users, in an unobstructed area. They should also be clearly marked and in a well-lit area.
So how do you choose the best AED for your school? James Taylor from Aero Healthcare shared his thoughts.Mr Taylor said there are several factors for schools to consider before purchasing an AED, beginning with ease of operation.
"There are two main types of AEDs suitable for schools, Automatic and Semi-Automatic. Automatic defibs analyse the heart rhythm and deliver a shock if needed, without the need for the user to press a button. Semi-automatic AEDs will analyse the heart rhythm and prompt the user to deliver a shock only when and if it is necessary. Both types of AEDs are designed to be easy to use and confidence inspiring.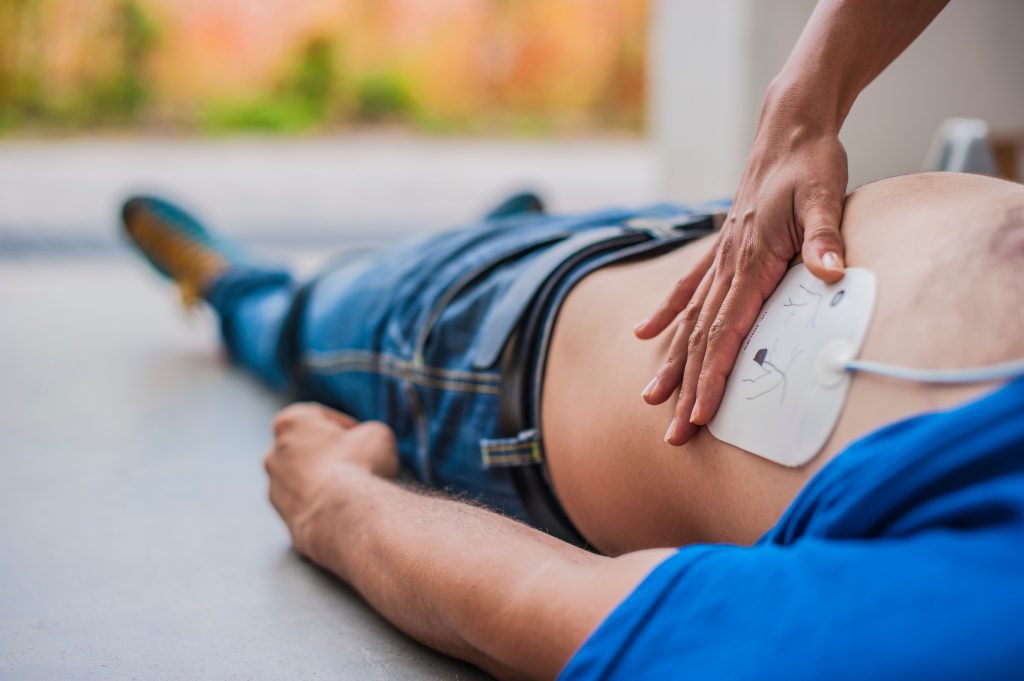 "CPR feedback is an important feature of certain AEDs. The AED will analyse the effectiveness of the responders CPR, providing visual and audible feedback of their performance, advising them to push harder, faster or slower depending on how the blood flow of the patient is responding to the CPR. CPR is a key link in the chain of survival and providing feedback empowers the lay rescuer to conduct effective CPR.
"AEDs should be purchased from a reputable supplier who has a focus on customer service. As these are lifesaving devices, follow up service and ensuring the customer properly understands their AED is important for the confidence of all users. Reputable AED suppliers also assist the owners with maintenance and servicing of the AED, so that it is always available in case of an emergency.
Mr Taylor said while AEDs are typically considered a low maintenance item, it is critical that they are always in operable condition. "Regular inspections of the AED should be conducted to ensure the status indicator light on the front of the device continues to flash green, every five to ten seconds. If anything, out of the ordinary has occurred, you should contact your AED supplier immediately.
"The frequency of maintenance can depend on the manufacturer, and it is recommended that AEDs are replaced at the end of their warranty period."
Lesley Cochrane from Defibrillators Australia said "having a defibrillator readily available at your school can make a significant difference in saving a person's life.  Defibrillators are easy to use, and with proper training, can be used by anyone, even non-medical personnel, to provide potentially life-saving treatment until emergency medical services arrive."
When choosing a defibrillator for your school, Cochrane highlighted several considerations.
"Consider the size and weight of the defibrillator, as well as its battery life, to determine if it can be easily transported to where it is needed. Look for a Defibrillator that is user-friendly, with clear instructions and visual aids to guide the user through the resuscitation process.
"Schools are busy and active environments, so it's important to choose a Defibrillator that is durable and can withstand regular use and handling. Also consider the cost and frequency of maintenance and replacement of batteries and pads, as well as the availability of replacement parts.
"The frequency of defibrillator maintenance and replacement can vary depending on the manufacturer and model. The leading brands of defibrillators require routine visual checks at least once a month to ensure proper functioning of the green light indicator. Some of the components that will need to be replaced are batteries and pads, especially after use or every four years on expiry.  It's also important to have a defibrillator that is self-checking and not in need of off-site inspections or calibration."
Cochrane said, "regular maintenance can help to ensure that your defibrillators are always ready to use in an emergency."