Teaching Resources
Industry voices
CASE STUDY: Stellar science room revamp for St Catherine's School
The St Catherine's School is a private all-girls school located in Sydney's Eastern suburbs.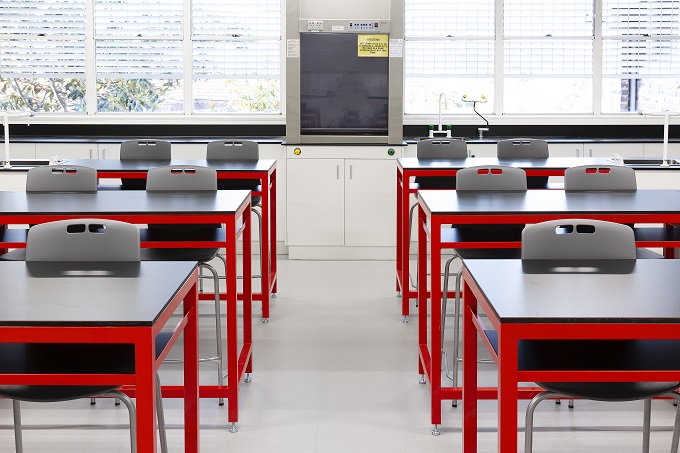 Due to the outdated nature of their science labs, a need emerged to refresh and energise the existing space. We were engaged to modernise the labs and create a flexible environment for both staff and students to interact with educational material, encouraging classroom participation.
A total of five labs were refitted and contained all standardised services focusing power, data, gas and water. There was an emphasis on safety with extra precautions including safety eye washes inside and outside each lab and emergency shower facilities.
A solution that works for staff and students
We worked closely with St Catherine's to understand the brief and took into consideration stakeholder requirements. The prime objective was to achieve a clean fresh finish, provide better facilities and ensure students were excited and inspired to work within the new classroom environment.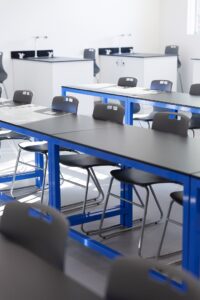 There was an increased need for flexibility to move furniture and create more open spaces to foster collaboration. Equipment was meticulously positioned to ensure the best functionality of the space. The project was designed by our in-house team providing a turnkey solution and central point of contact. The full project was managed from design to manufacturing including coordination of all trades involved including demolition, partitions, flooring, electrical, AV, hydraulics and painting.
Complying with strict safety standards, laboratories were installed with gas safety shut off  valves. Chemical grade compact laminate Bench tops were used to ensure chemical resistance and stainless-steel grade 316 sinks – marine grade for additional chemical resistance and longevity. The teacher's demonstration bench was fitted with an emergency electronic gas shut off valve. A special under bench area was crafted to allow for student laptops. Outdated projectors were removed and reinstalled fitted with new HDMI cover plates to maintain careful attention to detail.
Benefit
The product is a laboratory space which has received positive uptake from teachers and students alike. The bespoke safety features fitted to specific requirements, different coloured frames to differentiate the labs, improved demonstration bench, sufficient standing space and storage all contribute to overall value of the project.
The labs have been transformed into a professional-looking teaching and learning environment.

– Sera Hurley, Head of Science, St Catherine's School
Amicus walked the stakeholders through preliminary design, offered technical perspective, assisted with material selection to ensure better functional properties and provided a tour of previous project, Ravenswood School which had similar design requirements.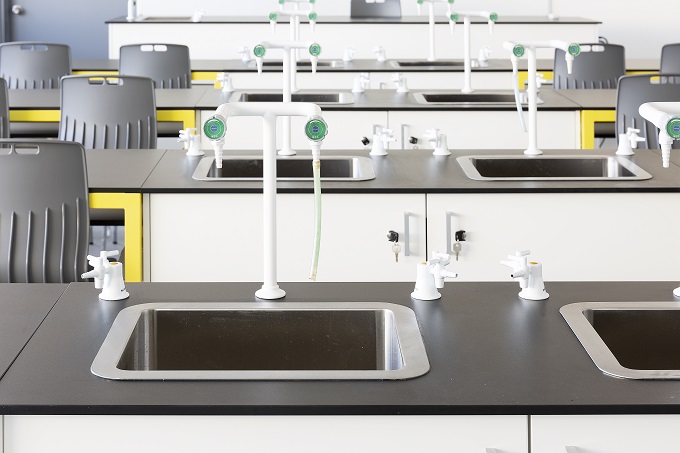 Striking the right balance between functionality and cost, and delivered within timeline parameters, St Catherine's School are the proud recipients of an educational space set to benefit generations of students to follow.
Response from the school community
School News approached Barry Madden the Facilities Manager at St Catherine's School to talk about how the school responded to the renovation of the school's five science laboratories.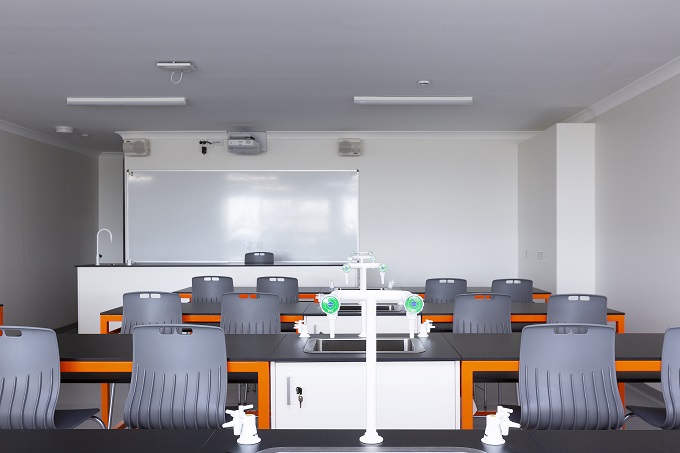 The original (pre-renovated) laboratories needed attention. They were old and Barry described walking into them and feeling as though he had gone through a time machine because some dated back to the 1960s and 1970s. Now, after an incredible transformation he says the labs look like a seriously up-to-date science block and feel like a university.
The labs were completely refurbished with new flooring, furniture, walls, and even the lighting was replaced with cutting-edge LEDs. The rooms have become much safer and much more functional.
With new benches, storage, and seating, they are ergonomically designed, making them much more comfortable to work in.
Amicus was chosen to complete the project due to its solid record of experience in science lab renovation and its profound ability to complete the entire work within a fixed frame – during the summer break. The school team was able to look at a science lab that Amicus previously completed in another school and, impressed with what they saw, moved ahead with the design process.
Many students remarked that they felt like scientists as soon as they walked into the room!

– Sera Hurley, Head of Science, St Catherine's School
About St Catherine's School's new science block, Barry added: "I am happy to say that we are very satisfied with our new science block; it is a big win for the school. Both students and teachers love it! The lighter, brighter and more modern environment has addressed all of the problems we experienced in the old labs."