TÜV Rheinland Awards the BenQ Pro Series RP7503 with Eyesafe® Display Certification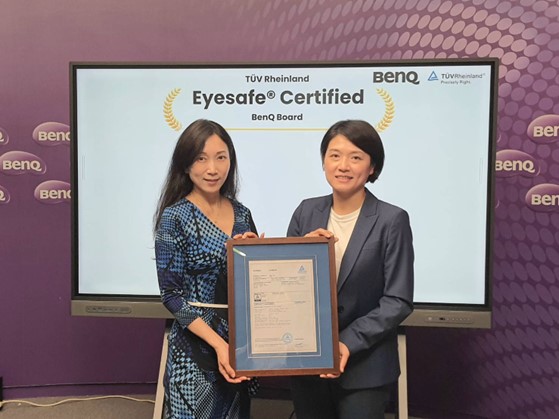 BenQ, a global leader in display solutions, becomes the first and only edtech provider to gain Eyesafe® Certification for large-format interactive displays. The new BenQ Pro Series RP7503 ensures added protection against high-energy blue light while maintaining optimal colour performance.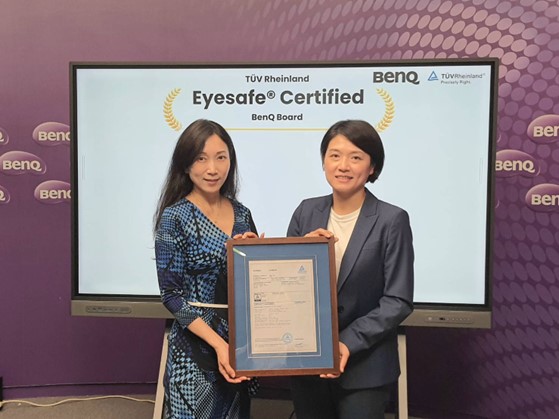 Representatives from TÜV Rheinland, globally renowned third-party certification organisation and Eyesafe® affiliate, formally awarded BenQ with the certificate, which verifies that the RP7503 has undergone thorough testing and satisfied the blue light emission and colour performance requirements set by Eyesafe® and TÜV Rheinland for the global display industry.
"The Eyesafe® Display Standard was developed with input from world-renowned eye care professionals in the fields of ophthalmology and optometry. Displays with the Eyesafe® Certification, such as the BenQ Pro Board, are designed for organisations and schools looking to help protect their users against high-energy blue light," says Jennifer Wang, Managing Director of TÜV Rheinland Taiwan.
High-energy blue light, commonly known as 'blue light', is continuing to pose a global health concern. While more research is still needed, hundreds of studies suggest there are potential health risks from blue light exposure, both immediate and longer-term. Children may be more vulnerable to the effects of blue light because their eyes don't have the same blue light-filtering ability that adult eyes have.1 Reducing blue light emissions is essential when users, especially young students in classrooms, are exposed to screens for long periods of time.
Unlike other solutions that rely on software to reduce blue light by altering the screen's colours, BenQ's new Eyesafe® Certified display has low blue light technology directly built into the screen. This offers always-on protection against blue light, while keeping the screen's original colours intact.
"Our Eyesafe® Certified display is the latest in a series of ClassroomCare® technologies we've developed over the last decade. Because our BenQ Boards are being used a lot in schools, it is important for us to make sure that they are always as safe as possible to use and are able to help protect the health of students and teachers," says Claire Huang, Director of BenQ's Cloud Innovation Center and Display Solutions Department.
"Our vision, together with BenQ, is to make all the classrooms in the world Eyesafe®," remarked Justin Barrett, the CEO of Eyesafe®. "Children are spending an increasing amount of time in front of digital devices. We believe the future is in screens with built-in blue light protection, and that's why we're so proud to be partnering with BenQ to improve the learning space and create low blue light solutions for education."

About Eyesafe
Eyesafe Inc. is the worldwide supplier of advanced blue light mitigating technology, solutions, and standards. With pioneering products and services, in collaboration with healthcare, Eyesafe is shaping the future of consumer electronics. Eyesafe® Standards, Eyesafe® Technology, and the associated intellectual property portfolio is developed by a world-class team of eye doctors, engineers, and scientists with decades of experience in electronics, display materials, light management, optometry, and ophthalmology. The Eyesafe brand is trusted by consumers and integrated in millions of digital devices from Dell, HP, Lenovo, ZAGG and others. Eyesafe was recently ranked #5 in the computer hardware category in the Inc. 5000 Fastest-Growing Private Companies in America. Learn more at eyesafe.com.
About TÜV Rheinland
150 years of safety: Since 1872, TÜV Rheinland's mission has been to make technology safe for people and the environment. From the steam engine to digitalization, what started as a regional association for the monitoring of steam boilers has evolved into a global testing service provider. Today, TÜV Rheinland ensures safety and quality in almost all areas of business and life. TÜV Rheinland's experts test technical systems and products around the globe, support innovations in technology and business, train people in numerous professions, and certify management systems according to international standards. Since 2006, TÜV Rheinland has been a member of the United Nations Global Compact for more sustainability and against corruption. Learn more at www.tuv.com.
About BenQ
BenQ Corp. is a leading innovator of display solutions offering an extensive line of monitors, projectors, and interactive displays for different applications. As an education technology provider, BenQ designs solutions that help schools create flexible learning environments that foster healthy and active learning. Learn more at www.benq.com.
1 Behar-Cohen F, et al. Light-emitting diodes (LED) for domestic lighting: any risks for the eye? Progress in Retinal and Eye Research. 2011 Jul;30(4):239-57.