The world's a stage but it's what's under it that counts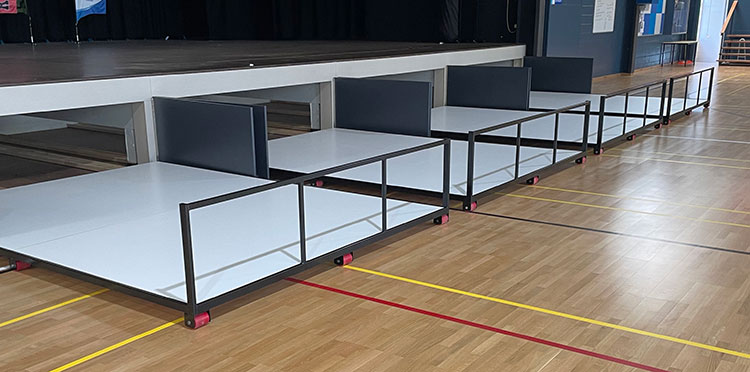 Efficient under-stage storage accommodates 576 chairs and tables at Coombabah State High School.
When the school contacted Quantum Library Supplies, they had two problems and one opportunity.
Problem one was the untidy school stage, which was open at the front and used to store all sorts of items and sports equipment. The openness made it difficult to get at and impossible to keep tidy!
Problem two was the original chair storage, which overwhelmed the limited available space in the all-important assembly hall. Not to mention that between exams and school functions, staff would have to spend time stacking and unstacking hundreds of chairs and tables.
| | |
| --- | --- |
| | |
| Doors Closed | Doors Open |
Opportunity for a custom storage solution
The Quantum Under-Stage storage and handling system provided the solution to both problems, with the chairs stored on custom built trollies that are wheeled out to the back of the assembly hall, where chairs can be unloaded row by row and trollies stowed back under the stage. Afterwards, trollies are wheeled out to repeat the process in reverse, with everything stored away quickly and tidily behind new stage doors.
Each of the four Quantum Under-stage trollies now in place holds up to 144 chairs and is 3.2m wide and 3.6m deep.
The four trolleys have a total storage capacity of 576 chairs giving some capacity for growth. The trollies move easily on the extra-wide polyurethane casters which do not damage or mark the assembly hall floor.
This is much more efficient than the previous labour-intensive handling and placing of over 500 chairs.
"Schools love our under-stage storage system for their chair and table storage, while making effective use of the space under the stage," reveals Quantum Library Supplies Sales Manager Colin Matthews.
Quantum Library Supplies also supplies a range of open and lidded boxes to fit the under-stage trolleys, for storing props as well as sports equipment, gym mats and musical instruments. These are fitted with quality gas struts for safe and easy access so you can take full advantage of any available space.
Contact Quantum for a free consultation and enquire about Under Stage Trolley & Storage. Visit us at quantumlibraries.com.au.

P | 1800 773 374 E | [email protected]
www.quantumlibraries.com.au