Pierlite's air-purifying light fitting Aether is improving COVID safety at Australia's schools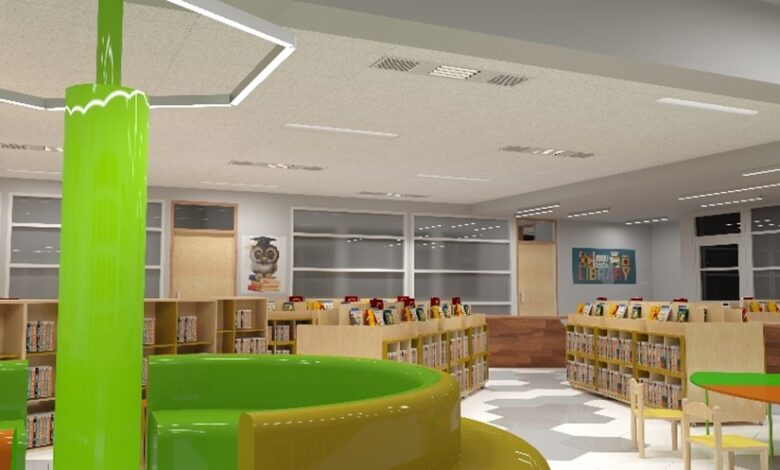 As the battle against COVID-19 continues into its third year, Australian lighting leader Pierlite is keeping students and teachers safer in the classroom.
After two years of remote school learning, Australian teaching staff and students around the country are back in the classroom again.
In-person learning this year has already led to significant benefits, reuniting students with friends and helping new pupils adjust to the school environment. It has also relieved the burden on many parents, who were forced to juggle remote learning and care duties with working from home.
While school classrooms are again at full capacity, COVID-19 remains a threat to health and learning outcomes. The Omicron variant's increased transmissibility means schools must not only protect student health, but also avoid critical workforce shortages that can arise from staff transmission.
Primary and secondary schools have gained notoriety as COVID transmission hotspots due to the high volume of people on site. Events such as the temporary closures of Melbourne's Carey Grammar School or Al-Taqwa College last year are just two examples of how school environments can quickly become prime COVID-19 super spreader sites.
The recognition of schools as prominent exposure sites is also seen in national data. According to the National Centre for Immunisation Research and Surveillance (NCIRS), the return of NSW schools to classroom learning in late 2021 increased the number of exposure events by 295 percent quarter-on-quarter, from a median of 22 schools per-week in Term three to 87 schools per-week in Term four.
Concerningly, the NCIRS also noted that school staff represented a greater proportion of cases following the introduction of Omicron.
In this environment, it is essential that education managers and principal teams put solutions in place that reduce airborne virus transmission indoors. This includes ensuring school classrooms, halls and offices are equipped with medical grade UV-C and HEPA air purifying technology that cleanses air of pathogens.
Meet Aether: Pierlite's innovative LED light fitting that eliminates 99.995% of airborne viruses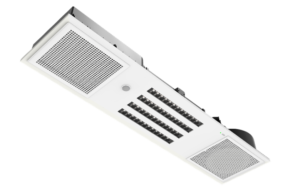 At the forefront of innovative lighting and technology is Australian company Pierlite, which has provided conventional and LED light fittings to Australian classrooms for more than 70 years.
Pierlite's latest innovation, known as Aether LED Troffer, is a light fitting designed for the education sector. Beyond providing traditional lighting, it is Aether's ability to quietly purify classroom air and eliminate airborne pathogens that makes it a truly groundbreaking technology.
Easily installed in modular ceiling grids found in most classrooms, Aether's three-step ventilation system allows air from a room to be actively drawn into an air chamber, where it is exposed to ultra-violet (UV-C) radiation that instantly kills bacteria cells and inactivates 99.995 per cent of viruses by damaging its DNA.
The air then passes through a medical grade H13 HEPA Filter, which traps and removes harmful pathogens. Clean air is then safely returned back into the room.
Lydell Stokes, Pierlite's General Manager – Future Markets, says the presence of ceiling lights in school environments makes light fittings the perfect vehicle for delivering virus-free air.
"COVID-19 has led to many challenges to education providers. For schools, it has shown the importance of striking a balance between infection control and maximising on-site learning," said Mr Stokes.
"Australia's education sector has long understood the link between positive learning outcomes and a well-lit classroom. Today, nearly every Australian classroom is equipped with a modular ceiling grid and ceiling light fittings. By installing our Aether product in existing ceiling infrastructure, school classrooms have a best-in-class solution to achieving cleaner, safer classroom air. This makes for safe, optimal working environments for teachers and students."
Aether has already gained a strong body of clinical evidence supporting its efficacy. Last year, an independent German study verified that Aether was able to successfully inactivate and remove 99.995% of harmful pathogens from air that passed through the fitting.
Benefits of Aether LED Troffer
Purpose-built for Australia's education sector
Easily installed in ceiling grids present in Australian school classrooms, offices, halls
Dual UV-C and HEPA filter purification system
Clinically proven to inactivate and remove 99.995% of pathogens from the air
Designed to operate continuously and safely in occupied rooms
Easy maintenance with replaceable UV-C LED module and HEPA filter

Learn more about Pierlite's world-class indoor safety solutions at:
https://www.pierlite.com.au/supporting-safer-environments