Building Galilee's Field of Dreams in two weeks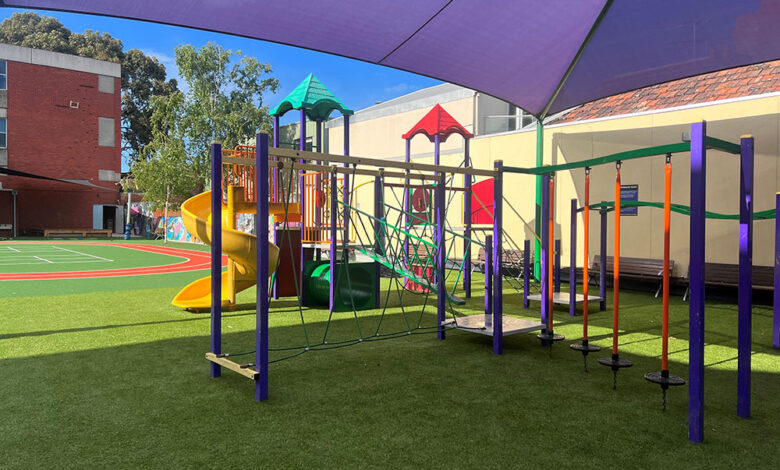 After enduring 6½ years of planning, delays and production constraints, it took only two weeks to miraculously complete Galilee Regional Catholic Primary School's amazing outdoor play space to complement its new state of the art building.
In 2019, the school decided that their existing outdoor surface was no longer fit for purpose and relished the opportunity to upgrade and do something very special. After considerable consultation with the project team, students and staff, the school engaged leading artificial turf installation and design firm, Easy Turf, to bring their dreams to life. But these dreams needed to become a reality within the two-week window of the September school holidays, while students were not on site.
Paul Mapley, the School's Project and Facilities Manager, supported by School Principal Simon Millar, had only praise for their installation partner. "It was an absolute pleasure to work with Easy Turf. "The continual workshopping of ideas and their ability to go the extra yard to ensure the project's overwhelming success, speaks volumes to the way the outdoor space turned out," Mr Mapley said.
The two-week turnaround was certainly challenging given how involved the project was and the always unpredictable nature of Melbourne weather! The first task was to laser grade and level the surface between two areas. The basketball court was resurfaced using APT's Australian made Supergrasse® ProBounce COOLplus® turf with line markings for basketball and netball. The existing basketball sleeves and hoops were then re-installed in different positions.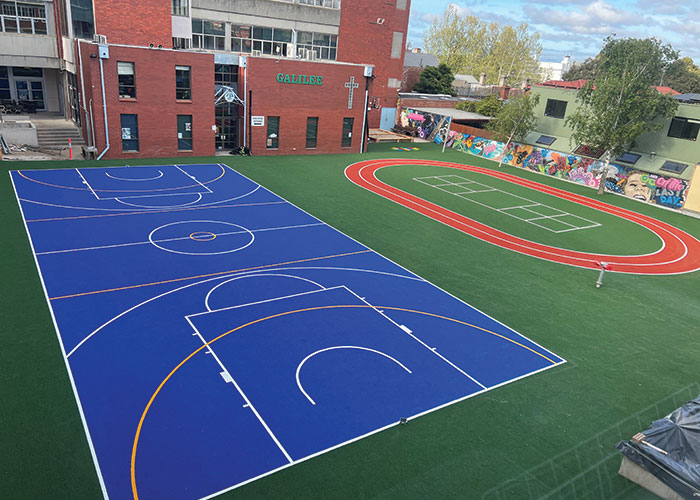 Easy Turf, in collaboration with Galilee, also designed a fun, multipurpose play / sport zone for a previously unused space which included: a mini-running track, cricket pitch, four-square courts and hopscotch.
Supergrasse® ProBounce COOLplus® was again used for this space. "It was important that we used a premium, high-end product that could withstand high traffic, be used all year round and cater for varying sports and activities," explained Mr Millar. "The variety of fun colours and interactive zones is a huge drawcard with the students, and we are very proud to support locally manufactured products and businesses."
Furthermore, Easy Turf was also offered the opportunity to add further value to the overall project, by replacing the surface around the play equipment to deliver a more meaningful playground. Easy Turf recommended APT's SYNLawn Classic 35 artificial turf, which is softer than Supergrasse® turf, supported by a ProPlay 35mm shock-absorbing pad underneath. Not only is this a hygienic, low maintenance solution, but it ensures that the play area also meets the critical fall guidelines.
"Throughout the construction process, we tried to keep the whole space a surprise, but the kids were always calling past to check on progress," reflected Mr Mapley. "You know that you've done a great thing when children run through the gate on the first day of Term 3 and say, 'this is magic, I'm in heaven.'"

For more information contact:
APT on 1800 652 548 or aptasiapacific.com.au 
Easy Turf on 1300 475 499