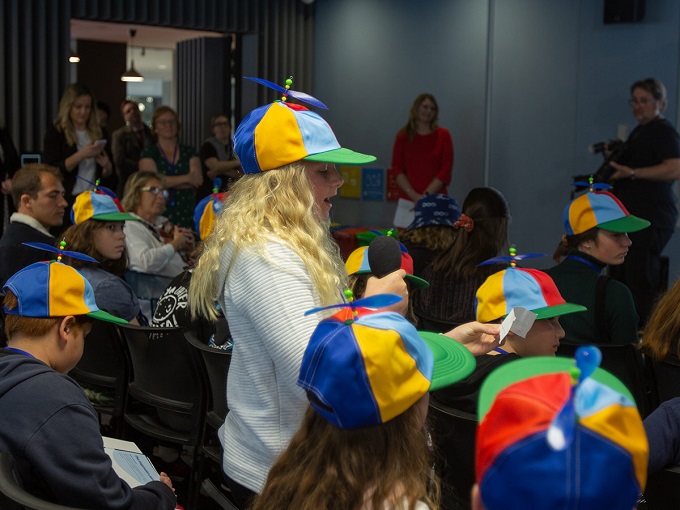 More than 100 NSW public school students have quizzed some of Australia's leading thinkers and futurists on the Game Changer Challenge question, 'How might we humanise technology?'
The Game Changer Challenge is a three-day design thinking event being contested by 18 teams of students from nine primary and nine secondary schools. Day one was hosted at Google Headquarters in Sydney as part of its collaboration with the NSW Department of Education.
The media and communication team from Plumpton High School, who are reporting on the Game Changer Challenge, said the student questions to the eight-member panel were interesting, sharp and on topics that were not always discussed with students in an educational context.
"Seeing all these people come up with so many questions, they were so smart and the questions were out of nowhere. It makes me look into the future and know we are the future," Year 10 student Tamina Abawi said.
The questions ranged across the ethics of programming bots to suffer and feel empathy, rural access to technology, education and healthcare, how artificial intelligence could be used to build a sustainable future, and how technology has affected human evolution.
The panel was moderated by Mark Scott, Department of Education Secretary, and was comprised of:
Melanie Silva, managing director, Google Australia and New Zealand
Scientia Professor Toby Walsh, University of NSW
Distinguished Professor Mary-Anne Williams, University of Technology Sydney
Dr Matt Beard, the Ethics Centre
Jillian Kilby, CEO and founder, The Infrastructure Collaborative
Lee Hickin, national technology officer, Microsoft Australia
Lloyd Godson, marine studies teacher, Hastings Secondary College.
Watch the student Q&A livestream on YouTube
The Minister for Education and Early Learning, Sarah Mitchell, said she was interested in hearing about the students' solutions to real-world and emerging issues. She said the Game Changer Challenge would inform policy about what schools needed to do today to equip students for the future.
"When my daughter finishes school it will be 2031 … to think about what it will be like in the future, it's really exciting," she said.
The students quizzed the panel on the role of AI in everyday life and some panel members emphasised the enduring importance of human attributes.
Babies eye bonding with their mother while feeding, for example, could be affected by adults on mobile phones, ethicist Matt Beard said.
This example, according to Professor Mary Anne Williams, was dubbed "attention hijacking by technology".
Ms Silva, interviewed by the Plumpton High School students after the panel discussion, said the most important skill students needed for the future was curiosity.
"The number one thing is curiosity. If you look at something and just take it as a given, you don't start to ask those really important questions and start to challenge things," she said.
"My dream for my kids when they are at school is to think about problems and how they can solve them and be resilient enough to keep trying, even if you don't solve it the first time."