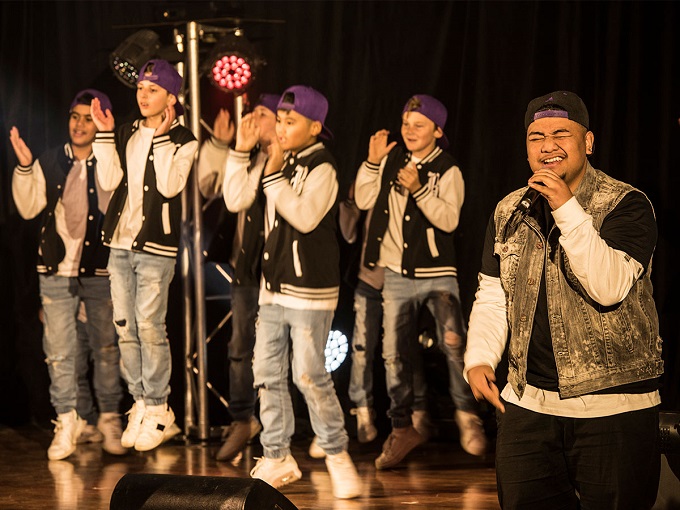 The NSW Education Week launch put student voice in the spotlight – from the haunting melody of didgeridoos and traditional dance to modern-day slam poetry and a hip hop performance.
The dual-site launch of Education Week was broadcast live on YouTube from host schools Dubbo College Senior Campus and St Marys North Public School and attended by Premier Gladys Berejiklian in Sydney and Education Minister Sarah Mitchell in Dubbo.
Delivering the student address Samantha Barton, a Year 12 student from Tumut High School, said she had been a "lover of school from my very first day of Kindergarten".
The daughter of two teachers, Samantha said while the Education Week 2019 theme was 'Every student, every voice' it should also be "a celebration of the teachers who help us grow and strive".
"I am immensely appreciative of the heart and soul teachers pour into their work," she said.
Samantha urged her fellow public school students across the state to embrace the power of speaking out and listening to each other.
"What we have to say matters and in an increasingly digital world, there are no limits to contribution and collaboration as that is what enriches us all," she said.
Ms Berejiklian said the focus on, 'Every student, every voice,' was about ensuring children across the State "feel informed, empowered and supported in their ambitions".
"We are unashamedly for lifting standards in our schools and unlocking the massive potential of our young people," Ms Berejiklian said.
Speaking in Dubbo Ms Mitchell reminded the audience that many regional and remote schools were dealing with the impact of an unprecedented drought.
Ms Mitchell said it was important that the Government maintained "stability and consistency for our regional students" in drought-affected communities.
She said the NSW Government would maintain teacher numbers in drought-affected schools for the next 18 months.
"We want to support our regional communities," she said. "We're not going to walk away from our drought-affected towns and communities [because] we want to make sure every student continues to have a voice in their regional schools."
Education Secretary Mark Scott said the great achievement of public education was not just that it could put on a wonderful showcase of student achievement such as today's launch.
"Rather the miracle of public education is what happens every day with young people learning and on a pathway to fulfil their potential and to be all that they can be," Mr Scott said.
Education Week, now in its 65th year, is an annual event to celebrate NSW public education and communicate the achievements of schools, their students, staff and families.