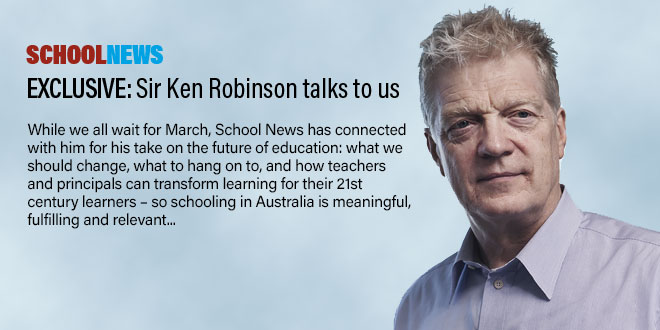 See our latest interviewee, Sir Ken Robinson, host a variety of sessions & give a keynote speech at the FutureSchools event, March 21 & 22

.

 
Educators from all over Australia will converge at the Melbourne Convention and Exhibition Centre to be inspired by the best in educational leadership, innovation and technology in Foundation – Year 12 schooling.
In teaching circles, Sir Ken Robinson may be most famous for his TED talk titled: Do Schools Kill Creativity', as well as his ongoing campaign to make education more relevant, interesting and productive for children. 
While we all wait for March, School News has connected with him for his take on the future of education: what we should change, what to hang on to, and how teachers and principals can transform learning for their 21st century learners – so schooling in Australia is meaningful, fulfilling and relevant.
CLICK HERE TO READ OUR FULL INTERVIEW WITH SIR KEN