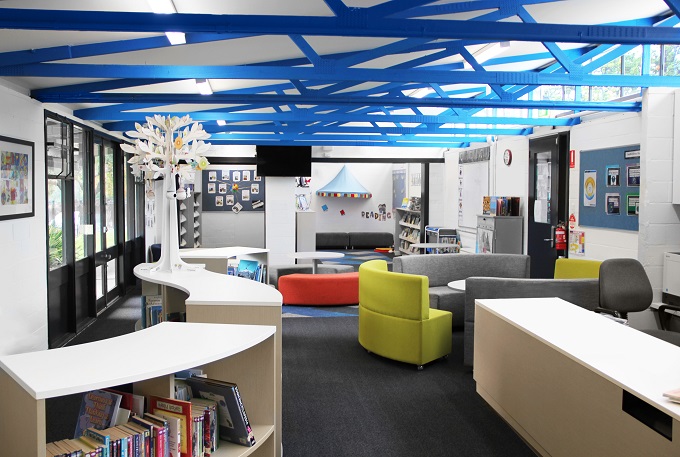 Innovative spaces tempt people to explore and discover new wonders.
A magnificent library should offer a flexible design, use natural light effectively and have an appropriate distribution of space for a variety of users and activities. It should be accessible and designed according to a well-researched library strategy but most of all it should be visually striking, fun, imaginative and comfortably furnished for study.
That enviable wow factor can be achieved even with a moderate refurbishment. Specialised designers can take schools through what might otherwise be a complex, demanding task. Gathering ideas from other gorgeous spaces can sow seeds of inspiration and become a catalyst for creating an innovative library design that will suit your school's present and future needs.
So, we went scouting for ideas, speaking to schools and expert suppliers…
Paul Sheldon, from Fry Library and School Supplies, shared some of his thoughts and suggestions with School News.
 New trends in libraries have been slightly leaning towards making the area feel like home, so there is more of a relaxed environment that feels welcoming. When designing a library, schools should make sure money is not wasted on power points as they can get in the way of new shelving installations.
In relation to space in the library, I recommend not using up the wall space for pin boards or putting up posters, as putting shelving along walls clears space for the middle of the floor. Bay end pin boards can be used instead as this will create more space, together with mobile shelving, that can easily be wheeled aside if more space is required. Try and reserve the wall space for shelving where possible.
CASE STUDY: Wenona School transforms library space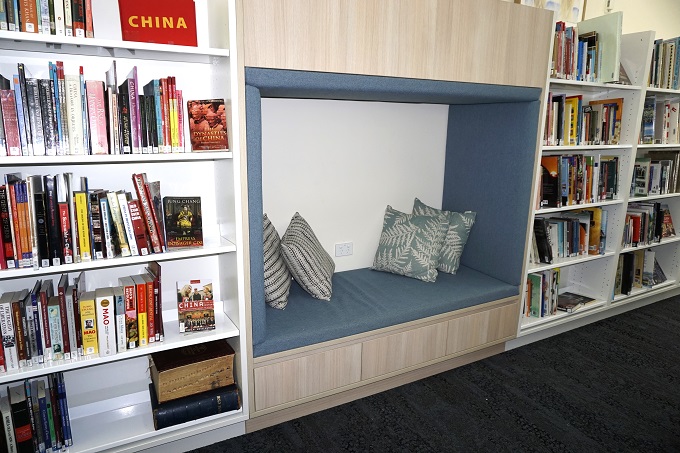 The school's head of library and information services, Rosie Stevenson told us: "In 2018, we began working on plans to refurbish the Wenona Library space to create a flexible welcoming environment that reflected current practice and met the educational needs of our school community. We did a great deal of research; visiting a variety of libraries (Double Bay, Rockdale, UNSW), education (Trinity Grammar Sydney, Roseville College, St Leonards TAFE) and corporate spaces (MLC building) to develop a strong idea of what Wenona wanted and needed, and to gain insight into the design process.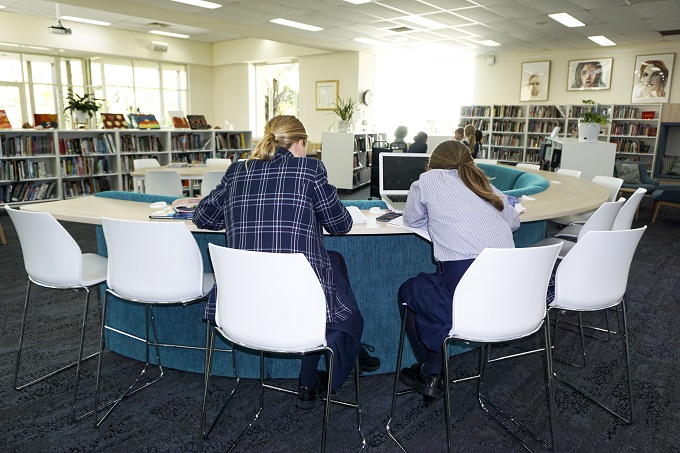 "All of the ideas we gathered were put together on our 'inspiration' board and once we knew what we wanted, we reached out to the wider library community and asked for recommendations for excellent library furniture suppliers. Resource Furniture were excellent, walking us through the process from space design to installation all from a distance. The design team were able to work with our vision and building confines, and provide practical and realistic shelving and seating solutions to create a flexible learning environment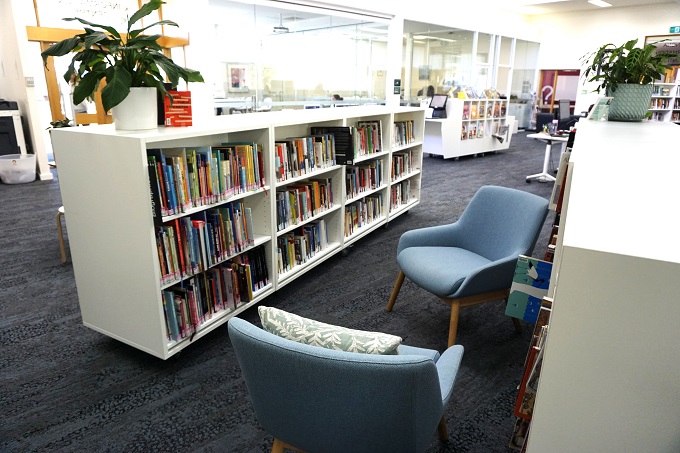 "Our flexible lowline shelving provides not only agility, but line of sight across the space, making the most of our balcony vista. The accessibility and ease of locality of resources has improved with the shelving enabling us create distinct areas.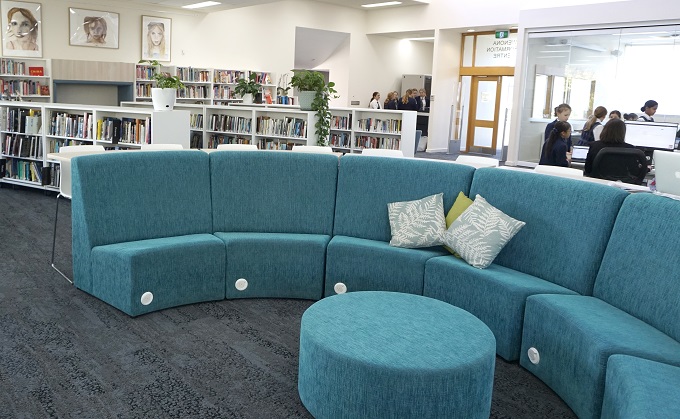 "Staff and student feedback has been very positive and the vibe in the library is one of collaboration and excitement around learning and being together in the space. Silent study rooms and reading nooks with soft seating for those who require quiet spaces for individual work or reading have also been catered for. Readership in our library has always been of a high standard however the new shelving has provided a platform to showcase our collection which has inadvertently had a positive result on borrowing and readership."
CASE STUDY: St John Vianney's Primary School invites flexibility and purpose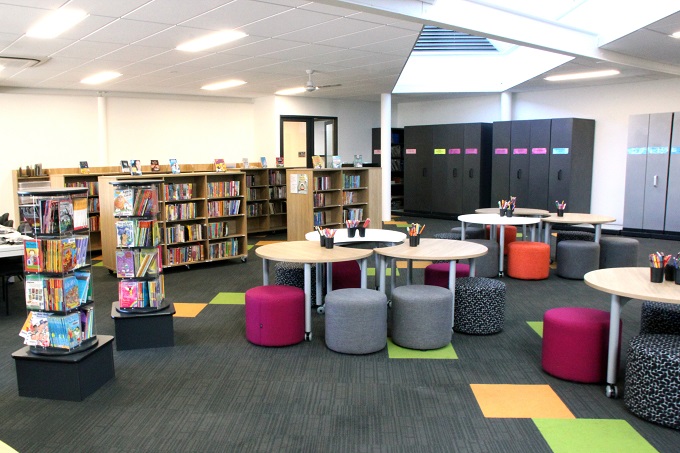 The school business manager, Liz Szabo described their recent library refurbishment process with us: "St John Vianney's worked with VEF to refurbish the library resource centre. We aimed to make both spaces bright and inviting to all as well as being suited to their purpose. We have been extremely happy with the results. The library is a big space which caters for a range of activities.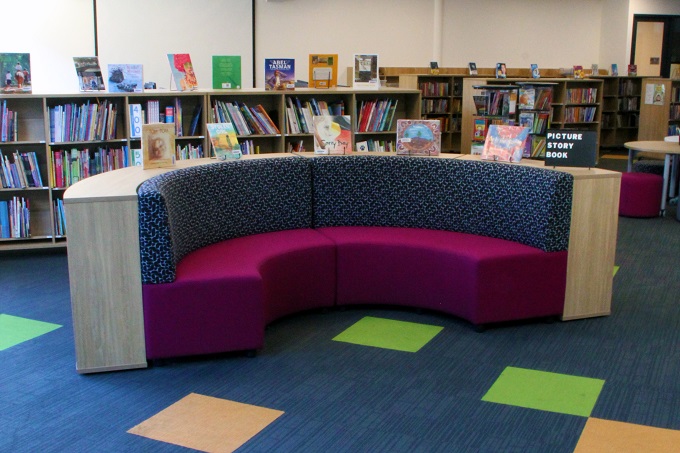 "We were looking to make a reading and teaching area and decided on the habitat (seating/shelving) unit. The habitat unit has made this area a great learning space as well as a place where students enjoy reading. We were also wanting an area where students could work at tables collaboratively as well as independently. The crescent tables on wheels have enabled the work space to be flexible and meet our needs.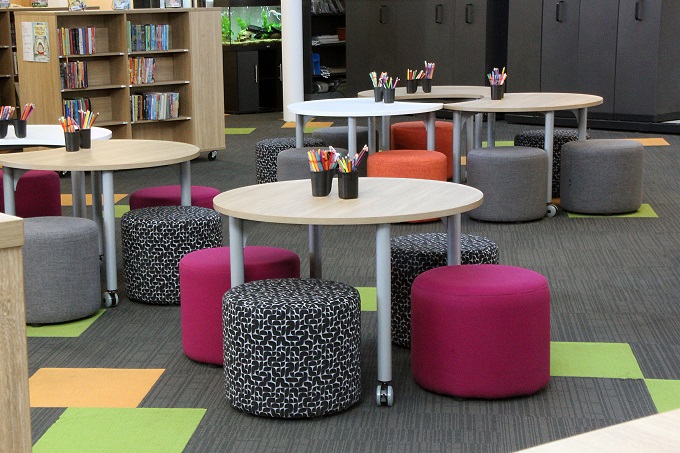 When choosing the seating at the crescent tables again we wanted flexibility and as we are a primary school we needed to take into consideration the height of students from Foundation through to Year 6. VEF were able to advise us what would best suit our needs and the colourful ottomans we bought have proven to be popular with all students and again suitably meet our needs. Again we were looking to make the space bright and contemporary as well as meeting the needs of the students. The students love the refurbished space and so do the staff!
"It is a daunting task to choose suitable furniture that fits in with what is already in the space and we were most impressed."
Raeco marketing manager, Dean Parker told us about some of the trends to look out for in library refurbishment.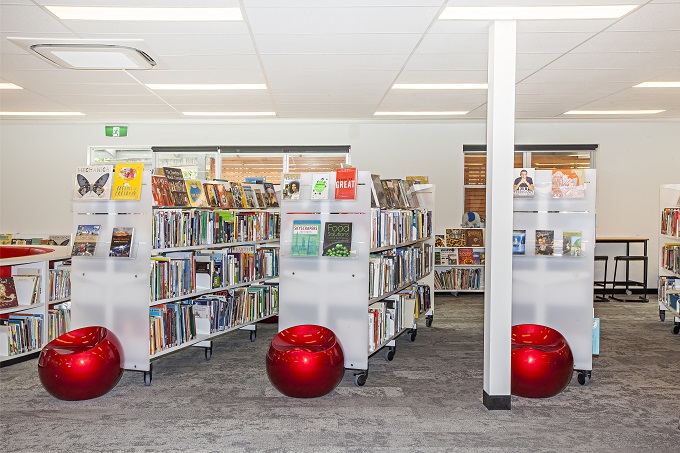 We're seeing the traditional library model, rows and rows of tall shelves, being replaced by lively, community centres that are clearly divided into zones. These zones are not divided by walls but by colour and furniture placement. Story time zones include low shelves with plenty of room for displaying books with their cover showing, as these appeal more to children than rows of book spines. Often, soft cushions are scattered throughout the reading zone. These furnishings form part of the zone where kids use them and move them every day. Sometimes these are used as seats, sometimes as stepping stones. These story telling zones are more than the name suggests. Many libraries invite third party specialists to run 'rhyme time' sessions. These group activities include music, dance and storytelling.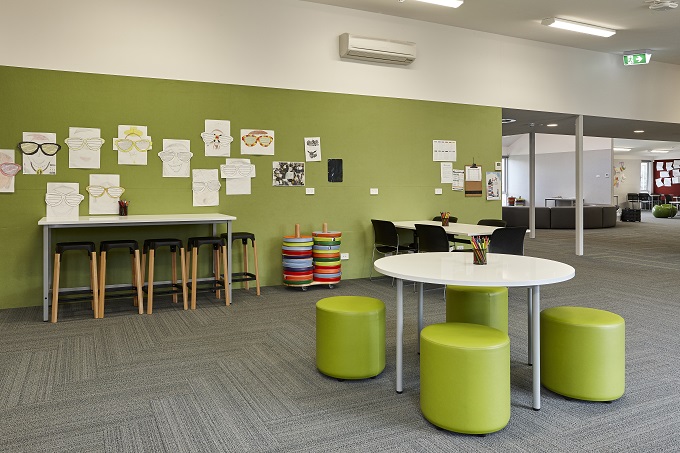 Reading zones enable the creation of areas that can be adapted to provide readers with their own space, or take in views often afforded by generous window design. Study and collaboration zones with bay seats and tables enable users to work solo or in collaboration. The availability of device power and charging ports fosters long-term study sessions.
As libraries are becoming more of a community space, shelving is readily available on wheels so spaces that could only ever be used for one purpose, browsing books, can now be opened up for special events, presentation and community functions – further increasing usage and appeal of libraries. In keeping with today's, clean, open design of libraries, old, static, high book shelves are being replaced with low line, movable bookshelves. The design of today's book shelves also enables book covers to be displayed. The low height of popular book shelves helps opens up library space and enables the eyeline to scan across the entire library. While collections of non-fiction books have reduced over recent years, fiction books collections are holding their own, and still form the "heart" of many libraries.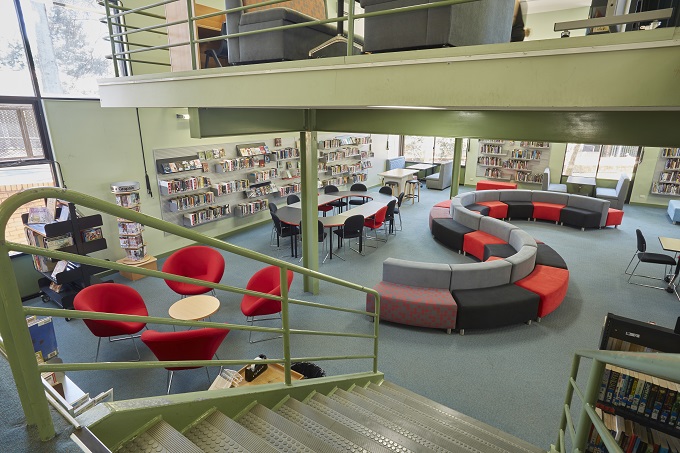 Retail style merchandising spinners are now a feature in many libraries, especially at entrances and in high traffic areas. These further showcase books, CD's and DVD collections and give a more user friendly feel to the library environment. The winners of the 2019 Australia Library Design Awards incorporated many of these design features. Bunjl Place Library in Melbourne's east, and Centenary Library in Brisbane were both design award winners. Both centres optimise modern library design. They feature low line shelving that enhance the open design, flexible spaces and zones. These combine to enable a wide use of activities including reading, study, collaboration and more.
VEF spokesperson, Kellie Griffith emphasised the importance of nature in new designs.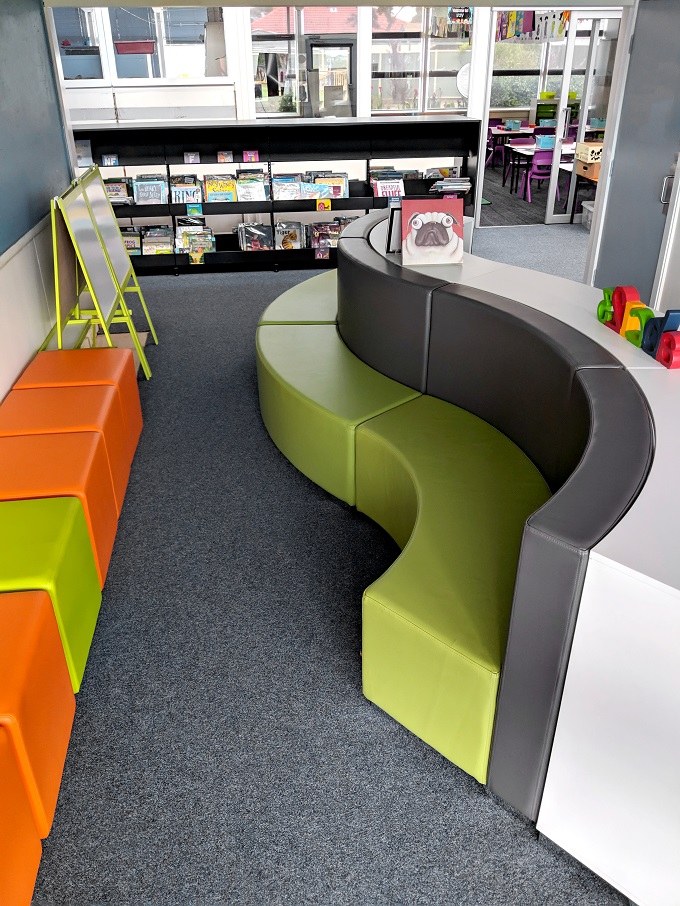 The latest trend in library refurbishment is biophilia as we start to better understand the connection between people and nature. We're learning more about how people interact with their environment and seeing the benefits of bringing nature indoors to reduce academic stress and inspire learning. Shelving heights are being reduced to 1.2m to allow natural light to extend further throughout the space, plants are being introduced into educational spaces and the adoption of sustainable finishes lead us towards healthier lifestyles. The end result is fresh and inviting.
Involving students in the early stages of library planning ensures that the design caters to their needs as both a group and as an individual and addresses both their academic and social needs. To foster student wellbeing libraries can consider adding a café or additional lounge space and extending their opening hours to provide a space to socialise and relax before and after school.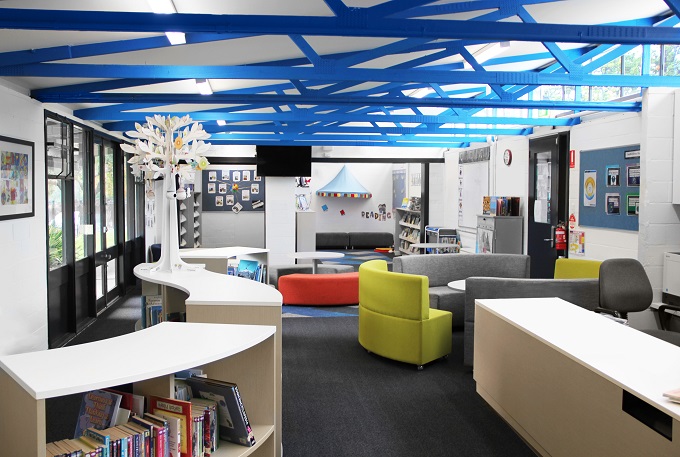 Schools should also consult with IT staff during the design stage to learn about new technologies and how they can be accommodated within the library space to meet future needs.
Resource Furniture's creative manager, Michael Merlino suggested that schools carefully consider their options.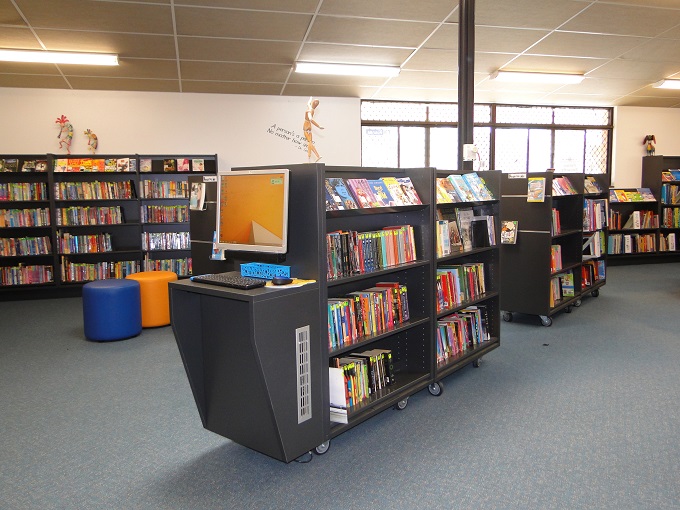 Choose furniture that is multifunctional and is easily reconfigured. It provides greater flexibility for both the students and teachers to organise the space that best suits their needs. There should also be a range of furniture items such as bench height desks where students can choose to stand or sit on stools, standard height desks and soft seating. If students are given the freedom to choose, they are comfortable, happy and more engaged.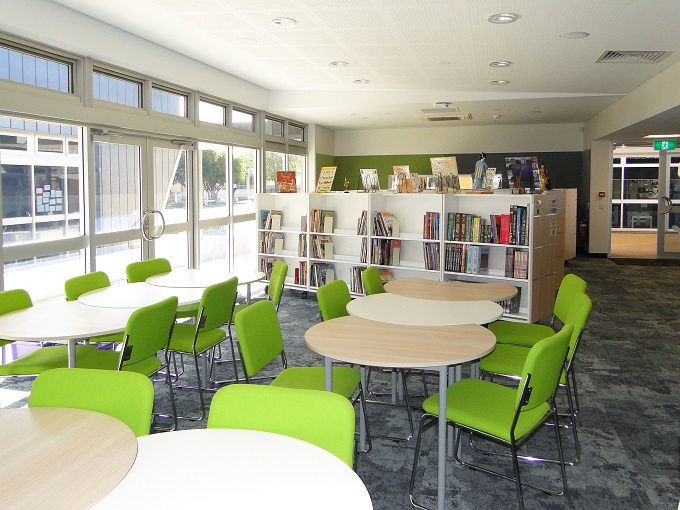 Much like the loose furniture, the library shelving must also be multifunctional and easy to reconfigure. Depending on stock levels at any given time, staff should be able to transform shelves easily from flat shelves for either spine or face out to display shelves. This ensures shelving bays look their best all of the time and has proven to increase loan rates. The better the bay is presented the more inclined you are to interact and browse through books.