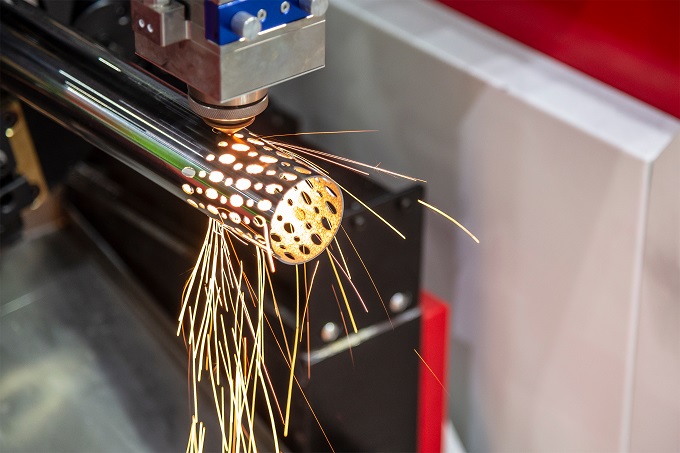 Last issue, School News scoped out the latest and greatest developments in CNC routing and laser cutting for the education sector.
Click here to read our Term 3 issue. 
Classrooms are more active than ever before and these machines have built momentum over the last couple of years as our curriculum increasingly prioritises interdisciplinary projects. Students are now developing their ideas, creating proof of concept and prototypes for products and innovations that have real-world purpose (and even commercial viability). In the US, Lorain County Community College even has a program where high school students earn money and college credit to design and create a variety of contracted items for school-use, including bookends, lighting, sign engraving and decorations for special events like masks for masquerade balls.  
In Australia, students are creating a plethora of products that can benefit their school from fundraising efforts and school branding, to community artwork, plaques and awards, plus an infinite array of project-specific designs like architectural models, unique skateboards and arcade games. 
Specifications and classroom applications
CNC router and laser cutter suppliers to the school sector spoke with us about the technical differences and developments.
Sendy Limargana, the CEO of Red Dot Machinery, said: "There are a lot of things that students are able to create with a CNC router."
"From engraved signs and stencils to intricate furniture items and artwork. They can use a wide variety of materials, including wood, metal and acrylic". Schools are excited by the possibilities these machines create, he revealed. "There are more and more schools using CNC routers and laser machines to enhance their students' learning experiences. These machines are becoming more affordable and easier to use than ever before.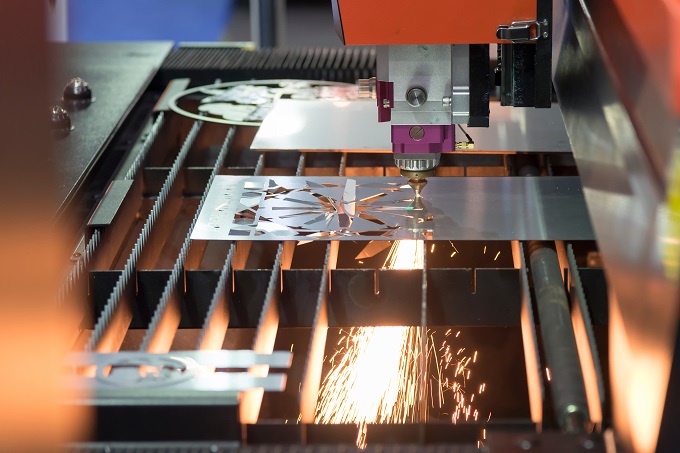 "There are two common types of laser machines used in schools. The first is the CO2 laser, which is the most common and least expensive type, capable of cutting and engraving a wide range of materials. The second is the fiber laser, which is commonly used for metal cutting and metal engraving. While this type of laser is more expensive than the CO2 laser, it's the best type for metal cutting and metal engraving."
"Before operating a laser machine, students must be aware that laser beams generated from laser machines are invisible. During the machine's operation, it is essential to keep any body parts away from the laser beam to avoid injuries. Fumes from laser cutting and engraving should not be inhaled. Similarly, with CNC router operation, careful consideration of health and safety is vital. Students should always keep body parts away from the machine to avoid injuries, and it's important that they read and understand the user manuals prior to using the machines.
"There are also opportunities to strengthen teachers' knowledge and skills with this equipment. The possibilities for application are infinite and powered by creativity."
According to Stephen Heusz, speaking on behalf of Multicam CNC Routing Systems: "CNC Routers are widely used in many different industry sectors."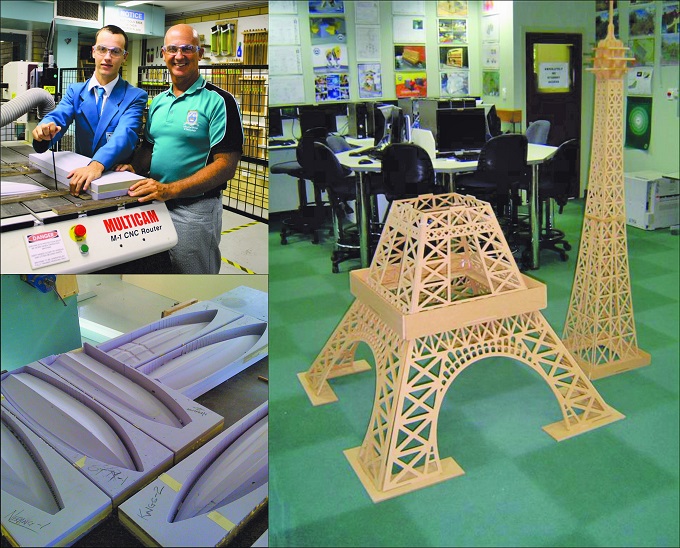 "Including sign and point of sale display, kitchen manufacturing, shop fitting, plastic engineering, aluminium engineering, and more. So, teachers are able to gain a greater understanding of the construction and manufacturing process involved across these industries and apply this understanding to their classroom curriculums and projects. Students' skills in design, software operation, machine operation and construction (where applicable) are all enhanced when using CNC routers.
In terms of safety, he reminded School News that "CNC routers are built with a lot of inherent safety features, but in the end they are still mechanical devices capable of causing injury if not treated with respect".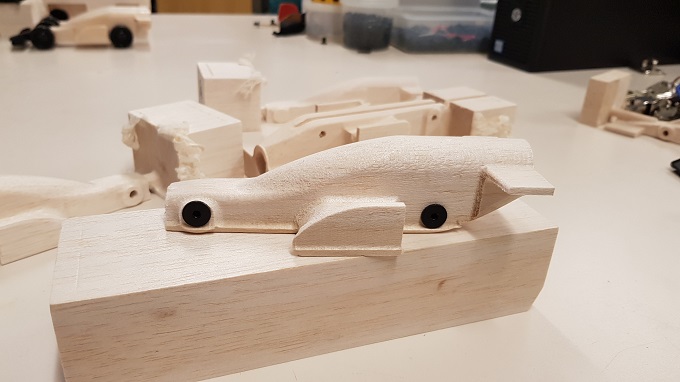 "The safe use of these machines is no different to the safe use of a hand saw, drill press, lathe or chisel. Students must always be supervised when using the CNC machine and should not be allowed to operate the machine on their own."
Schools on the forefront of technological application
"Rather than just producing a simple job, recent trends in the use of CNC routers in education have been to create a project with a more holistic approach," Stephen explained. "Students are required to collaborate on a project to achieve a result, which can be as in-depth as imagining and researching a project, producing designs, testing the designs, testing the need/market, using computer CAD/CAM software to envisage the end product, choosing suitable materials, machining the product and then finally presenting the finished product. This can extend all the way from market research to market presentation for a business enterprise."
Jordan Buhagiar, laser division manager at Alfex Laser, spoke about the wide range of materials schools can use with a CNC router.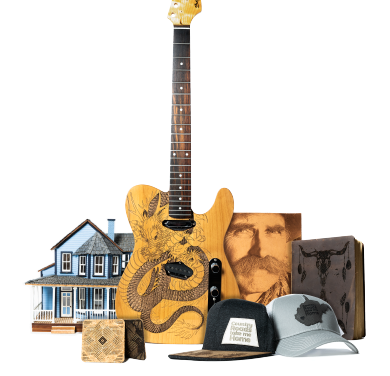 "Most common in the classroom tends to be wood, plastics and hard foams; projects can range from edge-lit acrylic signs, skeleton or robot cut-outs moved with gears, chess boards, fidget spinners, and even architectural models. Over the years, many schools have stuck to simple 2D routered or laser cut designs but more recently we've seen complex, detailed projects being created with multiple different materials and other technologies like 3D printing.
"First and foremost, any machine located in a classroom environment should have a laser safety classification of Class 1 or Class 2, which means the laser is not able to escape out of the machine enclosure. In addition, ensure that all access panels to the laser are interlocked so the laser will not fire if a panel is removed. The safety of both teachers and students using these machines is the highest priority so these points are non-negotiable in my view.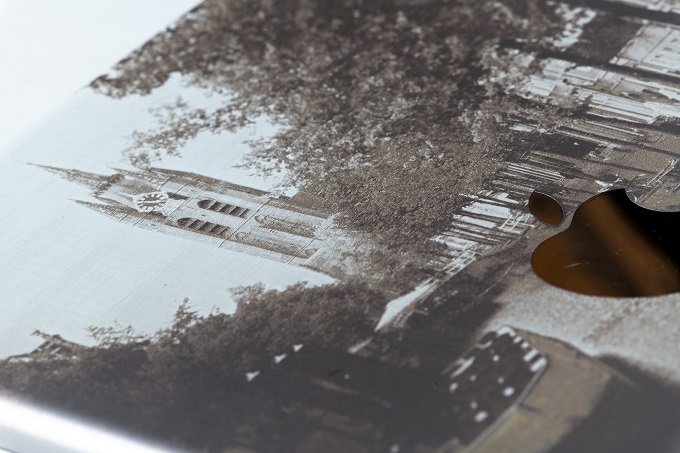 "I think it's important that students sit through a quick induction regarding the use and safety requirements of any equipment in the classroom. This can be provided by a teacher who is trained on its operation. During consideration of purchasing a laser it is a good idea to organise an on-site demonstration at your school to allow as many people as possible the opportunity to see them operate and ask questions. Schools should also look for comprehensive training to be included with your machines."
Glenn Traves, from Thunder Laser provided us with a detailed overview of materials that can be used with laser machines:
Acrylic
Anodized Aluminum
Bamboo
Ceramic
Double Colour ABS
Fabric and Leather
Glass
Foam
Granite
Grip Tape
Metal
Paper
Plastics
Rubber
Wood
"Cost-effective and reliable, CO2 laser systems are becoming more popular for schools. The maker movement trend supports the laser industry, and these machines are efficient because they enable precision cutting and engraving. 
"They offer plenty of opportunities for classrooms to explore, such as prototyping, modelling, woodwork, architectural models, art and design, graphic imaging, photo engraving, signage, school branding, and creating in-house custom awards or trophies."
He said the most exciting part of the technology is that: "Students are 'hands on' in every step of the process. Software to design student creations are readily available and easy to learn with the assistance of online tutorials.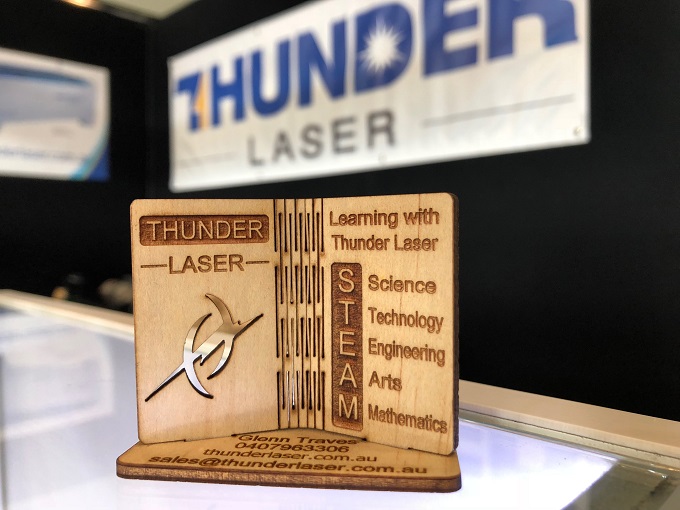 "Laser systems enhance a student's ability to innovate and ignite creativity. The combination of traditional and modern innovative teaching methods not only enriches classroom interest, but also integrates knowledge of science, technology, engineering, art and mathematics. Teachers can boost STEM and STEAM programs with existing laser cutting and engraving techniques; this gives students hands-on experience in cultivating advanced awareness and thinking, stimulating the nature of curiosity and active exploration, guiding each other to solve problems and create solutions.
His tips for schools researching this technology include: His tips for schools researching this technology include:
Check the safety ratings. Class 1 or Class 2 laser systems are recommended due to their additional safety features.
Plan for filtration and exhaust fume ducting. Smoke and dust particles will be present in the exhaust fumes.
Be aware of fire hazards. Keep the area free of flammable materials and a fire extinguisher and blankets nearby.
Know the materials that can or can't be cut and engraved. E.g. PVC will provide lethal chlorine gas.