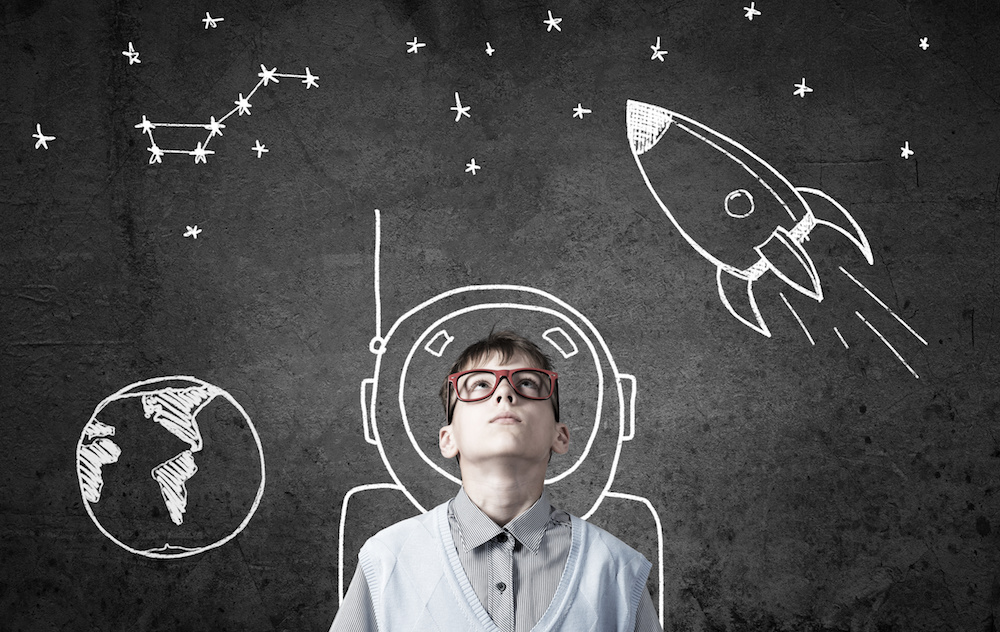 The establishment of a new Australian national space agency was announced by federal minister for education and training, Simon Birmingham, at the International Astronautical Congress (IAC) in Adelaide this past week. The announcement was met with loud cheers from the 4,300 delegates attending from around the world, 30% of whom were Australians.
While the details are pending, it's worth considering whether the space agency could play a vital role in inspiring students to take up science, technology, engineering and mathematics (STEM) subjects.
Inspiration matters
The broad answer to that came during a debate at the IAC this week among heads of space agencies (not including Australia – yet) on whether science comes before business, or business before science. The acting head of NASA, Robert Lightfoot, said it was neither, but in between science and business is inspiration.
And that's the point. It is why all space agencies have education and outreach programs. Space inspires. That is why there a number of space education facilities have already sprung up in Australia, such as the Victorian Space Science Education Centre (VSSEC), the Mars Lab at the Museum of Applied Arts and Sciences in Sydney, the South Australian Space School (SASS) and the CSIRO education program at the Canberra Deep Space Communication Complex.
Michael Pakakis, Director of VSSEC, has taught high school students for 32 years. He maintains:
"Take any subject and make it space-related. Engagement goes up by 100%."
An example might be a plant biology subject and then relating that to remote sensing and what we can see from space. VSSEC, on the grounds of a high school in Victoria, has seen 100,000 students go through its facility since 2006, according to Pakakis.
VSSEC has also provided 3,000 teachers with professional development. Pakakis says teachers seek this professional development because few have been taught the skills to teach STEM in an interdisciplinary way. Space education offers the basis for an inspirational and interdisciplinary approach to STEM.
Engagement matters
Engagement is a word that is often used, but rarely defined. I have heard it said that engagement is the number of students paying attention in class and passing the subsequent test. As an evidence-based science communicator, I see engagement as half my online University of New South Wales (UNSW) astrobiology course students continuing to access the materials two months after the course has ended because they want to. Space education in Australia already attracts thousands of students – not because they are required to pay attention to pass a test, but because the students want to participate. By this definition, space education engages students in STEM.
For example, the Mars Lab at the Museum of Applied Arts and Sciences (MAAS) in Sydney attracts 3,000 students a year, according to MAAS. The Mars Lab education program was partly funded by the Australian Space Research Program in 2010 and created in a partnership between UNSW, the University of Sydney and MAAS. Students create their own Mars missions in the 140 square metre Mars Yard and drive the three experimental Mars rovers from their classrooms. The video below was made by students of their experience.
Space education influences student choice in STEM
One of the papers given at the IAC was from SASS charting its own experience how space education is influential in STEM. SASS ran a survey earlier this year of program participants over the 20 years they have been running. 84% of those who responded said they had been influenced by their experience to take at least one STEM subject at university level.
CSIRO has long been convinced of the impact space education has on students in encouraging them in STEM related study and careers. It attracts tens of thousands of students and hundreds of teachers every year across a wide range of programs. The Canberra Deep Space Communications Complex education program alone attracts 10,000 students a year, according to CSIRO.
Why should we care about STEM education and outreach?
We only need look at the national or international reports to know Australia suffers the same problem as other developed nations: students are not engaging in STEM subjects or skills. That's a problem for the future, where 75% of the fastest growing occupations are predicted to need at least some STEM skills. As Planetary Society CEO, Bill Nye (better known as Bill Nye the Science Guy) pointedly said at the IAC, innovation does not happen without science, or indeed STEM skills – and these drive the economy of a nation.
The Australian space agency has the opportunity to transform the way STEM is taught by building on the innovative home-grown space education programs that already exist here. These effective and successful programs enable an engaging and interdisciplinary approach to STEM education as well as critical thinking, collaboration and communication skills needed in the workplace.
The Space Agency is well positioned to engage more students in STEM
There are already a number of examples that indicate activity in primary and high school education will result in the space skilled workforce Australia needs.
Will Read is a student who was inspired by a VSSEC program and who eventually came to the Mars Yard to create an experimental Mars Rover, which was on show at the IAC. He has now completed his doctoral degree and has been snapped up by NASA's Jet Propulsion Laboratory to work on a similar rover.
Read is not alone. For example, the Australian Centre for Astrobiology at UNSW has three past students at NASA. Dr Abby Allwood is the first woman and the first Australian to lead an experiment on Mars rover mission, slated for 2020. Working as one of her co-investigators in NASA's Jet Propulsion Laboratory is David Flannery. At NASA Headquarters, Dr Adrian Brown is Deputy Program Scientist for the Mars Exploration Program.
Not everyone goes overseas, either. Solange Cunin, an alumnus of the UNSW astrobiology course, now runs Cuberider. This STEM education program is aimed at educating thousands of young people in near-space satellite use.
The good news is that a substantial part of the space education infrastructure for an Australian space agency already exists, in the VSSEC, the Mars Lab, SASS and the CSIRO programs based in states around Australia.
These existing facilities are the foundation on which an Australian space agency can build a world class national STEM education and outreach program. This national space initiative has the potential to inspire thousands more Australian students to take up STEM studies.

This article was written by Carol Oliver, Deputy Director, Australian Centre for Astrobiology, UNSW. The piece first appeared on The Conversation.