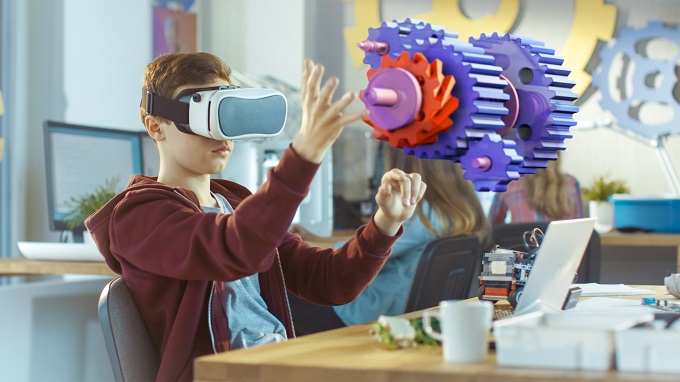 Is it possible to engage more students by integrating their self-taught digital skills and innate online abilities with classroom subjects?
While it makes sense to give students technical tools to create  content in the classroom that will enrich their learning environment, it's difficult for school leaders to pinpoint how. In order to successfully teach young digital creators, it's vital that schools are able to offer teachers platforms to interact with them  digitally. A critical part of this is fitting out classrooms with the right products and technologies.
Interactive tech: classroom product options
When choosing products for interactive teaching in the classroom there are a few crucial things to take note.
Connectivity. Whether it's a projector, a whiteboard, touchscreen or multi-touch display, in order for teachers to make full use of it they need to be able to connect their (and their student's) device. Consider flexibility across iOS, Android, Microsoft, Google and Mac. It's not going to be the most productive use of time if students have to export every document, video and image file to a different format before they can share it with their class or teacher.
Direction. How do your teachers like to teach? Are they stood at the front of the class or do they move from location to location? Are students seated in rows and columns or small and scattered groups? What is the timetable flow? All of this is important because it tells you whether a stationary projector or interactive whiteboard will fulfil the classroom needs or whether a mobile multi-touch display,  teaching station or central touch table is going to better suit your school's teaching style.
Collaboration. While multi-touch teaching tables, for example, can seat a small group of children around a screen to create or complete a classroom activity together, front-of-room interactive whiteboards, projectors and flat panel displays allow the teacher to turn individual work into collaborative learning. Sharing students' work up on the big screen, or having the whole class engaged in a project or resource, such as a video or digital worksheet can be just as engaging.
Pros and cons. With projectors, lighting can be an issue as the room needs to be dark for the projection to be visible. Some students may find themselves sleepy or distracted in the dark, tempted to talk or disengage once the lights switch off. For other students, a change in atmosphere may help to engage them. Projectors vary in ease-of-use, expense and versatility – some have VR and 3D capabilities and can be controlled via a mouse or even touch screen. They do require thought regarding installation to make sure the projection is visible to all students, alignment is good and the projector itself is safely mounted or placed.
Interactive LED whiteboards, screens and panels benefit from being visible in daylight, so lighting isn't so much of a concern. They are usually fixed to a wall, so there is less flexibility in terms of location but this does tend to mean less cabling and day-to-day fuss. They vary in size and weight, which should be taken into consideration when fitting technology for a particular space – factor in wall-size and proximity to students.
Ask your prospective supplier about energy efficiency, warranties and longevity as these items will be heavily used.
Practicality. Don't underestimate the power of a simple interface. There's nothing more disheartening and disruptive in a classroom than new technology not working and the IT guys (and gals) having to be called out every three minutes to resolve a software issue. Basic instructions for new users should always be expected when new tech is brought into the classroom but teachers need to be able to teach without having to undergo a six week training course just to navigate a touchscreen. So choosing a product with a relatively intuitive interface, where teachers and students can reasonably navigate how to open and close documents, find different apps and programs, etc., is imperative.
For the indecisive: have you considered leasing?
Don't forget that renting tech products is an option. If you aren't sure what products will work best for your staff or students… Particularly, if you are undergoing a substantial refurbishment or converting your classrooms into a more flexible/modern learning environment and want to test out different types of available technology before committing to something that may not be optimal for your setting – leasing different items could be the ideal interim solution.
Future proofing students
From STEM to fine arts, history to sports, content creation is deeply embedded in the digital future of all industries. Why? Because the future of every industry rests with today's children and today's children are digital content creators.
Learning to film and edit video, for instance is no longer just relevant to students interested in a media career – it's an expectation in most white collar industries and critical for self-employed small business owners who market themselves online.
The digital revolution of the last 25 years has entered an evolutionary phase, where the skill to create will continue to be paramount for young people entering the workforce.
IntegrateAV's national education manager, Nerida McGeachie explained why interactive technologies are essential in the digital learning space.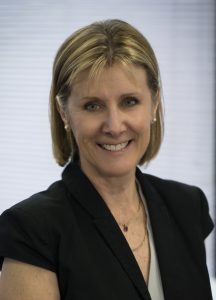 Interactive technologies have been a well-known part of the education technology roadmap in schools for many years. The need to move faster to accommodate the future learner has become a mine field for teachers as they take on so many changes including curriculum, changing learning spaces and changing technology.
Teachers do not need to be an expert in all digital learning spaces; however, they do need to model what students need to demonstrate in their learning and use technology productively. Students should be using interactive digital technologies to explore and co-create new ideas and content with others thereby acquiring a deep understanding of the digital environment. Schools are charged with developing students' digital citizenship, ensuring mastery of responsible and appropriate technology use, including online etiquette and digital rights and responsibilities.
It is a challenge for schools to implement a comprehensive and cohesive approach to embedding interactive technologies into the curricula. Due to the multitude of elements comprising digital literacy, frameworks have been developed to support schools while acknowledging the need for teachers to be upskilled in this changing learning environment. Smart software and interactive flat panels allow teachers to monitor student progress,  and provide immediate feedback. Every effective educator knows the importance of immediate and constructive feedback at just the right moment in time along the learning continuum for a student is not just important but imperative to students learning outcomes.
Pre-service teacher training programs are also challenged to equip educators with digital and social–emotional competencies, such as the ability to analyse and use student data, amid other professional requirements to ensure classroom readiness.
ASI Solutions director, Justin Lowes said that implementing interactive learning helps teachers to engage different learning styles.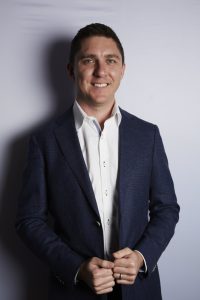 Schools need to set their goals and focus on two important factors when considering introducing interactive teaching; time and the reliability of the technology. Schools, teachers and classes that implement interactive learning technologies open up more discussion, open-ended questioning and critical thinking.
Students with various learning requirements are accommodated for in interactive teaching spaces and STEAM has been incorporated across various curriculums with positive outcomes across student differentiated learning styles. Interactive technology has helped make learning more collaborative and allows students to choose which tools best support their learning and portfolio of works.
Schools now use the cloud for student and staff collaboration in real-time. It is also used to store personal data: the cloud service chosen should be identified to its location of stored information and the legislation for that country, which is usually outside Australia and can result in security, privacy and collection issues. In order to balance the protection of school data, schools need to look at ways to enhance privacy.
These days it's increasingly rare to see a classroom without an interactive whiteboard, large interactive touchscreen display panel, or a laptop/tablet trolley, said education product specialist Ian Parkin, from Clevertouch, Commercial,
However, there can sometimes be a reluctance to welcome new technology due to fear that it will increase workload rather than make life easier. Some of the key considerations schools can focus on for using technology to enhance teaching include ad-free education apps and games, screen sharing and remote access. Turn your tablet into a wireless visualiser and share student work with the entire class, or control the main screen remotely from a smartphone or tablet. These type of tech allow teachers to move away from the front of class mode of delivery and utilise small group and peer learning effectively.
Powerful lesson building tools: the embedded software is more important than the screen itself. Teachers will already have files full of ready-made lessons they've created over the years, and they'll still need to access them on their new edtech. Some interactive displays also give you access to a large resource of ready-made lesson activities, created and shared by other teachers, downloadable for free. In turn, teachers can upload any lessons they want to share with the community.
AI holds exciting prospects for edtech as learning algorithms can take in information and devise more efficient methods over time.  This can be as simple as a voice-input system like Alexa, to more complex algorithms that track student performance and suggest teaching plans on an individual basis. It is becoming clear that it's never too young to start using technology to aid in education.