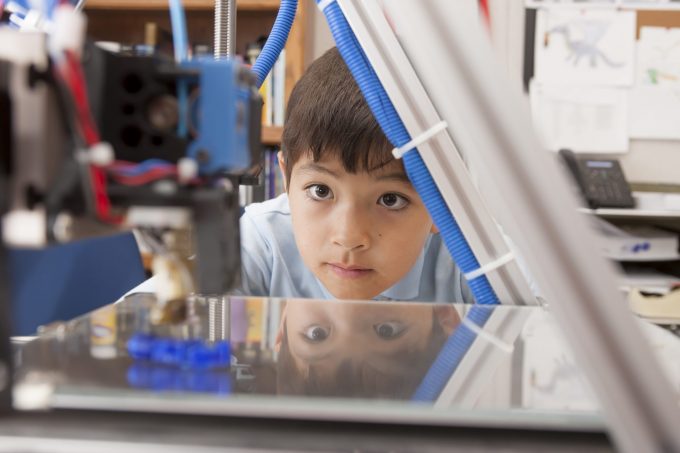 As schooling hurtles towards the kind of future the older generations can barely imagine, technology like 3D printing is on the minds of many a STEM-enthusiast educator. School News spoke with Jason Spark of QPCA to better understand just what 3D printers can do for our students' learning.
Industry view
As teachers scramble to engage a cohort of technology-soaked youths, Jason Spark says 3D creates "another dimension to learning", making learning fun and interactive: "It enables students to design, feel, and interact with their subjects."
He said, "learning has become very two-dimensional over the years; to activate students' creative thinking is a real step forward". "I've seen this first hand with kids who come into our office and see the 3D printer in action – they're mesmerised by the process and the resulting prints."
Mr Spark says 3D printing has the potential to re-engage kids in learning, while providing something tangible for them to take home to their parents: "Explaining their creation can only reinforce what they learnt and create a discussion around the dinner table."
How to integrate 3D printing into existing curriculum
"The better 3D printers provide approved step-by-step STEAM lesson plans, so the teachers can use the 3D printer easily," Mr Spark advised.
With such a wide array of applications, he says teachers can use their 3D printer to implement a multitude of projects from mathematics through to geography.
"Forward thinking schools are excited by the way 3D in education can integrate multiple subjects with the one 3D project, significantly expanding the learning process and real-life application."
For schools on a budget, he suggests asking providers about financing options, such as leasing and rental arrangements: "There are also grants available for schools from local and federal governments that can supplement or almost cover the cost of 3D printers."
And is it worth it? Mr Spark thinks so: "A recent search on Seek.com.au showed 850 jobs around Australia that require some kind of 3D design or print experience." (I think we can all agree that there were exactly zero jobs requiring this skill when most of us were seeking our first jobs.)
"The word on the streets is that 3D printers will be the next industrial revolution. This means that manufacturing and prototyping will change drastically from what we know today into a nimble and fast process that will be unrecognisable to the past generations," he continued. He predicts 3D printers will one day be as ubiquitous as mobile phones are today- with households printing things "we can't even imagine".
Breakout box
3D printers in every school? What's in it for the kids? Problem-solving: With all the considerations for successful 3D design, students will need to develop problem-solving skills and use critical thinking to create something that's going to come out the way they'd planned.
Resilience: Most students will need to try more than once to get their projects to come out the way they'd imagined. This could mean they'll need to design and redesign their projects until they are just right. This teaches them that just because they fail the first time doesn't mean the project is a complete failure; it just means they'll need to try again.
Collaboration: Most schools encourage students to work together on their 3D printing projects. This gives them a chance to work on their collaboration skills, which is something they'll need to know how to do when they get to university and the workforce.