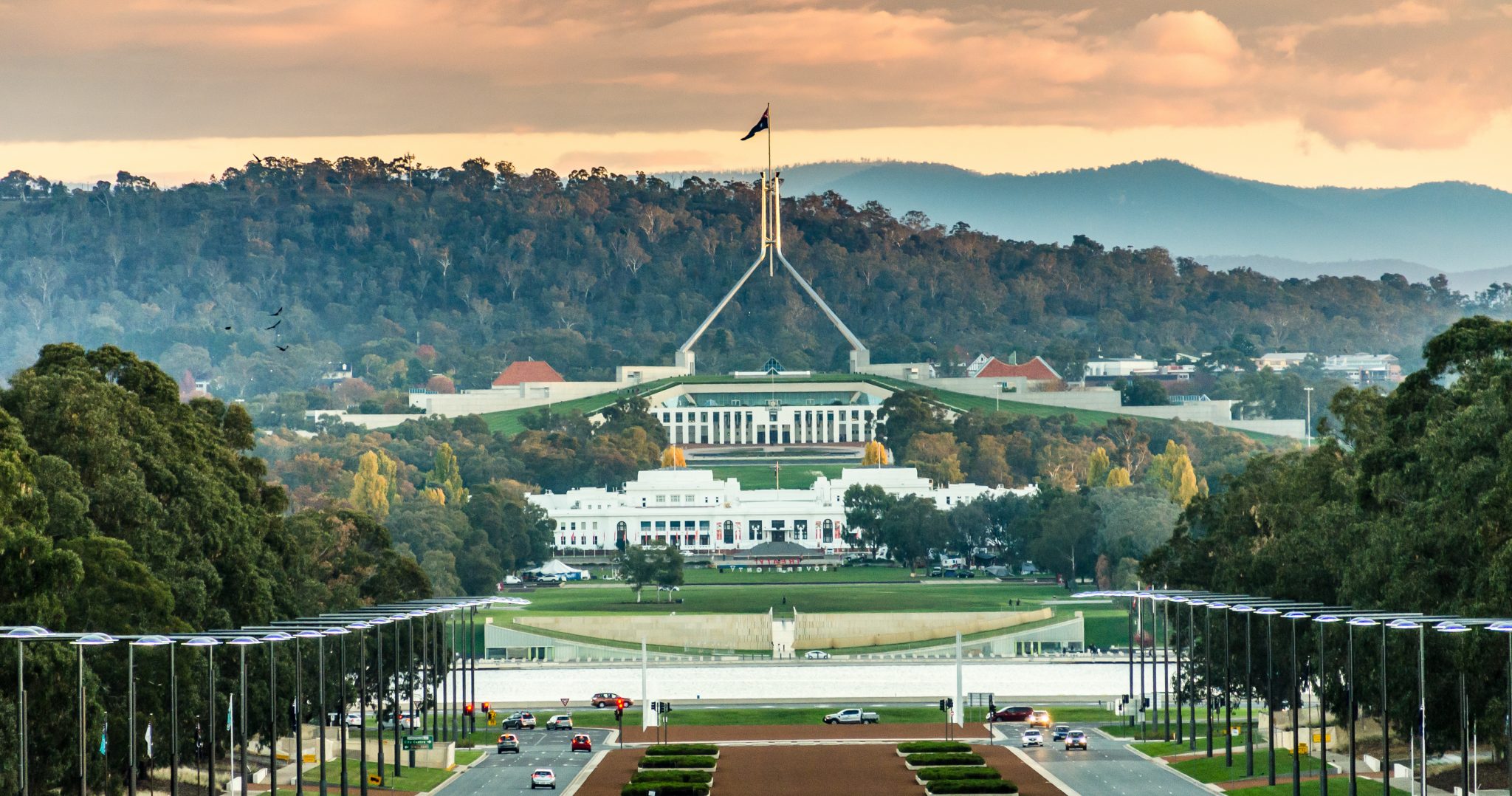 Canberra, Australia's national capital, is the perfect destination for civics and citizenship education. Its rich collection of cultural institutions and attractions provides well developed, curriculum-linked education programs that immerse students in hands-on learning in spaces where real life democracy takes place. 
Nowhere else can you watch government representatives discuss important national issues, sit in the seats where past political figures made decisions that shaped Australia, view the nation's founding documents (with the actual seal of Queen Victoria), or watch the highest court in the country monitor our constitutional rights. Over 160,000 students visit Canberra each year for these experiences. 'A visit to Canberra enables students to have a deeper understanding of many areas covered in the curriculum. They are able to link their understandings to direct real life examples.' (Teacher)
The Canberra excursion experience has changed over many years. The pilgrimage to Parliament House, with a wave to the Prime Minister and then on to pay your respects at the Australian War Memorial, has been replaced by a sophisticated range of intertwined programs offered at over 23 cultural institutions and attractions, all with a focus on supporting the successful delivery of the Australian Curriculum.
Of those 23 learning experiences, there are nine that provide what we consider core civics and citizenship education, assisting teachers to delve deep into topics surrounding systems of democratic government, the Constitution, Australia's justice system, freedoms and responsibilities, Australia's social and indigenous history, and our national identity.
More broadly, many other experiences contribute to the idea of national identity, and the roles Australians play in our society's evolution.  These range from learning about our scientific research achievements at the CSIRO Discovery Centre or Questacon, visiting the Canberra Deep Space Communication Complex to focus on Australia's contribution to exploring the universe, and delving into how sport is an inherent part of our culture at the Australian Institute of Sport. This is just a sample of the broad concepts that students can explore that, on initial glance, may not be seen as core civics and citizenship.
A visit to Canberra in itself is an immersive civics and citizenship learning experience. The process of coming to the nation's capital is all part of the learning process:  why do we have a capital, how does it operate as a reflection of the nation, how Australians feel about the central seat of government.  All this helps students see themselves as part of a broader society, not just of their own town, city or school community. The visit helps students understand they are part of the future, that their vote counts, and that, even as students, they have rights and responsibilities as citizens of Australia. 'It has helped me to understand more about government, so I am trying to watch the news when there are government related things on.' (Student)
The personal development value of an excursion to Canberra must also be recognised. Students are often on their first trip away from home alone, travelling with friends, learning to share with others and participating in an extremely well organised program of activities. 'Practical experience of the parliaments, the other attractions, experiencing life away from parents and with their peers, speaking with politicians and people closely associated with the everyday life in Canberra is far more advantageous than using technology or reading about these people and places. The students gain so much more from being there than any classroom lesson can teach them.' (Teacher)
The excursion may also be the first time a student visits a national cultural institution, an art gallery or a museum. 'We come from an area in Australia that has little access to the institutions Canberra has. Our kids live very rural lives, so this is a great opportunity.' (Teacher)
In 2015, the University of Queensland conducted research to truly understand the impact of an excursion to Canberra on a student's engagement in civics and citizenship education; surveying students before and after a Canberra excursion. Responses post-excursion revealed students had significantly increased their understanding of how the government and the voting system works, how laws are made, and why Canberra is important. 'Well now I know about Canberra and most importantly the system of government! Now that I know about what it means to be an Australian I think I'm already a better Australian.' (Student)
The quality of the Canberra learning experience can be attributed to the education staff of cultural institutions, a colony of worker bees scattered across these institutions all focused on making these concepts exciting and meaningful to even the most unengaged student. They consider things like the Australian Curriculum and pedagogy, while transforming what some consider a bit boring into lightbulb moments for many who participate. As one teacher commented 'Personally experiencing the venues and the enthusiasm of all our guides inspires me to teach Australian history, Civics and Citizenship with passion. It enables me to plan more interactive and exciting learning experiences with my students.' (Teacher)
A recent research report conducted by the University of Canberra, The Size and Effect of School Excursion to the National Capital 2015, established that 93.1 percent of teachers surveyed agreed a visit to Canberra's National Capital increased a student's understanding of civics and citizenship. This research report also indicated a nine out of ten rating of teacher satisfaction with these programs.
As an indication of the importance of a school excursion to Canberra, over the past 12 years the Australian Government has supported the journey of young Australians through a subsidy accessed by students travelling from as close as Sydney or as far away as Broome. Just spend a moment imagining how students travelling from the furthest part of Australia feel, walking up to the doors of Parliament House or catching a glimpse of the Governor-General at Government House.
Importantly, the experience goes beyond the actual visit. Institutions use their expertise in civics and citizenship education to assist teachers with the creation of practical classroom activities, whole school activities and local community activities. For example, after visiting the Parliamentary Education Office teachers often run a mock parliament in their classrooms or run school elections, as experienced at the National Electoral Education Centre. As a reflection of a visit to Australian War Memorial, schools have conducted wreath laying service involving local veterans and local community groups, and a visit to the National Portrait Gallery has framed many local portrait competitions.
National cultural institutions assist teachers in creating class outlines and guiding them in the use of primary sources. They also assist the development of research skills, by teaching students how to access the vast collection of online information regarding Australia's political and social history, such as programs like the National Library of Australia's Trove and the National Archives of Australia's Vroom.
For the pure civics and citizenship minded, a resource booklet and poster contain information on the Civics and Citizenship education offering at nine civics and citizenship cultural institutions. The booklet is an easy-to-print resource with live links taking you straight to the content descriptions on the Australian Curriculum website for Parliament House, the Australian War Memorial, the High Court of Australia, the National Archives of Australia, the Museum of Australian Democracy, the National Electoral Education Centre, the National Museum of Australia and the National Portrait Gallery.  Download a PDF copy at www.canberraexcursions.org.au/ncetp-newsletter
Canberra, Australia's national capital welcomes all Australians, but particularly those young students who will be in charge one day, to help them understand democracy, impacts of history, national identity, and most importantly how to be better Australian citizens.
Quotes contained in this article are from two research reports: Size and Effect of School Excursions to the National Capital, 2015 by Dr Naomi Dale and Professor Byron Keating Centre for Tourism Research, University of Canberra, and Measuring the impact of school visits to the national capital on students' civic literacy by Associate Professor Jan Packer and Professor Roy Ballantyne, University of Queensland Business School, Visitor Research Team.
The NCETP is a partnership representing over 23 cultural institutions located in Canberra, plus the ACT Government, delivering an awareness program that ensures schools and teachers throughout Australian understand the importance of a visit to Canberra in supporting a range of learning areas, including civics and citizenship, Australian history and culture, science, art and environment. The NCETP produces publications, undertakes displays at teacher conferences, develops teacher programs and assists in improving the overall education experience through ongoing research projects.