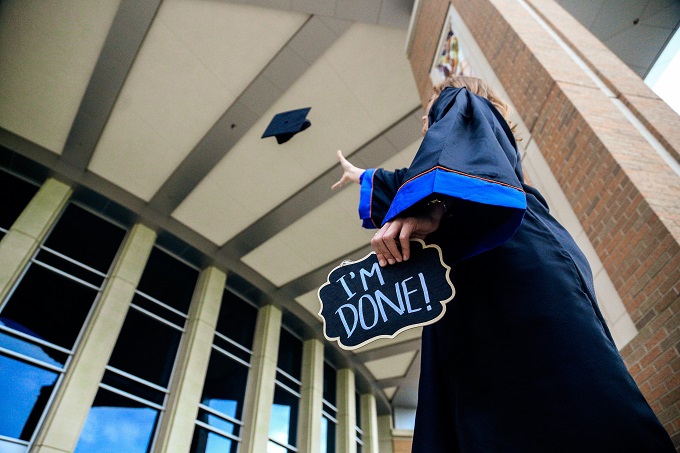 High school students are set to graduate during the fallout of this pandemic and it has left schools in a precarious position.
What advice are you supposed to offer students when career and education pathways post-school are more uncertain than they have been in recent memory?
Universities and TAFE programmes have, to date, been left out of stimulus packages and educators are worried about the knock-on effect this will have for students and young people entering the workforce next year. 
In his most recent address, Morrison said he wanted to overhaul vocational education to redirect students away from university. While, in theory, this could present good opportunities for young people, the PM did not elaborate on how he plans to do this or allude to any funding.
"It is no wonder, when faced with this, many potential students default to the university system, even if their career could be best enhanced through vocational education," Mr Morrison said. "I want those trade and skills jobs to be aspired to, not looked down upon or seen as a second-best option. It is a first-best option."
Projections have shown Australian universities could lose $19 billion over the next 3 years due to the impact of COVID-19, largely related to lost revenue from international students. Increasing public funding to universities could be a life (and job) saver for the higher education sector; as could better financial support for domestic students.
However, the PM's statements make it sound like the government is not interested in these options and universities will likely be forced to increase domestic tuition instead, saddling today's school leavers with more student debt than any previous generation.
The Australian Education Union demands that a TAFE funding boost move to heart of the government's COVID response. 
According to the Commonwealth's 'Jobs Outlook' data two out of every three post-COVID jobs will come in the health care and social assistance, construction, education and science/technical fields – all sectors where Australia's-world-leading TAFE institutions provide high-quality vocational education.
In his Press Club speech on 26 May, Prime Minister Scott Morrison proposed an overhaul of the nation's skills and training sector as part of the Commonwealth's plans to rebuild the economy. However, Morrison made no mention of providing additional Commonwealth funding to implement this reform, continuing a concerted drive from successive governments over the past decade to privatise vocational education and defund and marginalise TAFE, says AEU Federal president Correna Haythorpe. 
Figures from the latest Commonwealth Report on Government Services (RoGS) show that total annual government VET expenditure has fallen by $1.6 billion (21.3%) from the 2012 peak of $7.65 billion[1]. Since being in government the Federal Coalition has overseen:
•    140,000 fewer apprentices now than when it was elected in 2013.
•    $3 billion cut from vocational education.
•    a decline in enrolments in vocational education and training.
•    a decline in TAFE enrolments in particular, which have plummeted by 24.5 per cent.
•    Commonwealth Government contributions to public VET delivery fell by 23.2% in 2018 alone.
"It is crystal clear there is an urgent need to invest in a strong TAFE to replace the billions of dollars of funding that governments have cut from TAFE in recent years. TAFE is going to be vital for Australia's future and for tackling the big challenges to come," Ms Haythorpe said.
Actually funding is front & centre of this problem. TAFE has long provided in demand skills to meet the needs of workers and industry. But @ScottMorrisonMP has cut TAFE funding year on year as Treasurer & as PM. Vocational education funding is at a decade long low #StopTAFECuts https://t.co/3dF3KvTY4D

— Adam Curlis (@TAFEeducation) May 27, 2020
"TAFE teachers and education support staff across the country stand ready to help Australia get back on its feet. TAFE offers the highest standard of vocational education at all levels, with nationally accredited programs and a highly qualified and experienced workforce."
Ms Haythorpe said that any attempt to subjugate TAFE to the demands of big business or to private training providers must be strongly resisted.
The introduction of private-for profit education providers has been a disaster for Australia's vocational education system. History has shown that private providers are not fit for purpose for leading Australia's economic recovery from COVID-19. Questionable course quality, and the aftermath of the billion-dollar VET-FEE HELP rorts make private for-profit vocational education providers unsuitable for this vital task.
"By contrast, TAFE has a sterling public reputation, has campuses all over Australia, and is trusted and respected by employers and community," Ms Haythorpe says.
Mission Australia CEO James Toomey also spoke out about concerns for young people entering Vocational Education and Training.
He said: "We know from our research, that young people who participate in vocational education and training achieve and  better long term employment outcomes, when compared to those young people who don't.
"There must be VET access options for early school leavers who aren't able to engage with mainstream schooling, and assurance of the simplification of scholarship information as well as other financial supports for disadvantaged young people.
"We call for the Federal Government's JobMaker plan to ensure they don't create and leave behind a generation of underemployed young people. As acknowledged by the Prime Minister, there remain too many obstacles, including inconsistency of subsidies and lack of visibility of employment outcomes, that prevent young people – particularly those experiencing disadvantage and poverty –  accessing vocational training opportunities to complete their journey towards employment.
"We know that the scarring effect that occurs when anyone is out of work for a long period of time can impact their mental health and greatly reduces the likelihood of future employment.
"As part of the Government's JobMaker plan, we need to see more investment in evidence-based programs, supports and services, particularly in regions of high need to ensure that no young person gets left behind and is able to progress to decent employment unhindered by their financial situation."