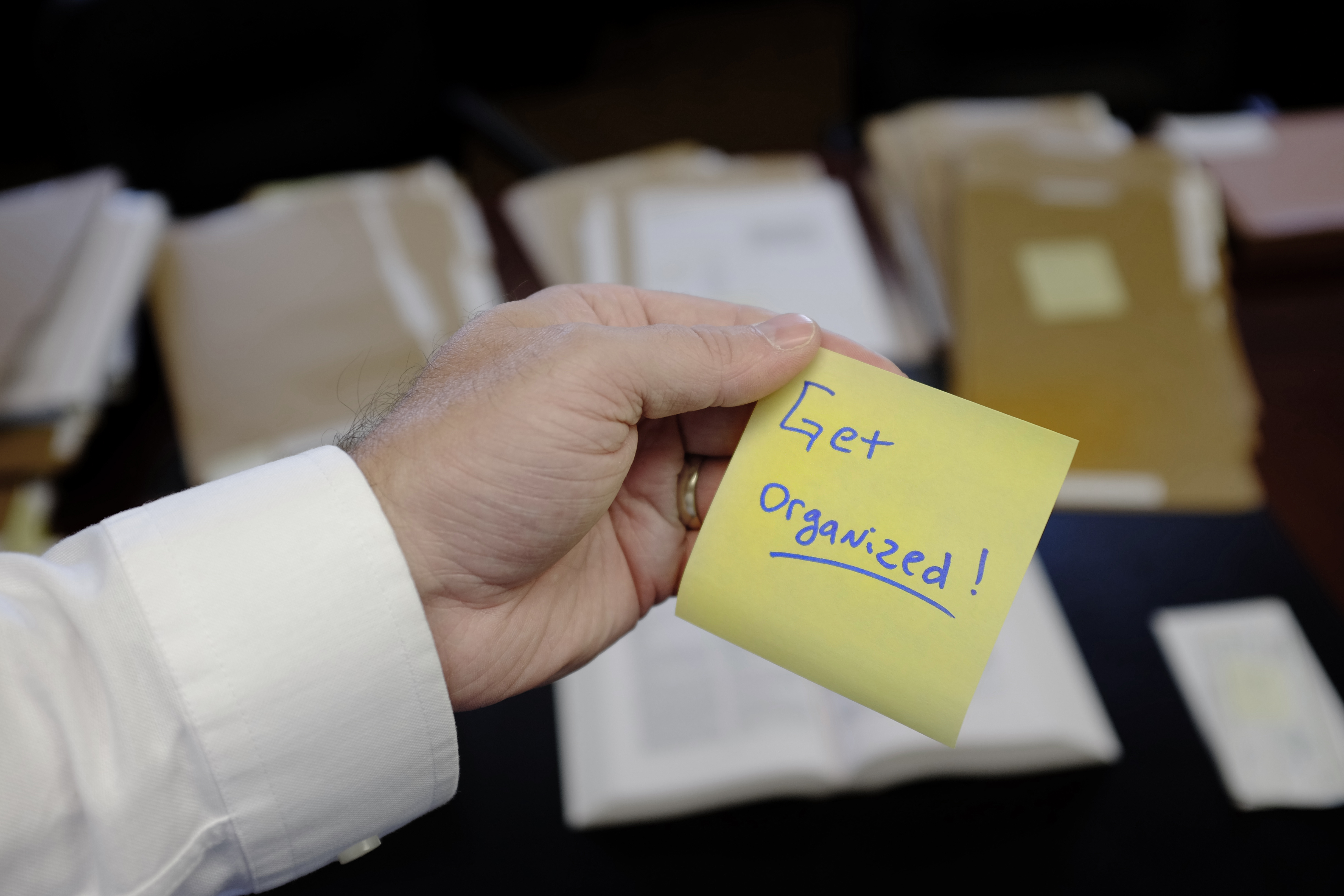 Schools generate an enormous amount of data – the challenge is to easily and effectively communicate relevant information to parents, the government and other educators.
I spoke with Stan Wawrzyniak from Sentral Education, and Domenic Zappia and Jason Corbett from uEducateUs about how School Management Systems can help schools reduce their admin workload, effectively collect and use data, and most importantly, free up teachers to teach.  Other challenges for schools include effective application of this data, and how to collate the information collected about the learning journey of your students in a way that best serves educational outcomes.
School Management Systems, also called Student Management Systems (SMS) or even School Information Systems (SIS) provide a one-stop shop for all the administration needs of your school. Systems vary in their cost and method of provision, but are often modular, and can be tailored to suit your school's needs. The range of applications include but are not limited to, tracking attendance, student wellbeing monitoring, accountability; academic, and government report writing; assessment and learning outcomes; scheduling and calendars, and portals for communication. In order to fully understand the scope of application, schools would be advised to arrange a few demonstrations.
Data collection and analysis
There is a trend in modern education towards data collection and effective use of that data. The rationale behind clinical teaching, for example, (see our Special Report – clinical teaching) is that collecting data allows us to track trends and discover possible environmental (or other causative) factors to improve outcomes.
Positive Behaviour Plans employed in a growing number of schools emphasise the importance of incident data collection, allowing educators to zoom out and identify trouble locations, times of day, or other environmental factors.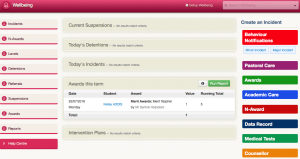 SMS also allows schools to focus on positive behaviour. Sentral director of operations and former high school executive, Stan Wawrzyniak said "teachers have a habit of calling out the negative, but don't always have time to notice a pattern of positive behaviour". A "House Module" can allow schools to work in with their existing house colours to create a positive behaviour awards system whereby positive outcomes are tracked and then rewarded, in whichever style suits the school. Providers will have their own positive behaviour programs, so ask them to show you at demonstration time.
Managing attendance
With attendance, immediacy of notification can be key to resolving issues, finding causes and cooperating with parents to achieve the best results for the student. If a student is marked absent, parents receive a push notification, though uEducateUs director, Jason Corbett assured me that filters were in place so alarms won't be raised if "a student is in the office getting a Band-Aid".
SMS can analyse recorded attendance data to identify repeated absences in individuals or groups, allowing schools to address the cause of recurring absences. Domenic Zappia, former assistant principal and specialist consultant to the uEducateUs team explained. "If a student repeatedly misses school every second Monday because they're with the other parent, we can see that pattern, identify the cause, and address it appropriately".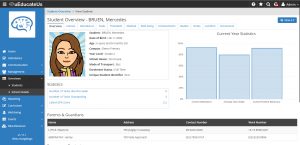 School reports and parent communication made easy
Like with most aspects of modern life, we are hungry for updates and information. Student Management Systems are providing that for schools. The biannual report is issued as a summary of progress, but frequent inputs all year allow a more balanced overview, not reliant on the memory of busy teachers.  Reporting with SMS sounds straightforward, wholistic and precise. "It's easy to gain a historically complete record, not just in the classroom, sport, music, or awards, or any programs the school might participate in", Mr Zappia said. Modules such as continuum tracking, continuous assessment, and academic reporting, particularly when aligned with the parent portal, provide real time access to student data.
Accountability reporting
Accountability legislation mandates a gruelling government reporting schedule for schools. While many software systems collect data, they do not generate reports. SMS can tap into your school's existing software and collect data to develop reports that would normally consume staff hours.
The Systems Interoperability Framework – Australia (SIF) is the latest data exchange standard preferred by schools, education departments and software programs nationwide. This framework refers to the software's ability to 'talk to' other software that is sharing or passing information between them. According to Jason Corbett and the uEducateUs team, the capacity of SMS to 'interoperate' with these systems saves "hours and hours, if not days" of their schools' accountability reporting workload.
Stan Wawrzyniak highlighted the need for interoperability of systems in the modern world. "Slowly but surely, and sooner rather than later, all schools will need to have SIF based systems. If you haven't got that ability, it's like talking to a brick wall". Informed by his school leadership background, Mr Wawrzyniak is concerned about increased reporting. "I can see the impact it has on the day-to-day running of the school. The amount of work flowing down to schools is increasing, schools are struggling to find quality time to address educational outcomes for the students so effective SMS software reduces the time engaged with administration and reporting on school data, freeing time for greater focus on school improvement goals".
Individual Education Plans
Individual Learning or Education Plans can provide an incredible source of frustration to everyone concerned. The idea of the plan is to tailor an education plan to a student or group of students, and measure outcomes against the plan, tracking progress and reporting back to the government. Domenic Zappia said that for a plan to be effective, "it needs to be a living one".
Using SMS software, any task produced within the system can be referenced against relevant standards, and schools can select their preferred time period or cycle. "Every aspect of student's school life is then available". An effective process for Independent Education Plans needs to involve real time collaboration and updating. "Systems like uEducateUs work across all devices, and are available 24/7. Without instant access to information, you can have a delay of up to a month before any change is implemented, and sometimes the information has become irrelevant", Mr Zappia explained.
Goals can be recorded and updated in real time and achievements noted, making way for new goals for that student. Mr Zappia related some frustrations from his time in school leadership. "In the old format, goals were never immediate enough for people to address, and we couldn't measure outcomes. Time frames never meshed". Stan Wawrzyniak noted that student plans in an SMS can be visible to all relevant staff. This makes it much easier to have a consistent input by all staff to assist in achieving the goals of the plan.
Sentral Education harnesses the capabilities of its 'Continuum Tracker' to provide a framework for teachers to address the 'personalised continuum' initiative. The software allows teachers to track student competencies against curriculum benchmarks to produce an educational timeline that can then inform lesson planning, or provide an alternate style of progress-over-time reporting to parents and governing systems.  
My research has left me fascinated by the scope of School Management Systems and what they can contribute to the smooth running of a school. After accessing international data citing upwards of 30% of teacher's time is spent on administration, it became clear that school staff are under enormous administrative pressure. Match that with the public pressure to improve educational outcomes, and I wonder if there is a new core unit in Education Faculties called "Superhero 101".
Accountability requirements are there to engage and inform stakeholders, and with good reason. Australian Council of State School Organisations president, Peter Garrigan is quoted in government website partners4learning.edu.au saying, "all parents can contribute to their children's education… a paradigm shift is necessary in how we think about parent engagement in school". It does indeed 'take a village to raise a child' and school management systems allow parents and carers, and stakeholders in each child's learning journey to stay informed about their progress and wellbeing.
For examples of SMS application, check out the case studies and see how an SMS revolution can get you back to the real business of teaching kids.
Data integration lighthouse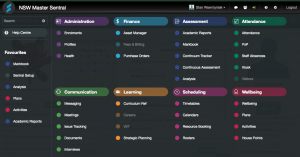 Sentral Education has been taking care of business at Callaghan College since 2010.  David Summerville is Head Teacher Technology at the Wallsend Campus, a specialist school focussing on middle school practices that address the specific needs of students in Years 7 to 10.

The campus operates under Callaghan Education Pathways, a group of 19 schools working to deliver specialised educational outcomes at each campus. David Summerville's contact with Sentral goes back to "day dot". Formerly employed at Rutherford Technology High School, Mr Summerville was involved in the early days of Sentral's development. Mr Summerville, and principal, Paul Tracey, are leading the way in technological integration in schools. The school is a considered a 'lighthouse school', with leadership teams coming from other schools to see how Callaghan College integrates technology. "Paul and I, both coming from a technology high school, are invited to present at conferences about our technological integration, and Sentral is a cornerstone to what we do here."

Mr Summerville is currently working with Sentral's new Enterprise Solution software to improve the flow of data from one campus to another. "Ultimately what we will have with Enterprise is one entity, so all kids are in one system with our Canvas lesson management system syncing. Data would be seamless." The system is web-based and allows administrators to effectively 'reach down' into an individual school and pluck out data without having to request a report from busy school staff.  The software allows schools to share resources and manage groups of schools simultaneously. Even from a single campus perspective, the benefits are considerable.

The parent portal centralises all communications, and they are immediate. The school marks the roll every period, with absences recorded and communicated immediately, truancy is reduced, and parents engaged. Callaghan College Wallsend Campus staff were preparing for parent teacher interviews when we spoke, and the booking process had been seamless, but Mr Summerville's favourite application was deliverance from the abyss of school report time. "Report-writing used to take six weeks. You'd do up reports, comments, copy marks from mark books, fill in grades, activities and assessments. They'd be checked by the Deputy, and sent back, now, with Sentral, it's a case of pressing a button for activities, a button for marks, and it's all automatic. We save an amazing amount of time."

School reports a breeze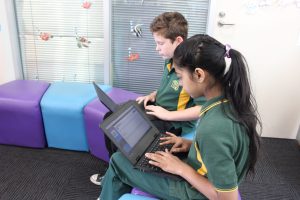 uEducateUs School Management software was trialled by Tyers Primary School, and while there was no obligation to continue after the trial, they have been using uEducateUs for two years. Principal, Peter Harrison said the software "has been a real boon" to their day-to-day school operations.  "It's fantastic, our staff mark all their roles from it, and it goes straight onto CASES 21" (the Victorian state school administration package).

According to Mr Harrison, parent communication has become a breeze. "Parents can send absent notes, sign permission notes, and make payments, all through the system". Peter Harrison echoed current view of school-family partnerships as the bedrock of effective education. "If you're not working with parents, you won't get the best student outcomes. Strong partnerships need to be the basis on which you build your education system." Building partnerships has been simplified and enhanced at Tyers Primary School. "It's the fact that we can talk to parents in real time, or they can tell us if something happens at home. It's a two-way conversation."

One of Peter Harrison's favourite applications of this communication is supporting students with homework.  "When teachers set homework tasks, they just type it in as a new task and the students or their parents can ask questions."  The messages are restricted to a number of characters, so "they can't write an essay to the teacher", and teachers can respond if they are able. "It makes learning really responsive", Mr Harrison pointed out, "and also means that students don't get to the end of the weekend stressed about a task they don't understand".

UeducateUs prides itself on its collaborative and inclusive approach.  "We work on the team model, and the operation reflects the outcomes", said director, Jason Corbett. This approach is mirrored by Peter Harrison, who advised schools to "trial a few, but make sure the staff are happy with it, because if they're not, they won't take ownership of it". Tyers Primary included the parents in the feedback and selection process, and they also asked the kids. "It's very important that everyone is on board", Mr Harrison urged. New software can be a learning curve, and problems will occur. Tyers Primary staff found that the "patient" service team at uEducateUs quickly set them straight.  "They're fantastic, and very responsive, even though most of the problems were ones we had created", Peter Harrison admitted.