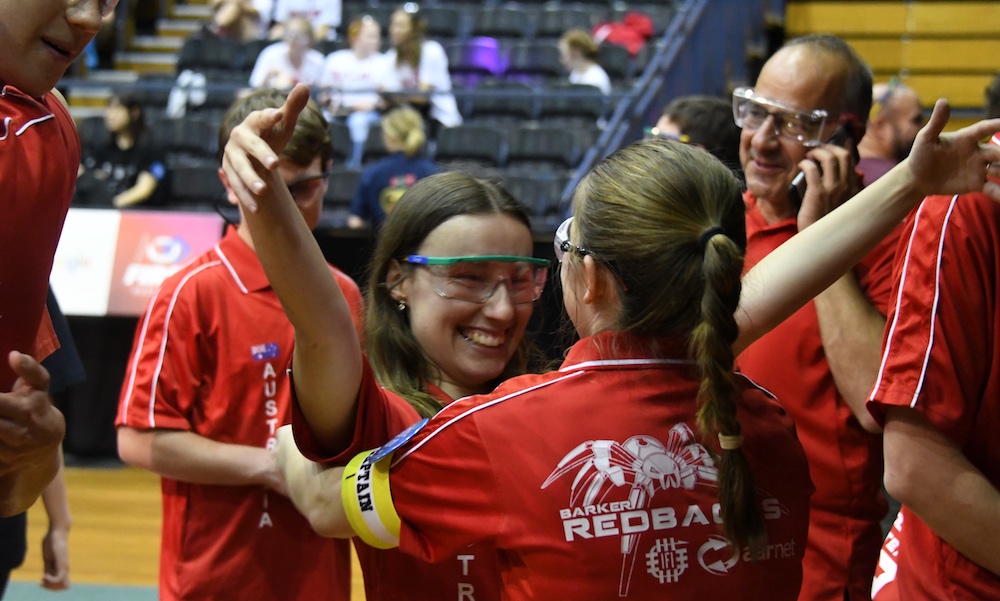 Robotics students at Barker College in Sydney are still collecting themselves after a whirlwind of competitions, and a year of dazzling success. School News spoke with robotics coordinator and computer science teacher, Lael Grant, for the details.
Currently ranked 20th in the world, the Barker Redbacks took out the regional title at the New York City FIRST Robotics competition and were awarded the Chairman's Award for their worldwide contribution to robotics. The only Australian team to compete at the inaugural Shenzhen Regional FRC Competition in China, the team took first place there. In addition to this title, the team bagged the Innovation in Control Award and the Excellence in Engineering Award. They competed in the South Pacific Regional against 43 teams; they won that too. They were awarded their second Excellence in Engineering Award.
Simple beginnings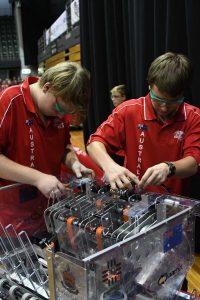 Mr Grant says the program was student-initiated: "Mike Heimlich visited Macquarie University to start an FRC team there. He came to Barker to promote FIRST and recruited three students to the Macquarie University team in 2011." The robotics enthusiasts were hooked: "Students were asking science teachers at schools if they could start a student robotics team at Barker."
Needless to say, they relented, and when a robotics coordinator was sought, Mr Grant had the skillset to fit: "I teach computer programming and I had been playing with Arduinos and doing hardware control so I had enough technical understanding for the job."
"And I like building things…" he conceded. The program is a co-curricular elective with 35 students currently enrolled from years nine to 12, and despite their achievements, Mr Grant emphasised that they didn't start out as experts. They formed their Barker Redbacks team in 2013 and entered 'Duel Down Under'. Their robot was simple: "literally a drive base and a net on top."
"For those who are starting out, the Vex Robotics competition is ideal. We will be hosting it in Sydney and the robots are much simpler." Mr Grant suggests this level is a good introduction to robotics and urged people to contact him for help and advice on getting started.
Competition structure and rules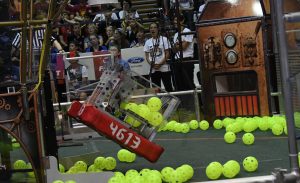 The teams are given six weeks to design a robot to 'play a game'. The robot must perform a certain task, such as shooting balls into a hoop. The period of development is strictly monitored, and once the six-week program is completed, robots are tagged and bagged, and only opened on the competition floor under supervision. No modifications are allowed between competitions.
Secrets to their 2017 success?
"Last year, we built a great robot, but it was unreliable. This year we put in place a very strong off season training program," said Mr Grant. While no extra preparatory work is allowed on the competing robot prior to the build phase, only practice makes perfect.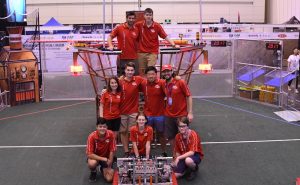 The Redbacks practised their skills in the off-season to hone their process, and implemented a higher level of prototyping. Their improved process means students now make six or seven prototypes in the first two weeks, then select two, test those vigorously, and settle on the robot body early.
They also gave the programming sub-team more time: "The competition involves 15 seconds of autonomous operation; these routines must be programmed. Handing over to the programming team early – before week four – made a significant impact."
The students have mentors but the ideas must be theirs: "Each sub-team has a mentor, but the students are ultimately responsible for each decision. The role of the mentor is to offer coaching when it is apparent that they need more understanding than they have."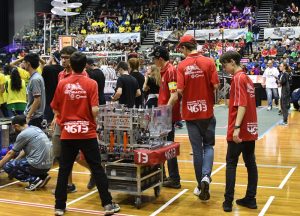 The team just returned from China, where they were invited to train Chinese teams after gaining notoriety in their "rookie competition year" as well as the 2017 season. The competition circuit is a little punishing, and Mr Grant tells of packing up while running backwards and forwards to receive awards, rushing off to get the ferry to the airport, then off to compete again at the Sydney regional within 24 hours – where they scored the highest qualifying ranking points achieved to that point.
He says students make "incredible sacrifices" to participate: "The schedule is hectic from January to late May, with five hours a day on robotics. They plan ahead with their parents to ensure holidays don't clash with the robotics season; they are liaising with teachers to manage assessment schedules." 
So how much of Lael Grant's time does this level of achievement commandeer? That question elected a hearty laugh

Barker College Redbacks team with their robotics coordinator and mentors: coordinator, Lael Grant (back left); mentor, Anthony Brian (back 2nd from left); coach, Jeser Becker (back 3rd from left); and coach, Daiane Rodrigues (front left).

and two words: "a lot." He says the six-week build period starts early January, (cutting short school holidays), then it's evenings, weekends, and late nights.
"It's a lot, but it's incredibly rewarding to witness the growth in students – it builds their capacity, understanding, and depth of technical knowledge." He says it requires high levels of motivation, and students learn to be collaborative operators: "We spend a lot of time encouraging students to communicate effectively in high pressure situations."