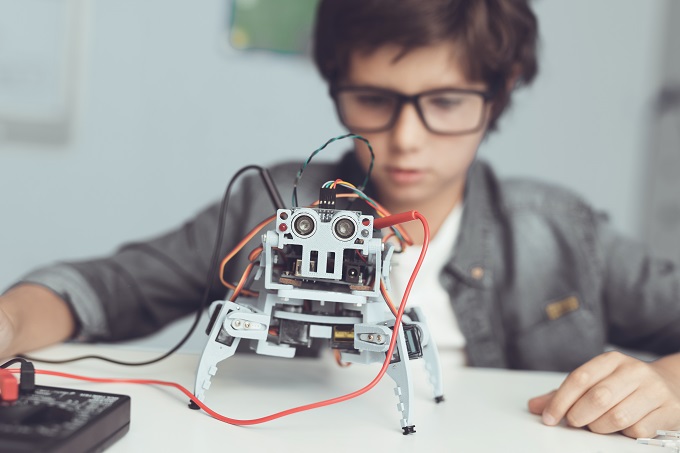 What does it mean to humanise technology? Can a machine have empathy or be happy? Will technology be a force for good to save the planet?
These are just some of the issues students and teachers will embrace as part of the 2019 Game Changer Challenge which asks the question: "How might we humanise technology?"
The Game Changer Challenge will bring 16 student teams from public schools across NSW  – eight primary and eight secondary – to Sydney during Education Week in August for a three-day, intensive design-thinking workshop.
The workshop, which starts on Tuesday August 6, includes teacher training in the use of design thinking as a teaching methodology and its application for school planning.
It also includes a team competition where schools will work under the guidance of industry professionals in fields as diverse as technology, creative design and foreign affairs to develop a 'solution' to the challenge question.
The challenge winner will be selected after a Shark Tank-style pitch to industry and education experts, including Department of Education Secretary Mark Scott.
Mr Scott encouraged students and teachers to get behind the event as it highlights the critical thinking skills students will need to develop to succeed in the future.
"The Game Changer Challenge is an exciting initiative that helps educate and inform our students and teachers on how to integrate the problem-solving methodology of design thinking into the classroom," Mr Scott said.
"It embraces the 21st century skills our students will need to thrive in a globalised world such as collaboration, creative thinking and communication.
"This is a wonderful opportunity for our students at all levels to be involved in discussing and addressing a real-world issue that will affect their future lives. I encourage every school to get involved."
The challenge is designed to make strong learning and teaching connections to the NSW syllabus, specifically in the area of developing general capabilities such as critical thinking, collaboration, creativity, communication and problem-solving.
The challenge also provides teachers with an opportunity to gain exposure to the design thinking process and includes teacher resources to introduce this creative problem-solving methodology into the classroom.
Applications to be among the final 16 teams are now open and will be selected based on a 60-second video that showcases a school's thoughts on how to humanise technology.
Only one team per school is eligible to enter and teams should include six students and two teachers.
Full details of the competition can be found on the Education Week webpage.