News
Health & Safety
Enjoy time outside in all weather
Get students out of the classroom and enjoying the benefits of being outside year-round, with these shade solutions.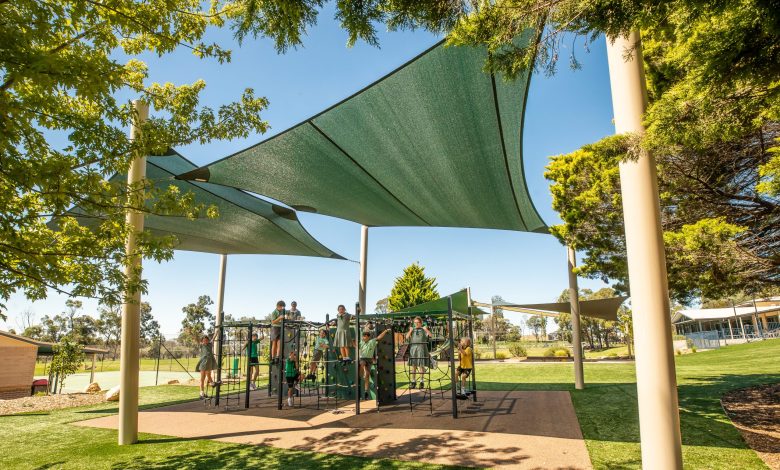 Children today spend much more time inside than in decades past. Increased reliance on technology for learning and recreation, and a change in the way we live with greater urban density are contributing factors.
Spending time outside, and exposure to fresh air and sunlight are essential for physical and mental wellbeing. A boost in brain function, lower heart rate and increased energy levels are just some of the benefits associated with outside time. Ensuring students spend time outside as part of each school day can help learners and educators reap these benefits.
Read the Term 2 edition of School News HERE
For younger students, nature play is particularly important. Playing in nature can encourage safe risk-taking, promote creativity and innovation as children look to the world around them for things to play with, and help develop gross motor skills.
To facilitate time outdoors, adequate covered spaces are essential. Shade solutions can help extend learning areas, ensure students can enjoy time outdoors in all weather, and protect equipment from the elements.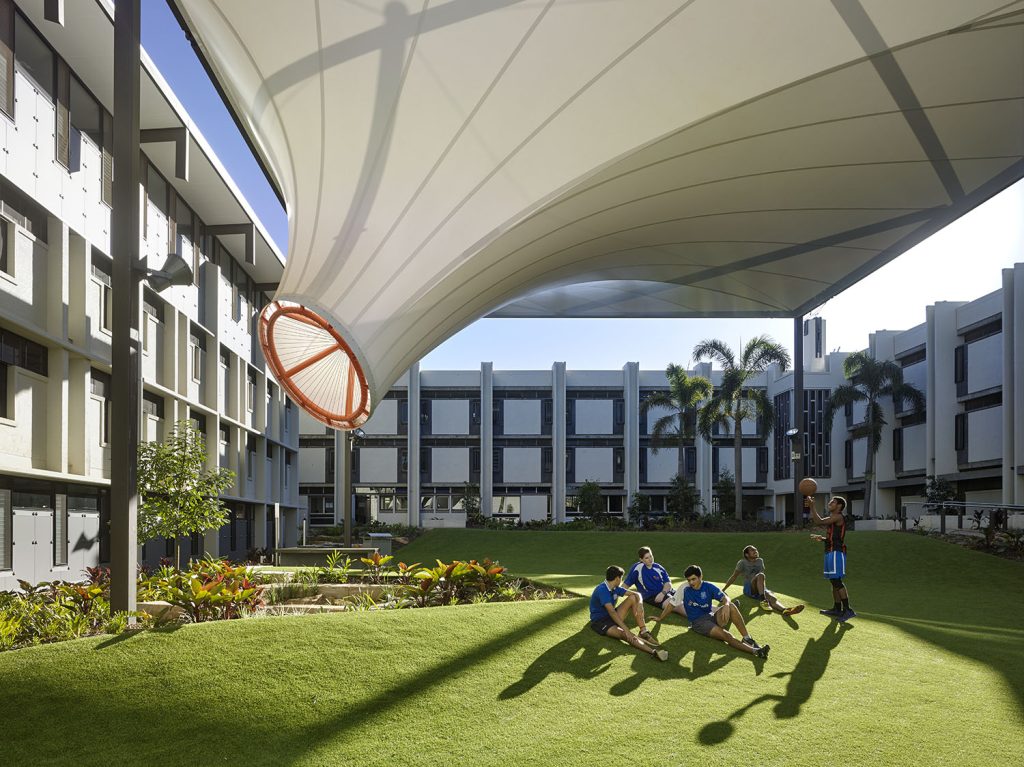 Of course, in Australia, limiting students' exposure to harmful UV rays while allowing them to have sufficient time outdoors is important. Cancer Council Australia says that UV radiation in Australia can be strong enough on a fine day to cause sunburn in 11 minutes. Children have thinner skin than adults, and are therefore more susceptible to damage from the sun. Childhood and adolescence are crucial times for sun safety, with UV exposure during these periods more likely to result in skin cancer in later life. Ensuring children have well shaded spaces will allow them to safely enjoy time outdoors.
Shade protection, though, can do more than shield students from the sun. Rainy days can prove particularly challenging for educators, with students trapped inside, unable to work off energy outdoors. Shade structures over playgrounds and eating areas can help students enjoy time outdoors while remaining protected from the elements.
And it is not just people that must remain shielded from the weather. Outdoor play equipment, furniture and other resources must be adequately protected. Installing shade solutions can increase the lifespan of outdoor facilities, and decrease the amount of maintenance required on these spaces. This will provide long-term costs savings for schools as equipment will not need to be upgraded or replaced as regularly.
COVID safe plans for schools in many states saw a recommendation to move lessons outside. Teachers and students, have, therefore, become used to learning outside in recent years. Providing a welcome change from the classroom, learning in outdoor environments can provide students with fresh air, and a break from screens. Utilising natural light and favourable weather conditions can also help reduce electricity bills.
Using shade structures and canopies, schools can create covered outdoor learning areas (COLAs). COLAs are a great place for younger students to engage in messy play, art and craft activities or other activities which may risk damage to internal carpets or furniture. If correctly designed, COLAs can provide a suitable learning environment for students of all ages across any subject. Whole lessons can be moved outdoors, allowing students to enjoy the benefits of nature and complete their schoolwork at the same time.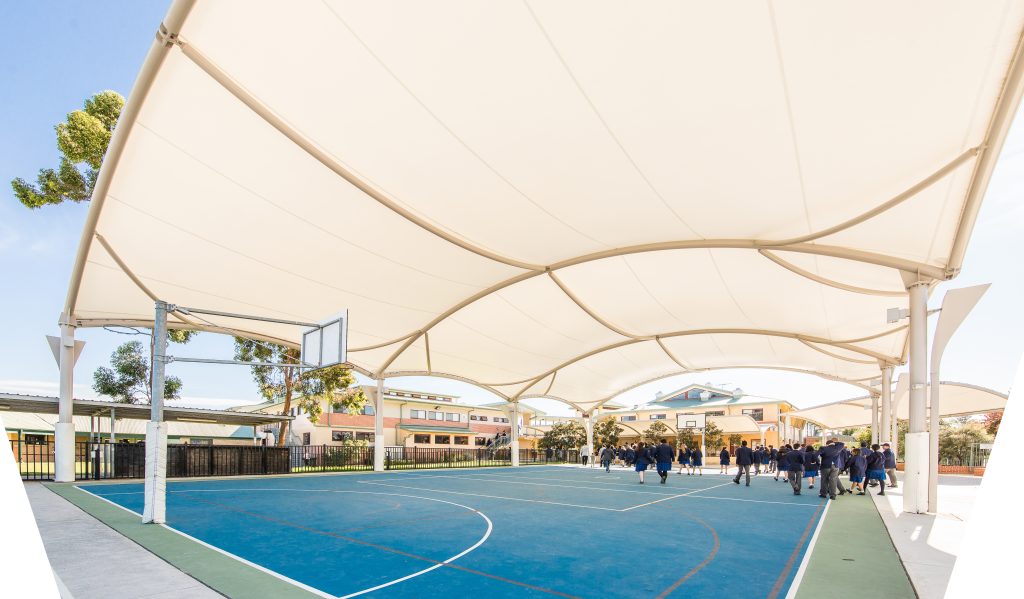 To learn more about the benefits of and options for shade solutions, School News asked some suppliers for their advice.
Graham Bonney from MakMax said a fabric school COLA is a practical alternative to steel shade structures or basic shade sails. "Fabric will not rust or corrode like a steel roof. A fully-engineered shade structure makes use of advanced low-maintenance aluminium fixing systems, as opposed to single-point connections found on shade sails, which are a point of failure in high-winds, and can weaken over time.
"Fabric school COLAs are practical and add a stylish and eye-catching element to your school's outdoor spaces. Bright-white PVC fabric can be 'styled-up' with a range of colours on the steel-support structure. From a gentle curve on barrel-vault style structure, to a conical peaked bespoke shade canopy, these structures go far beyond mere shade-sails in terms of style and architectural form."
Mr Bonney also highlights the sustainability of fabric COLAs. "The lightweight nature of membrane canopies requires less supporting steel and smaller foundations than their steel-roofed counterparts. Fabric school COLAs also allow natural daylight to filter through the tensile membrane, mitigating the need to use day-time lighting in these spaces.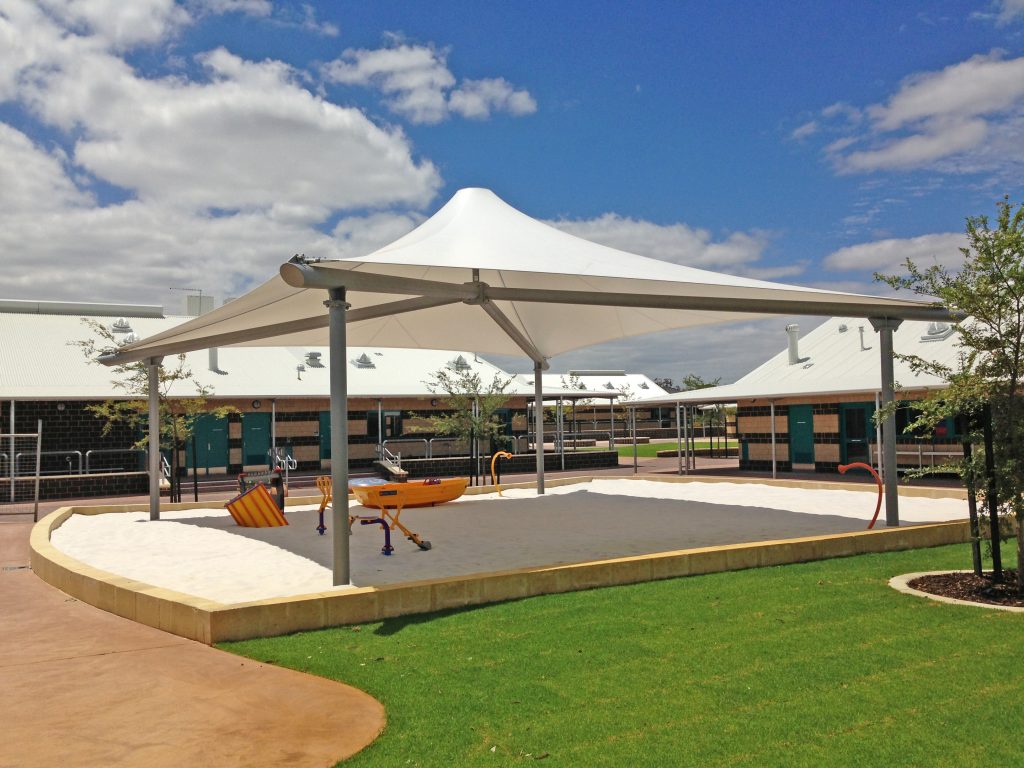 "Made from materials that are recyclable, they provide an environmentally responsible solution to your school's shade needs. By choosing a fabric school COLA, schools can demonstrate their commitment to sustainability and help protect the environment for future generations."
Gerry Wallace, Director at Greenline said making the most of outdoor spaces has benefits for staff and students. "It helps students enjoy fresh air, take lessons outside and have the space to play and learn. But weather can get in the way of this, stopping schools from using existing outdoor areas.
"When planning a shade project, start by considering what stops you from using these spaces year-round. Is it the amount of sun they receive? Do you get high volumes of rain that mean sports courts are out of action? Or maybe it's hard to access a certain area due to exposed walkways which means students get wet or exposed to harsh UV rays," Mr Wallace said.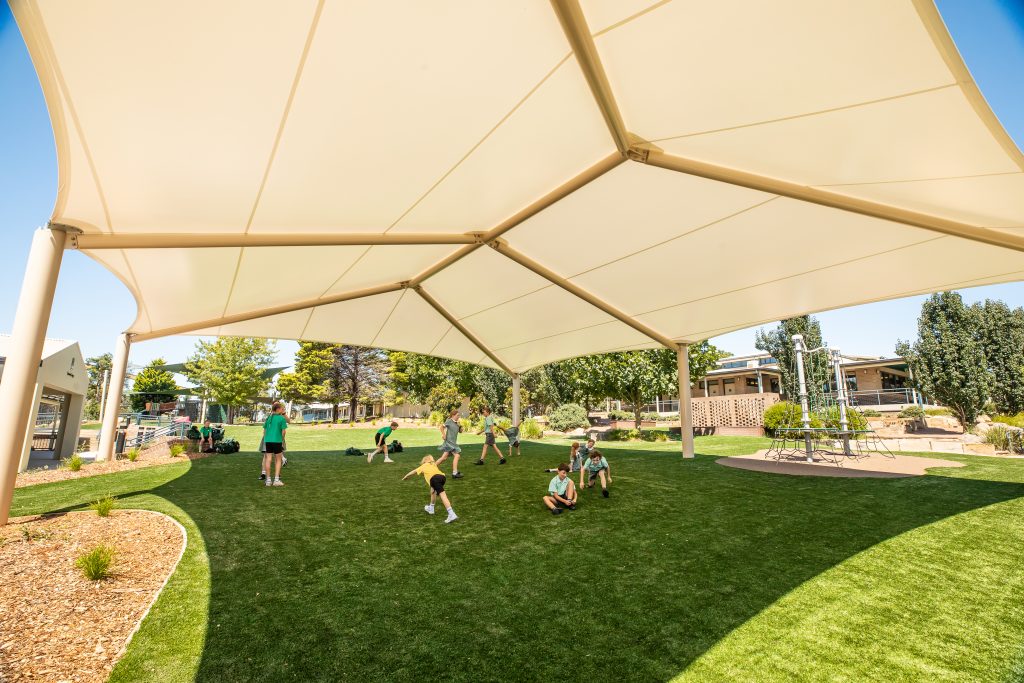 "Shade is an important factor to making a space useable year-round but also consider if your school would benefit from all-weather protection, through a steel roof or fabric membrane structure. If you're already planning a project, it's worth maximising this investment to get the best outcome.
"Next, consider how you want these spaces to be used. Is it for outdoor learning, sports or covered spaces for students to eat lunch? This will shape the type of structure needed, or a combination of a few different structures. Think about your school's goals for its outdoor environment."
Mr Wallace outlined the three main types of shade and shelter structures used by schools: steel roofed shelters, or covered outdoor learning areas (COLAs); fabric membrane structures, using PVC or PTFE fabrics; and shade structures. "COLAs and membrane structures offer all-weather cover, with protection from the sun and rain, while fabric structures using shade cloth provide shade only."