External Learning
Schools Tree Day
'The true meaning of life is to plant trees under whose shade you do not expect to sit.' Nelson Henderson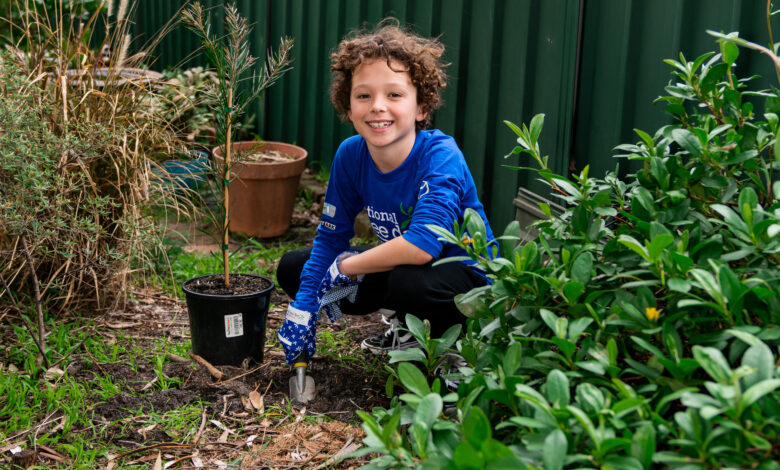 Friday 29 July is Schools Tree Day, the educational offshoot of National Tree Day which is always celebrated on the last Sunday in July. National Tree Day is a call to action for Australians to give back to their local environment by planting trees and caring for their local surroundings. But while the broad message of Tree Day is environmental, there are other benefits to getting involved – especially for students.
Liam Taylor from the Planet Ark Environmental Foundation says "When Planet Ark started National Tree Day way back in 1996, one of the program's key goals was to provide an opportunity for younger generations to meaningfully engage with their local environment, as we know the benefits of time in nature to children's health, development and wellbeing."
Research reported by the ABC show the benefits to children who get to spend time outdoors in nature include a lower risk of obesity, a boost to the immune system, improved cognitive skills by being exposed to new tasks and risks and a greater ability to cope with stress and mental fatigue.
Schools Tree Day provides a focused opportunity for children around the country to pay it forward; to plant trees under whose shade they will not sit.
"Over 100,000 students from schools and early learning centres around Australia participate in National Tree Day," says Taylor. 'Whether that be by planting trees or bush tucker gardens [or] building habitat for native wildlife."
This number represents about one-third of the 300,000 people who volunteer their time each year to environmental activities. And over the years, their combined efforts have seen over 26 million trees planted across the country.
There are many ways schools can get involved with a detailed 'how to' guide provided on the Planet Ark website, and not all involve getting your hands dirty.
Apart from planting trees, some other school-based activities to raise awareness of National Tree Day include trying bush tucker, learning how to compost, weeding local bushland or simply going on a bushwalk.
Even if you've missed the cut-off date for registering for this year's event, or late July proves unsuitable for tree planting in your area, there are many free lesson plans and activity sheets provided on the Planet Ark website, including making a mini herb garden, an environmental treasure hunt and becoming a leaf detective.
"Australians understand they can make a personal difference through positive environmental action and National Tree Day provides a fantastic opportunity for them to do just that," said Planet Ark co-CEO Rebecca Gilling.
"There are clear benefits to spending time in nature and by planting a tree you can help cool the climate, provide homes for native wildlife, and make your community a better place to live."
For more information, go to: National Tree Day (planetark.org)
Keep an eye out for the upcoming Term 3 School News issue for a detailed article on Tree Care and Maintenance.