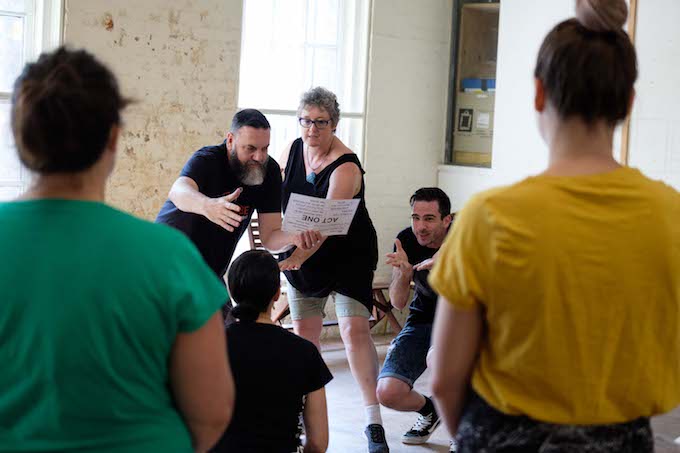 Teachers from regional, rural and remote Australian schools are invited to apply for a fully-funded year-long mentorship with Australia's national theatre company, Bell Shakespeare.
The 2019 Regional Teacher Mentorship will provide thirty teachers from across Australia the opportunity to travel to Bell Shakespeare's Sydney headquarters for four days of specialist training in teaching Shakespeare, to collaborate and network with teachers from other regions, and to see the Company's production of The Miser at Sydney Opera House, starring John Bell. 
The teachers will receive ongoing support from Bell Shakespeare artists and staff throughout the year, as well as access to in-school and in-theatre programs to support their continued learning.
Bell Shakespeare's Artistic Director Peter Evans said that the mentorship was an unparalleled professional development opportunity for teachers from regional and remote areas.
"This program equips the participants with tools and strategies to teach in ways that can help break down the barriers to students understanding and appreciation of the ideas, language, imagery and relevance of Shakespeare's work.
"The teachers come away from the experience with the confidence to implement new approaches in the classroom and lesson plans that include more active and engaging methods of teaching," he said.
2018 Regional Teacher Mentorship recipients spoke of the deep impact of their experience in the program:
Katie Lee from Lavalla Catholic College in Traralgon, VIC said: "This has completely changed the way I teach and approach my classrooms… I want my students to feel as excited by Shakespeare and learning as I am now."
Ben Murray from Bowral High School, NSW said:
"I cannot overstate how effected and affected I am from the experience with Bell Shakespeare. I learnt things that provide me a deeper understanding of myself, others, my professional and my personal practice. Not only do I feel better equipped to impart my passion for Shakespeare to my students, I feel like I am endowed with a new approach to teaching the broad range of texts that we study in the English classroom."
Tiffany Leeder from Newton Moore Senior High School in Bunbury, WA said: "I have never come away from professional learning feeling so inspired and motivated. This has been the most valuable experience."
Kathleen Macdonald from Tully State High School, QLD said:
"Although I already had an extensive knowledge of Shakespeare and ways of teaching it, I learnt new things every day, at the most practical level… What did I learn in four days? More than I've learnt in 32 years of Professional Development."
Gill Perkins, Executive Director of Bell Shakespeare, said that the program was an important part of the Company's longstanding commitment to reaching regional and remote Australia.
"The Regional Teacher Mentorship has a significant impact, especially in smaller communities that may not otherwise have such opportunities.
"Our commitment to reaching regional and remotely located Australians is one we take great pride in, and we would not be able to run important programs like the Regional Teacher Mentorship without the generous support of our partners in this program; Teachers Mutual Bank and the Australian Government.
"I look forward to welcoming thirty new teachers to the mentorship in 2019," she said.
Applications close on 26 November 2018 and winners will be announced in December. The recipients will join Bell Shakespeare in two tranches in March 2019.