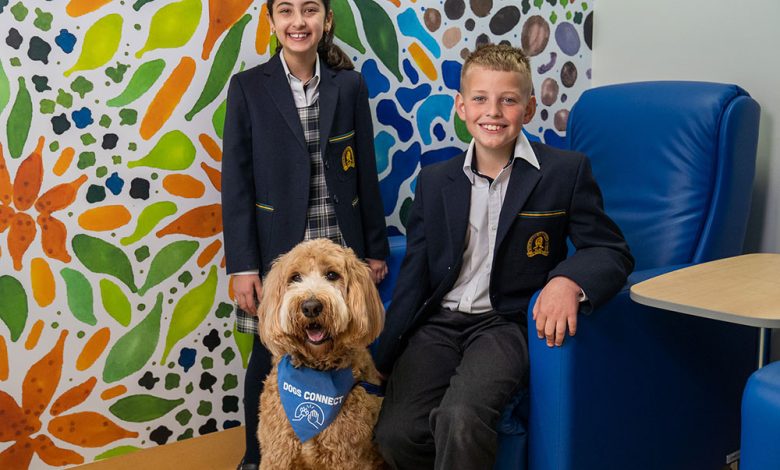 "Maple makes people, especially new people, feel safe, calm and comfortable around our school." Miles, Year 3
Westbourne Grammar is a multi-campus, coeducational facility on the outskirts of Melbourne. The well-equipped Health Centre comprises three registered nurses who play a proactive role in the health and well-being of staff and students, delivering holistic nursing that encompasses both people's physical and emotional health.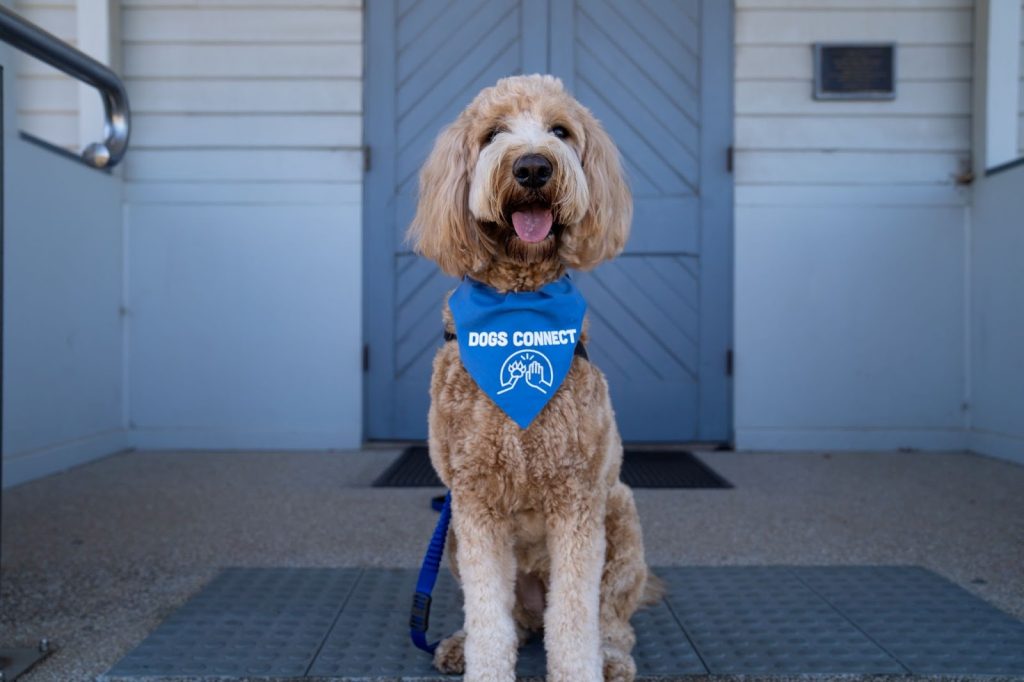 A recent addition to the team is two-year-old Maple, a gorgeous latte-coloured Groodle who has been specially trained as a wellbeing dog as part of the Dogs Connect program. Eleanor Caldwell, lead nurse and Maple's human, initiated the program at the school after having previous experience with therapy dogs when working at the Royal Children's Hospital.
"I saw therapy dogs working with unwell children at RCH during my time nursing there and the incredible impact that small amounts of exposure to the dog would have on the wellbeing of these children.  When our family got Maple as a puppy, it was clear she had the qualities of an excellent wellbeing dog – calm, friendly, empathic, sensitive and intuitive," explains Eleanor.
Dogs Connect
Dogs Connect is a world-first mental health and wellness program that offers both online and blended packages to help schools, hospitals and workplaces integrate wellbeing dogs into their community.
"We partnered with Dogs Connect to support us in introducing Maple to our school and community. Dogs Connect have online courses that staff undertake before being able to independently handle Maple. They offer support with every step of the program, prior to introduction, during introduction and while the program is running and are always available to us. It meant we were well prepared and ready to roll out a really effective program when Maple was ready to begin her work." Eleanor
Discussions at the school started long before Maple ever set paw on campus, and groups of staff have been trained depending on whether they are part of the core group, spending the most amount of time with her, or only work with her on the sidelines. Introducing the initiative to the school community also began well in advance of Maple's arrival, communicating with students and parents through assemblies, videos and posters.
Wellbeing dogs like Maple promote emotional wellbeing across the entire student body. Maple now attends counselling sessions, joins school assembly, supervises yard duty, visits classrooms and doubles as an extra sick-bay nurse when required. She is loved universally and creates calm and connection wherever she goes. Eleanor even reports that reluctant students have been enticed back to school with the promise of visits to Maple.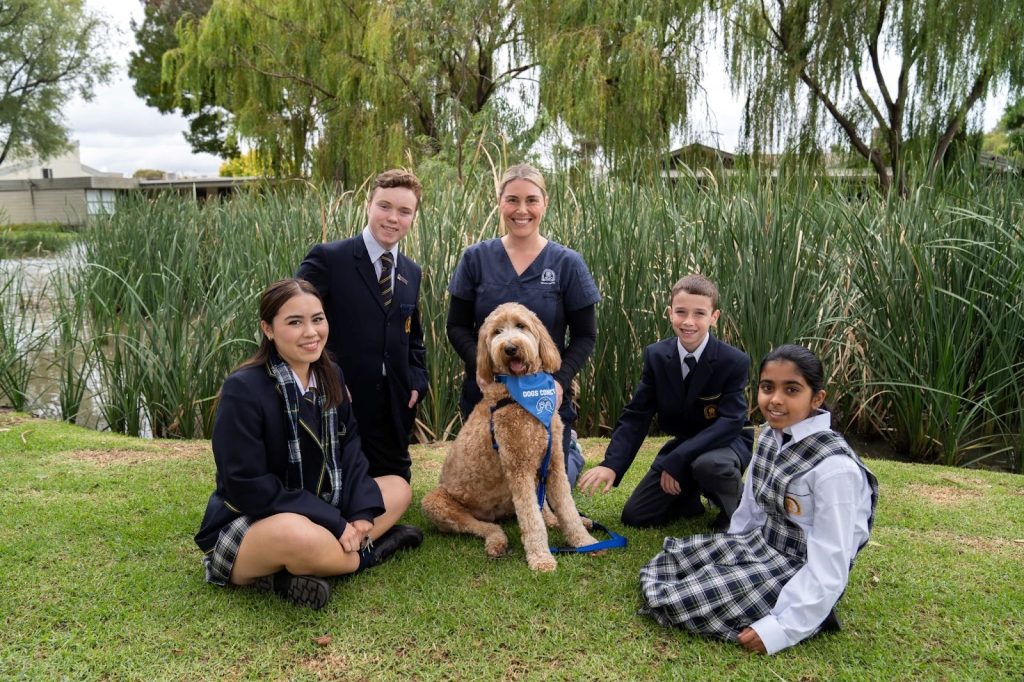 M – making

A – amazing

P – people

L – largely

E – excited

"Maple makes me feel not just happy but like I have another friend, not just any ordinary friend but a special one." Miles, Year 3

 
Joining the initiative
Dogs Connect can help schools find and train suitable wellbeing dogs, which can be mature or puppies and of a number of different breeds. The comprehensive training program is designed to ensure the safety and comfort of the dog in their surroundings as well as ensure realistic expectations and sustainability of the initiative.
Eleanor makes the following suggestions to other schools considering introducing a wellness dog to the community:
–               Expect lots of preparation, and do not rush the process
–               Ensure an appropriate dog breed and temperament
–               There needs to be a core group of staff involved so there is collective responsibility
–               Involve the students as much as possible to get engagement
–               Prioritise the dog's wellbeing so she can do her best work.
"Maple comes to classrooms to make kids happy and walks around the school. She is also there to make kids happy and feel calm." Ava, Year 4
For more information on Dogs Connect visit: https://dogsconnect.net.au