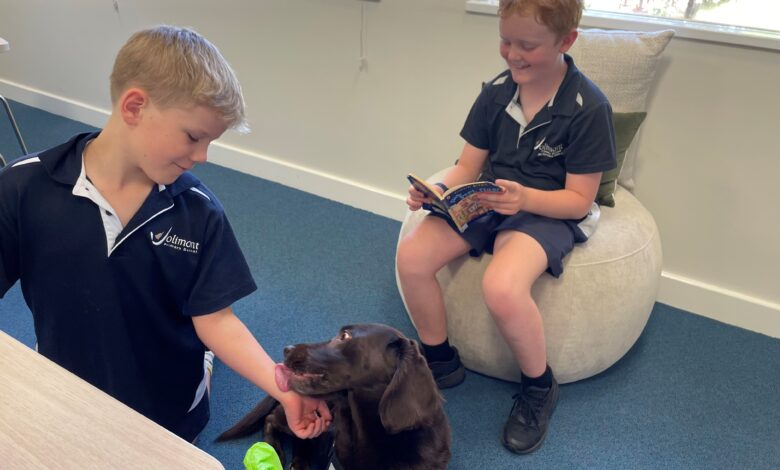 "I'm a dog lover and I've always loved the atmosphere and feeling that dogs create. I had a couple of friends, who are also principals, who trained their dogs and took them into their schools. They began to talk about the delight they brought to the kids who needed time out, and I knew it was something I wanted to do here."
Barb Iffla is the principal at Jolimont Primary, a small independent school in the western suburbs of Perth. Hugo, is her eight-year-old Lab spaniel cross, with a cheerful yet calm personality and enthusiastic tail.
"It was important that we did things properly. I researched how other schools and organisations are using dogs – therapy dogs, reading dogs – and began to consider how we can combine both. I had Hugo assessed by WAAT Dogs (Western Australian Assistance and Therapy Dogs) and then worked in partnership with the School Board to create a policy that suited our school."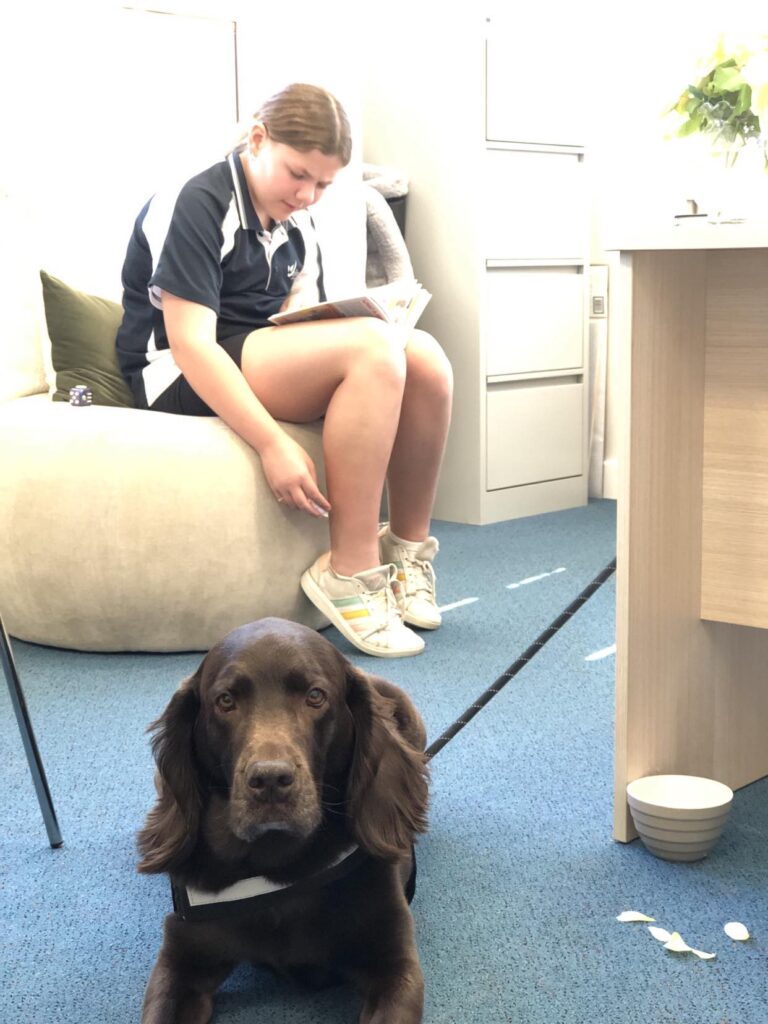 Individual focus
A knock at the door turns Hugo's tail into a propellor as the first two students arrive for their reading session. Finn and Sam take turns reading to Hugo in the special chair in Mrs Iffla's office. Barb remains in the room, but as far as the children are concerned, she is just working away at her desk.
"We tried to target kids who had dyslexia. It's a chance for them to sit and read quietly in a safe environment. Hugo doesn't judge, he doesn't correct them. The children can just sit and read while stroking Hugo, and they begin to associate that lovely feeling of being with the dog with reading." Barb Iffla
"We've learned it's nice when the children come in pairs," she adds. "They take turns reading and help each other with words. I love listening to them, it's really special. Sessions usually last twenty minutes, but some days we might let them go for thirty."
While there are structured programs in place such as Story Dogs, which depend on an external Dog Team (a handler and dog), the program being trialled at Jolimont is more fluid while still adhering to many of the same principles. The welfare and comfort of the dog is essential.
"Hugo's work week is limited to two hours on a Friday morning, the signs go up on the doors and he stays in the Admin Block only," explains Iffla. "While the program is new, there are only four children, though we are looking at how we can expand the program next year."
Year 6 Mia-Rose has been chosen as another of Hugo's reading companions. She arrives with her book and sits in the chair, with Hugo at her feet. "Hugo's a good listener when he's quiet," she says, demonstrating the two commands the children are taught. 'Sit,' she says. "Touch." Hugo obediently boops his nose into her hand.
"Learning more about dog behaviour as part of the WAAT Dogs assessment and training was an exciting part of the process," says Iffla. "It's important that Hugo feels safe and comfortable. He gets brain breaks every hour and goes home at recess. Interestingly, we treat Hugo the same way we treat students in the classroom, praising good behaviour rather than punishing bad behaviour."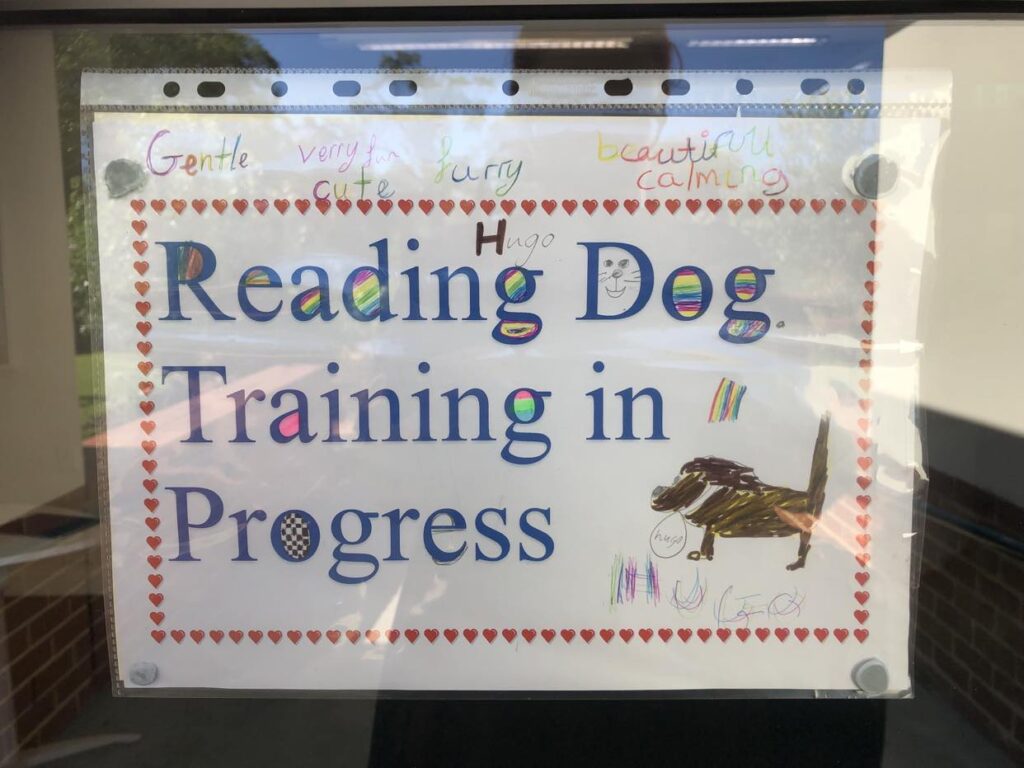 Community Benefit
While the benefit to the children is clear, what was perhaps more surprising was the effect on the wider school community. "For a long time, we've had a system at Jolimont where children can come and read to me. There are plenty of benefits from reading to the principal or other adults, but reading to a dog? It's a different kind of joy altogether."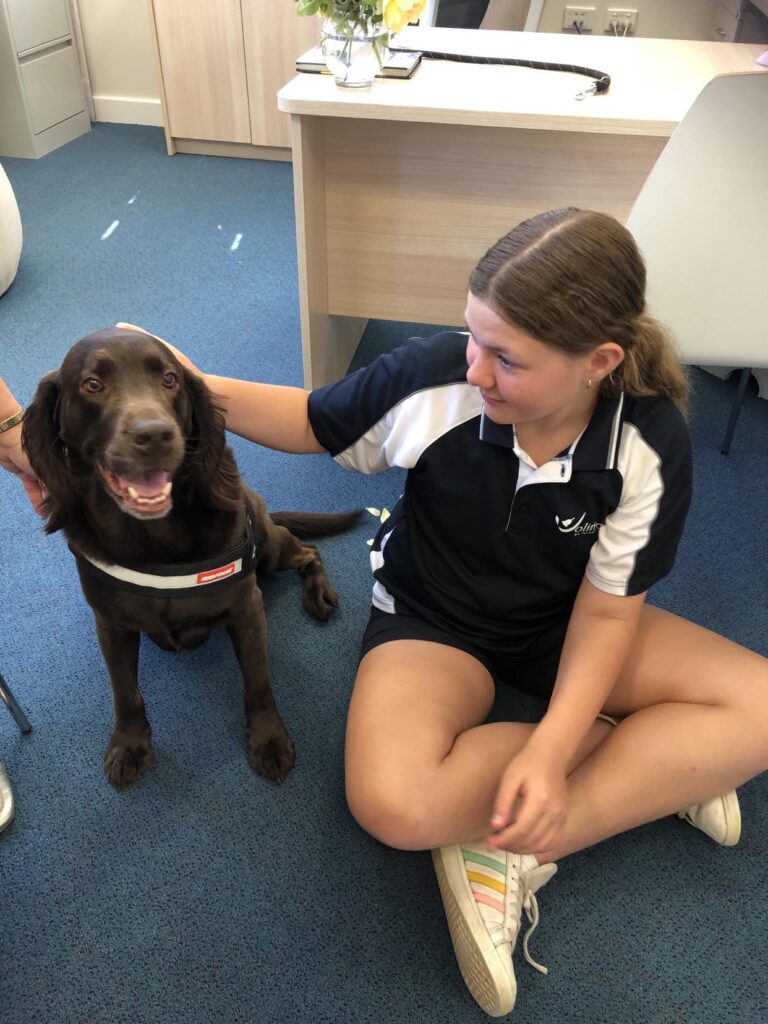 "The teachers benefit in that when children return from visiting with Hugo, they're in a different state of mind. They're calmer and more relaxed," says Iffla. "So many kids want to be part of the program, everyone wants some time out of the classroom, but it has to be of real benefit to the child. We talk with teachers to determine who would benefit the most."
Mia-Rose was diagnosed with dyslexia almost five years ago and finds reading challenging. 'I like reading to Hugo. It's ok if I make mistakes, I don't have to go back and get everything exactly right. I just get to read. He doesn't judge me."
"Some mornings Hugo and I wait outside, so families can meet him and get to pat him," says Iffla when explaining Hugo's role in the wider school. "It's been nice watching children who have not had much experience with dogs before, or who were afraid, gradually approach Hugo and learn how to pat him."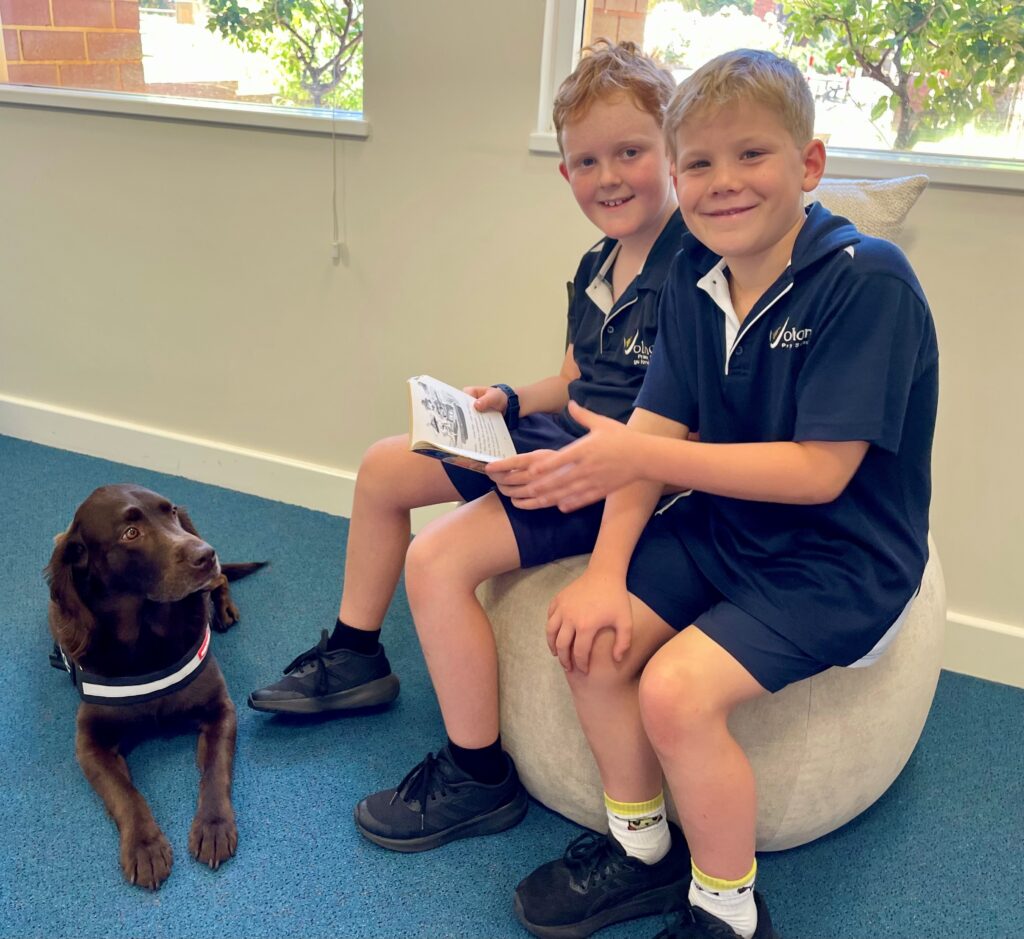 Advice for other schools
Barb Iffla says the key to ensuring the program works well, is laying adequate groundwork, engaging in proper consultation and doing the research.
"Get your dog properly assessed to make sure they have a suitable temperament for constant interactions with children and take the time to study and understand dog behaviour," says Iffla. "It's also important to get the dog settled into their environment long before you introduce the children."
It's also wise to remember while it might be calming to have a reading dog under your desk when you work at home, it is a different situation in the school environment. "I love Hugo and when it is just us, he will sleep at my feet, but when the kids are here, it does interrupt my work flow. We do it for the kids, but that's also why we limit his work week to two hours.
Iffla says the program has had a positive impact across the school. "I've been surprised and delighted by the response of the children."
For any other schools considering introducing a dog on campus, Iffla adds "Being consistent is also essential, both for the welfare of the dog as well as the expectations of the school community. Once you create a policy, you must stick to it. We don't visit classrooms or the school grounds. It's important that we can provide structure to Hugo's day and interactions. But it has been a wonderful experience, so special for the children, and we are looking forward to seeing how the program can grow in the future."