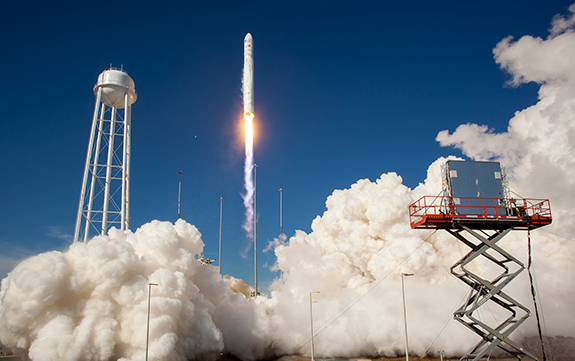 Swinburne's first foray into scientific research in space blasted of this week from Wallops Island, Virginia for the International Space Station (ISS).
In partnership with Haileybury College, Swinburne supported a group of secondary students to design, build and send an experiment to the space to help understand how a 'smart fluid' acts in microgravity conditions.
The trip to the ISS, which is orbiting 250 miles above the Earth, was expected to take around 24 hours.
When the experiment arrives at the space station, it will be dormant for a few hours.
Once it receives power, a customised program will study the responsiveness of a class of smart fluid called magnetorheological fluid (MR fluid) when under exposure to external magnetic fields in microgravity.
"The experiment will be on board the ISS for almost a full month," says School Engagement Coordinator in the Faculty of Science, Engineering and Technology, Dr Rebecca Allen, who was one of three Swinburne academics involved with mentoring the students.
"Over that time it will take a series of data, including pictures that will tell us how well we can control the MR fluid in space."
Swinburne and Haileybury
Four Swinburne students oversaw the technical and scientific development of the experiment, mentoring six Haileybury students, who worked for more than six months to launch the Swinburne Haileybury In Space Experiment (SHINE) into space.
The Swinburne and Haileybury students will observe the experiment's in-flight data through the ISS's power and communications system while it is in orbit and will also receive its collected data when it returns to the Earth.
NanoRack Educational Program
The experiment is part of the NanoRack Educational Program, which enables student groups to send experiments into outer space and take advantage of the research platforms on the ISS.
Each NanoRack platform houses up to 16 different experiments called NanoLabs. Once aboard the ISS, a NanoLab is plugged into the ISS's power systems by a NASA astronaut and left to run for over a month.
The NanoLab experiments are built using materials such as micro-controllers, Arduino software controls, mixture tubes and self-printed 3D designs.
Each NanoLab is equipped with a small camera that can take pictures of the experiment during its flight and send these pictures back to Earth for students to observe.