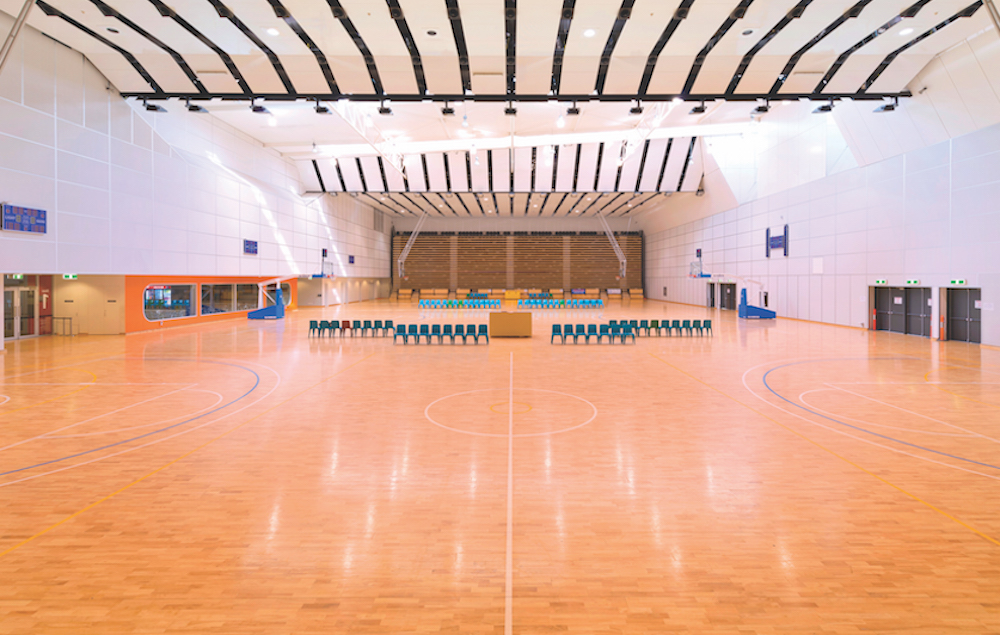 The maintenance of property and physical assets is a complex and time-consuming task that requires organisation and planning. Multi-purpose sports halls take some punishing traffic throughout the school year and require constant attention. The life expectancy of sports surfaces ranges from 15 to more than 50 years, with various options available to suit a multiplicity of sports. Each substance requires a material-specific maintenance and replacement regime – and all will underperform if this is not adequately managed.
Sharing the mantle with Christmas and New Year, summer holidays in Australia can be a difficult time to get things done; thinking ahead is imperative. School News consulted Rik Allen from Nellakir, for the low-down on a maintenance schedule for existing sprung timber floors, and what's involved with installing new timber flooring for your sporting facility. 
Mr Allen says indoor sprung timber flooring is gaining popularity, and that government subsidies have mitigated the drain on the budget, making it well worth a look. "In Victoria, for example, the Private Partnership Project (PPP) has facilitated the construction of new sprung timber sports floors at government schools across regional and Metropolitan Melbourne."
He says the Victorian government has undertaken to co-fund facilities at primary schools that will be available to local sporting competitions outside school hours. "The rationale behind the PPP is to fully embed the school in local community and neighbourhood life."
"Nellakir has constructed sprung timber floors for eight of these new PPP sports facilities since the PPP began in 2016, and the the courts are used by the schools as well as for the broader local community."
"Sprung timber sports floors are shaping up as the top pick for government initiatives, and the trend is extending to other states," he said.  "The Victorian government has commissioned the construction of the state's first 'vertical' school in Ferrars St, South Melbourne. Nellakir is providing a multipurpose, sprung timber sports floor for the school – with a full size indoor court suitable for basketball, netball, volleyball, gymnastics, and for school assemblies."
Mr Allen says the reason for the shift towards sprung timber is its high level of resilience, durability and sustained performance. "Its long life expectancy is an attractive prospect, especially when dealing with a provider that can offer schools a life-time maintenance service."
"While installing sprung timber flooring ensures students are playing on surfaces primed for premium sports competition, these school gyms do draw a crowd. With local basketball, netball and volleyball competitions using the facilities, they sustain heavy traffic, which makes for real wear and tear."
"Timber is a 'living' material," he continued. "It requires regular treatment, to ensure it maintains bounce and surface regularity."
"The surface of the court has a specialist coating of oil modified urethane that enables the glide, the speed, and reliability players depend upon in all levels of competition. On busy court surfaces, re-application should occur annually." Mr Allen says superficial maintenance requirements should be minimal: "Line markings should only be required at re-sand, except in cases where regular maintenance has not occurred."
Maintenance schedule
Sprung timber floors require a simple re-coating every 12 months to maintain the high level of surface quality and slip resistance – while a complete re-sanding should occur every seven to 12 years.
The annual re-coating replenishes the floor, according to Mr Allen, though regular examination of the surface is advised. "Sport finishes are designed for grip, and the time it takes to wear will also depend on the extent and frequency of use."
"Re-coating maintains the grip required from the floor for elite sports action, maintains essential safety features especially important for schools – and lastly, it maintains the aesthetic appeal."
"With wear and tear and the build-up of finishes (coatings), re-sanding brings sports flooring back to the original brand-new state," he explained.
The process involves a total sanding back of the floor.  The surface then requires reapplication of the finish and protective coatings that give sprung timber sports floors that sleek, polished appearance.
Long-range upkeep will eventually involve removal and replacement. "After a specified period of time, which will depend on usage, upkeep and wear and tear, sports flooring will need replacing," Mr Allen advised.
In the 'cosmetic repair' category, line markings may need to be refreshed. A variation in line markings may also be required, when new sports are embraced by the school community.
Stadium seating
Specific seating designed to sit safely atop the gloss finish of the sprung timber flooring is also recommended. To guard against slip-related accidents, as well as damage to the flooring from abrasive materials, seating can be sourced from timber floor providers. "Regular safety assessments of flooring and seating should be conducted by your provider," Mr Allen noted. "From a public liability perspective, this process is highly recommended."
Receiving monitoring and maintenance on both flooring and seating from the original installer means "all repairs to stadium seating are based on original specifications, ensuring required integrity and functionality".
Mr Allen says sprung timber sports floors have gained the confidence of schools; sporting clubs and associations, and governments, due to their versatility, long product life, and aesthetic appeal. He said, "if an experienced supplier with a comprehensive service package is involved, the installation takes the skinned knees out of netball and the headaches out of maintenance for years to come"