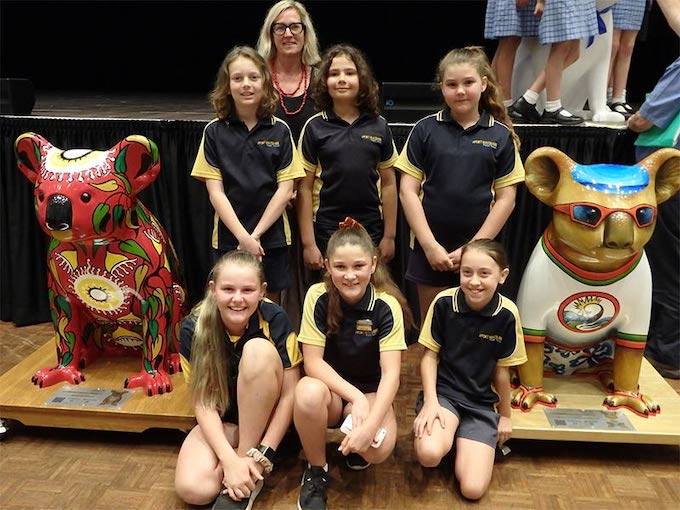 Students from 25 Hastings-Macleay region schools have displayed plans to support the local Lions Club's Koala Smart conservation project.
Entries from schools taking part in the Port Macquarie – Tacking Point Lions Club's Koala Smart conservation project have taken on a new importance since bushfires ravaged hectares of prime koala habitat the week after the 25 schools presented their ideas.
Organiser Janice McGilchrist said the tragedy has given fresh urgency to selecting and implementing the best entries as soon as possible, given that more than 300 koalas are estimated to have perished in the fires which burnt two-thirds of the Lake Innes Nature Reserve.
"With the Koala Hospital in Port Macquarie now treating around 20 koalas, and many new admissions expected, it's doubly important that practical ideas come into play to protect the local koala habitat and the animals themselves in the long term," Janice said.
Students from 25 primary and secondary schools across the Hastings-Macleay region presented their ideas and solutions to raise awareness of – and help arrest – the decline in local koala populations.
The presentations included interactive picture books, videos and paintings. The schools also displayed the half-metre tall koala models the Lions Club had provided each school with to be painted.
Professionals in koala health and conservation, general and environmental education evaluated the entries which were displayed at Settlement City and Wauchope CWA hall in the last week of October.
Kate Connolly, a teacher at one of the participating schools, Telegraph Point Public School, said the project has given true local, practical meaning to the students' environment studies.
"Having the opportunity to go into a serious local issue in such depth, guided by the expert partners in the project, has given the students deeper insights into what conservation's about at a practical level," Kate said.
"We are really looking forward to what the professionals' opinions of the different projects are, and which may be taken further, but it has been a wonderful learning experience for all the students involved."
The judges were from the Hastings-Macleay Koala Recovery Partnership, Koala Conservation Australia Inc., the Department of Planning, Industry and Environment, the NSW Department of Education and Charles Sturt University.
A selection of the ideas and presentations is being considered for implementation early next year by the Lions Club's partners in the project, the Port Macquarie Koala Hospital and the Koala Recovery Partnership.