News
Events
Principal shadows a student for a day
David Noble, Principal of Australian Christian College Hobart, dressed in school uniform, jumped on the bus and headed to 'school' for a full day of classes - from getting in trouble for having his phone out in class, feeling old while sitting cross legged on the floor, and getting involved in the classroom experience as a student again.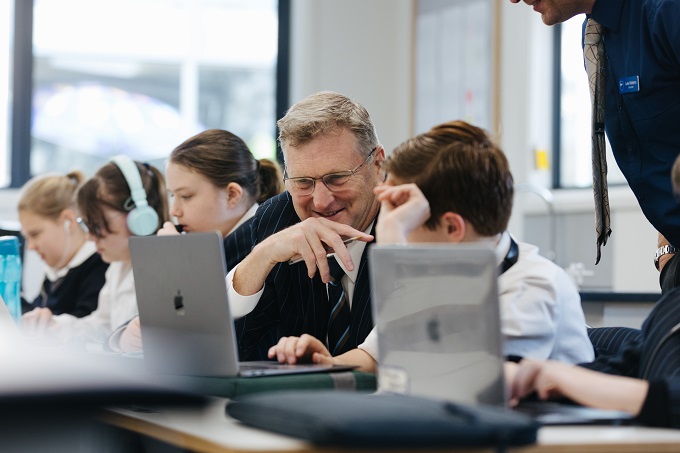 Australian Christian College (ACC) Hobart is participating in the international Shadow a Student Challenge, where principals and teachers from around the world are invited to spend a day shadowing the activities of a school student. ACC Hobart principal David Noble will be shadowing year 7 student Lennon Jones on Wednesday, 2 June, 2021.
I'm looking forward to connecting with the students, teachers and curriculum from a perspective I'm otherwise removed from.
"I'm hoping the challenge will reiterate that the way in which we're operating is achieving an engaged community where students are well known, well loved and well taught. I'm particularly interested in gaining insights into the unique blended classroom experience we offer, as it's something that is proving successful with our academic engagement but is a different approach to what I personally experienced in high school."
"I'm also looking forward to the insight the experience will no doubt provide, to better our students' school experience; something we believe should continually be assessed," says Principal Noble.
The Shadow a Student Challenge is part of an initiative called School Retool, a professional development fellowship that helps school leaders redesign their school cultures. The challenge follows four key steps: prepare, shadow, reflect and act.
"I'm looking forward to uncovering elements of the student experience that may otherwise go unnoticed such as student sentiment on particular issues, which subjects arouse interest in the classroom, and how students are interacting with one another and the teachers," says Principal Noble. Following the experience, Principal Noble will be reflecting on the day to find opportunities for improvement.
"At ACC Hobart we're always looking for ways to better the student experience and fundamentally make our local and greater community a better place. The Shadow a Student Challenge is one of the many tools I'll use throughout this school year to better understand, engage and inspire our students," says Principal Noble.