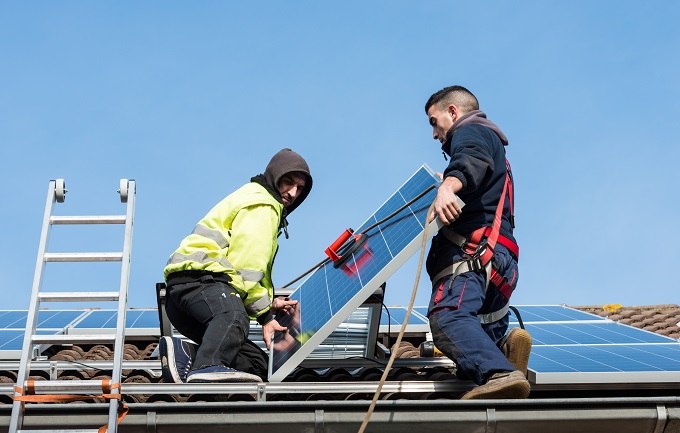 The $5 million Rooftop Solar in Schools program, part of the Territory Labor Government's Roadmap to Renewables Plan, will be delivered over three years to 25 schools.
It is expected to save schools up to 40 per cent of their energy costs.
The Roadmap to Renewables Plan aims to transition the Northern Territory to 50 per cent renewable energy by 2030.
The program is being delivered over three rounds to schools in every Territory region, including remote schools, with sites selected on the basis of their energy usage or their innovative science programs.
In Round 1 (208/19), 10 schools have been identified, eight have been selected in Round 2 (2019/20) and seven in Round 3 (2020/21).
In each of those rounds, two positions were open for Expressions of Interest, to enable all Territory schools to apply for the installation of solar panels, based on the enhancement they could bring to their curriculum.
The remaining schools were selected according to their region and energy usage.
Minister for Education, Selena Uibo said: 
"The Territory Labor Government is investing in both education and renewable energy by delivering on our promise to install solar panels in schools across the Territory.
"Our $5 million Rooftop Solar in Schools program will enable selected schools to make significant savings in energy costs and redirect those savings into resources that will enhance learning.
"Additionally, the solar systems themselves will also enhance learning. Their monitoring and measurement equipment will support innovative school-based science and technology projects, inspiring our next generation of engineers and scientists to advance renewable energy solutions." 
Minister for Renewables, Energy and Essential Services, Dale Wakefield added:
"The Territory has an incredible opportunity to become a renewable energy superpower, securing a stronger economy and more jobs for Territorians. That is why set a target of 50% renewables by 2030 before we came to Government.
"The $5 million Rooftop Solar in Schools program is an important part of our Roadmap to Renewables plan, to not only save schools money, but to equip our Territory students with the skills they need to maximise the job opportunities the clean energy sector will bring. 
"In contrast, the CLP does not believe in renewable energy, remain opposed to our 50% target, and utterly failed to take advantage of the vast economic opportunities presented by cheap clean energy when they were in Government."
SCHOOLS CHOSEN FOR THE THREE YEAR ROOFTOP SOLAR PROGRAM
Round 1 – 2018/19
1. Casuarina Senior College 
2. Palmerston Senior College
3. Katherine High School
4. Sanderson Middle School
5. Nhulunbuy High School
6. Centralian Middle School
7. Nightcliff Primary School
8. Tennant Creek High School
9. Berry Springs Primary School
10. Stuart Park Primary School
Round 2 – 2019/20
1. Maningrida College
2. Dripstone Middle School
3. Braitling Primary School
4. Shepherdson College
5. Ngukurr School
6. Centralian Senior College
7. Anula Primary School
8. Ntaria School
Round 3 – 2020/21
1. Angurugu School
2. Gunbalanya School
3. Nhulunbuy Primary School
4. Nightcliff Middle School
5. Yuendumu School
6. Bradshaw Primary School
7. Karama Primary School