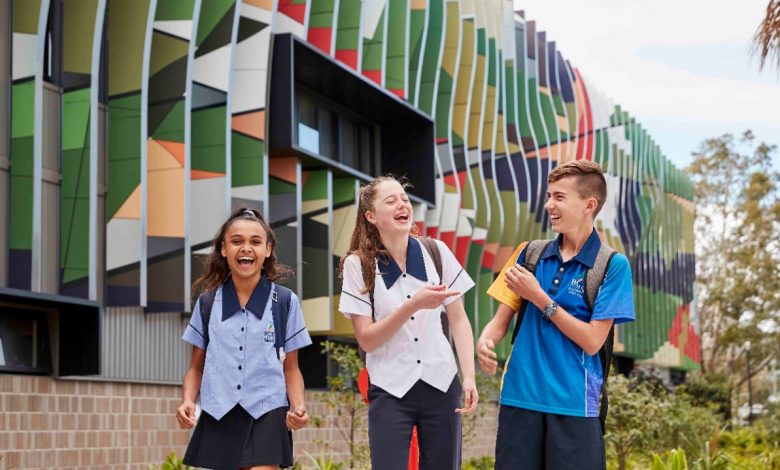 This includes more than $725 million invested in early childhood education, $20.5 billion on schools and $2.9 billion on skills.
Approximately 45,000 children are enrolled in community and mobile preschools across NSW, while public schools are educating more than 800,000 students each year with the help of 74,000 dedicated staff,
Spending on school infrastructure will continue at historic levels with $7.9 billion to be invested over the next four years for 215 new and upgraded schools. This Budget provides funding for 44 projects.
The Skills sector will benefit from a $2.6 billion investment to support new and innovative training for the jobs of the future and transform the vocational education and training (VET) sector to make skills training accessible to the people of NSW.
The Skills funding component will provide more than $2 billion for TAFE NSW; the state's comprehensive public training provider. This includes $19 million in digital technology upgrades at campuses across the state, $5.9 million for 16 undercover trades training facilities and $11.4 million to complete or continue the construction of seven Connected Learning Centres in regional NSW.
Curriculum Reform
The 2021-22 budget includes a record investment of more than $17.5 billion to lift standards and grow the system to support families across NSW.
The NSW Government will spend almost $200 million to supercharge a major overhaul of the NSW curriculum.
A $196.6 million package over four years represents the first major rewrite of the school curriculum in thirty years.
Under this reform, the curriculum will be updated and streamlined by more than 200 syllabus experts to ensure it provides a strong foundation in literacy and mathematics, and clearer post-school pathways, linking learning to future employment or study."
The new NSW Curriculum will be delivered on a new interactive digital portal to support teachers deliver the curriculum in the classroom, a first for NSW.
The new portal will help teachers integrate syllabus materials and deliver lessons driven by the latest research and resources, meeting the needs of our students in a way we have never been able to do before.
The new curriculum and the portal will save time for teachers, improve clarity and make the implementation of the syllabuses even easier.
The new platform is under development, with the goal of going live in Term 4, 2021 with the new K-2 English and Mathematics syllabuses.
Teachers will also benefit from explicit guides, professional learning, training and resources created by curriculum experts and tested in the field.
Through the new School Success Model, we are setting unique targets for every school. For the first time their success in multiple areas can be monitored allowing the experts to make sure every dollar is spent it a way that helps students
Teachers
Good teachers make the biggest difference to a student's outcomes, which is why we are employing more teachers than ever before and funding new ways to help them be the very best.
As well as supporting our existing workforce we are investing $125 million into growing the pipeline of new teachers through the Teacher Supply Strategy.
The strategy includes innovative ideas for boosting the profession and is due for release later this year.
In line with recommendations in the NSW Productivity Commission's White Paper, the Department will seek to recruit academics, high-performing professionals and subject matter experts to become teachers through an accelerated pathway into a teaching career
The new pathways are for professionals who have experience in relevant subject areas, or already have teaching experience in the higher education system.
The overhaul will involve a tiered approach – creating new pathways into secondary school teaching depending on a person's knowledge and pre-existing teaching expertise.
Entrants will still receive a teaching qualification and, depending on their teaching experience, aim to be in front of a class and on salary within six months.
The reform will focus of four key features: removing barriers to entry to the profession; bringing people into the classroom faster; supporting transition from an old career into teaching; and incentivising the transition to teaching.
School Infrastructure
The NSW Government's record school building program will see an additional $2.1 billion over the next four years going towards new and upgraded schools.
Since 2019, we have delivered 108 new and upgraded schools.
This year's school infrastructure budget includes funding to deliver 30 priority planning projects and additional funding to deliver 14 new projects, growing the pipeline to deliver 215 new and upgraded schools.
The government is spending $2 billion in Western Sydney and more than $1 billion in growing regional areas over four years.
This investment takes our historic school building program to new heights with $7.9 billion being spent over the next four years on top of the $7 billion already invested since 2017.
Free preschool
The Budget includes $725 million direct investment into Early Childhood Education helping parents to support crucial years in their child's development while easing the cost of living pressures on them.
Pre-schools will continue to be free for parents, with a new Start Strong Free Preschool program to start from January 2022. The program replaces the current COVID-19 free preschool program, which will conclude at the end of this year.
Up to 740 community and mobile preschools will benefit from this $150 million investment in the future and families will save up to $4,000 per year per child in preschool fees.
Literacy Initiatives
The NSW Government will work with singer Dolly Parton and United Way Australia on an $8 million program to help boost children's literacy levels.
The funding is over five years and will see the partners deliver free books to families across the State, with a focus on those most vulnerable.
They'll be given a free book from the Dolly Parton Imagination Library each month until they start school to encourage their reading and give them the best start possible in life.
The program currently supports over 3,000 children in 17 communities across NSW, including Ryde, Mount Druitt and Tamworth. The 2021-22 Budget investment will increase the program's reach to 15,000 children in vulnerable communities, to boost their school readiness.
The program is part of this government's commitment under Brighter Beginnings to support families in the first 2000 days of their child's life, so that children can start school with a solid foundation for lifelong learning.
Regional Schools
Schools and students across regional NSW will benefit from record investment of more than $6 billion to support teachers, new and upgraded schools and technology to connect students.
Regional communities are also receiving record investment in school infrastructure with more than $1 billion committed to new and upgraded regional school projects across the state.
Nine new and upgraded school projects in regional and rural NSW have been approved for funding as part of the 2021-22 Budget:
Yanco Agricultural High School
Wee Waa High School
Murrumbidgee Regional High School – Stage 2
South Nowra/Worrigee – new primary school
Hunter River High School – Upgrade
Hastings Secondary College Joint Use PCYC
Irrawang High School
Newcastle Education Campus
Bombaderry High School – upgrade
$2 Billion for TAFE NSW
TAFE NSW will benefit from more than $2 billion investment in the 2021-2022 State Budget to bolster skills training and deliver a strong workforce.
There are currently around 102,000 apprentices and trainees in training in NSW, a 19.8 per cent increase from 2020.
To help meet the booming demand for skills, the investment will include nearly $6 million for 16 undercover training facilities for trades across the State including in Broken Hill, Kingscliff, Moruya and Western Sydney and $19 million invested in information and communication technology and other assets at campuses across the State.
There will also be $11.4 million to continue or complete construction of Connected Learning Centres in Bateman's Bay, Cobar, Jindabyne, Hay, Tomaree, Nambucca Heads and Byron Bay.
We're committing $11.4 million to pilot Careers NSW, a dedicated careers support service, as well as $5.2 million for an Educational Pathways Pilot Program to improve education and career outcomes for high school students.
Other Budget commitments include $13.2 million to progress the Institutes of Applied Technology pilots at Meadowbank and Kingswood,
For more information visit the NSW Budget websiteExternal link.
For more information on Education Budget Spending read the media release.
For more information on Budget Education Reform read the media release.
For more information on Budget school infrastructure spending read the media release.
For more information on Budget regional schools spending read the media release.